Story Progress
Back to home
IPL 2017: Quinton de Kock's Absence Big Loss For Delhi Daredevils, Says Rahul Dravid
Quinton de Kock was Delhi Daredevils' top scorer during the last season of the Indian Premier League.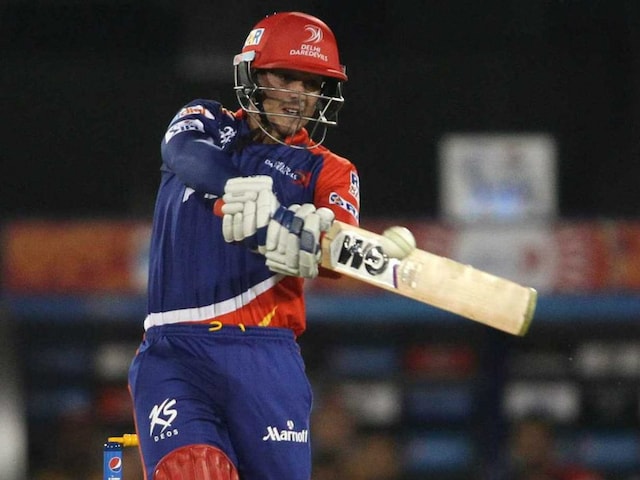 Quinton de Kock will miss Indian Premier League (IPL) 2017 due to a finger injury.
© BCCI
Highlights
Dravid rues Quinton de Kock's absence from IPL 2017

De Kock was Delhi Daredevils' top scorer last IPL season

JP Duminy and Quinton de Kock will both miss IPL 2017
Delhi Daredevils coach and former India batting stalwart Rahul Dravid on Thursday admitted that missing a batsman of Quinton de Kock's calibre along with seasoned player JP Duminy will affect the balance and composition of the team going into 10th edition of Indian Premier League (IPL). Duminy had cited personal reasons for pulling out of the Twenty20 tournament while De Kock has a fractured finger sustained during the Test series between South Africa and New Zealand at Wellington.
"It is obviously a big blow when you lose big players like JP Duminy and Quinton De Kock. If these things happen before the auction, then it is easier because you can plan better. But then this is how it goes and you cannot help it. We do have talented players like Sam Billings and hopefully they can go up and perform," Dravid told PTI during an interaction at Delhi Daredevils' academy ground.
Dravid is now banking on experienced international all-rounders like Corey Anderson of New Zealand and Sri Lankan captain Angelo Mathews to fill Duminy's void but admitted that De Kock is a bigger loss considering he was built into a player to give the team momentum at the top of the order.
De Kock was Daredevils' top scorer during the last season of the IPL.
"We have all-rounders like Corey Anderson and Angelo Mathews so we hope that these boys can stand up and perform and in some way replace JP. But yes, Quinton is a big loss because he played so many games for us and was one of our main batsmen. We had built him up for this season, but this is how life is and you cannot do much about it," said Dravid.
Dravid is hopeful that the Indian core group of batsmen like Shreyas Iyer, Karun Nair, Sanju Samson and Rishabh Pant will have a good season, which will see them atleast making it to the last four since 2012.
Asked what he expects from Pant's second season after a terrific opening season, Dravid smiled and said, "I hope it is better than last season from our perspective. Well I won't say Rishabh is our only X-factor. We have guys like Karun, Sanju, Shreyas and Tare."
Dravid hoped that they will be able to strategise better giving youngsters more opportunity.
"We will also look to strategise better and give the players good opportunity. In a format like the IPL, it is also important to rest the players and keep them fresh and we will also look at that and give it our best and be successful."
Promoted
Dardevils were in contention last season for a top four berth till the last match where Royal Challengers Bangalore outplayed them. The former India captain is hopeful that it is a bit better this time around.
"We needed to win that one game and qualify for the knockout stages but unfortunately we did not qualify. But this time, we will look to start from where we left last season and try and improve further."
Topics mentioned in this article