Story Progress
Back to home
IPL 2017: MS Dhoni, Virat Kohli In Dwayne Bravo's Next Song?
Gujarat Lions are sorely missing the services of Dwayne Bravo, who has been sidelined by a hamstring injury.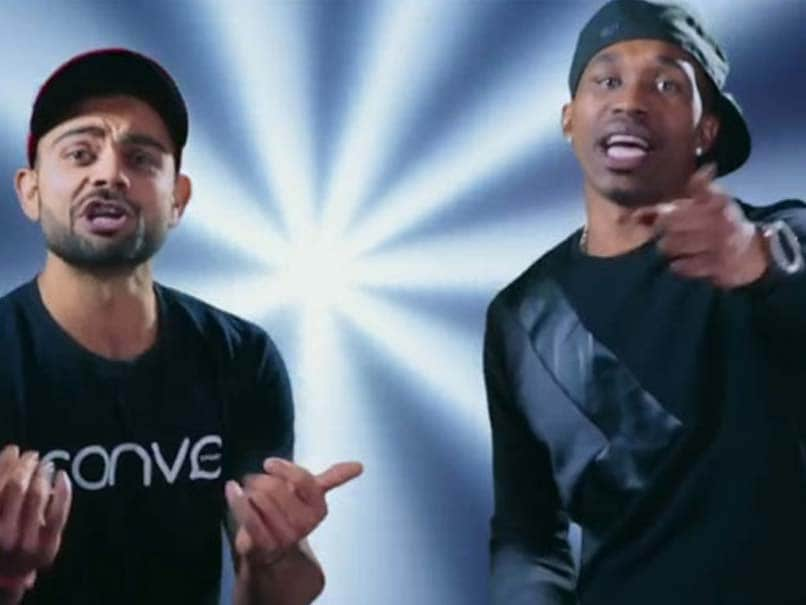 Virat Kohli had earlier featured in a video of Dwayne Bravo's song called 'Chalo Chalo'.
© Twitter
Highlights
Dwayne Bravo sung a few lines about Kohli, Dhoni

Dwayne was seen reciting the lines to his half-brother Darren

Dwayne Bravo is currently sidelined with a hamstring injury
Dwayne Bravo's on-field exploits are already well known across the world and especially in the Indian Premier League (IPL), thanks to his stints with Chennai Super Kings and Gujarat Lions. Bravo's other skill -- singing -- has also made waves worldwide. His song 'Champion' was a smash hit and was engraved in the minds of every person who heard it. So surely after his super-hit debut, Bravo has more foot-tapping numbers in his locker. The West Indian is yet to play a game in IPL 2017, sidelined by an injury, but he still seems to be keeping busy by working on his next hit and believe it or not it may well involve India's current and former skippers -- Virat Kohli and MS Dhoni.
Gujarat Lions are sorely missing the services of Bravo, who is suffering from a hamstring injury. Gujarat are currently bottom of the league table and face high-flying Kolkata Knight Riders on Friday night.
In the KKR squad is also another Bravo, Darren -- Dwayne's half-brother. Dwayne met up with the younger of the two Bravos and immediately sparks flew.
In a video posted on the Gujarat Lions official Twitter handle, it seems Dwayne is reciting a part of a new song to Darren and it involves both Kohli and Dhoni.
.@DJBravo47 seems to be working on his new song. Did we hear India, Kohli and Dhoni in there? #GameMaariChhe #KKRvGL pic.twitter.com/MBmiwEerm5

— The Gujarat Lions (@TheGujaratLions) April 21, 2017
For those unable to understand what Dwayne was singing in his heavy Trinidadian accent, here are the lyrics: "We go over to India, India, India. I call up a boy named Kohli, Kohli Kohli. We tell him to WhatsApp Dhoni." Right after that the brothers burst out laughing.
Promoted
Gujarat will be hoping that Dwayne gets fit soon so that he can help them improve their current standing in IPL 10.
However, music fans around the world will be hoping he is sidelined a bit longer so that he has time to finish this song.
Topics mentioned in this article