Story Progress
Back to home
India vs South Africa: India vs South Africa 2022 Live Cricket Score, Live Score Of Today's Match on NDTV Sports
Live Updates of Today Match between India vs South Africa from Arun Jaitley Stadium, Delhi. Check commentary and full scoreboard of the match.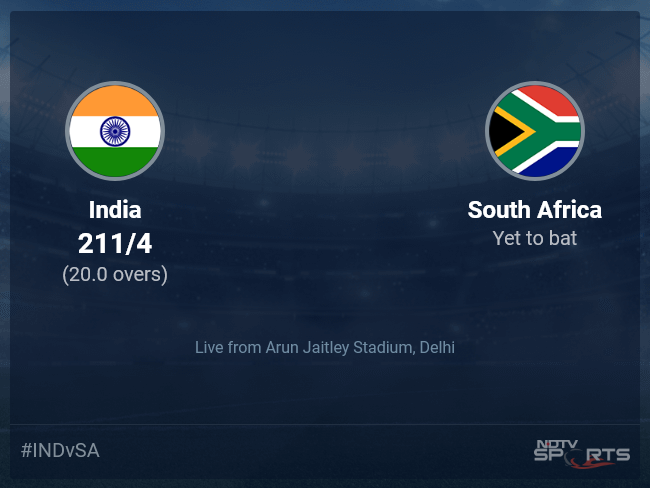 IND vs SA Latest Score
A dedicated team of experts bring you live score, live cricket score, live match update on Sports.NDTV.com. After 20.0 overs, India are 211/4. The live updates of India vs South Africa scorecard is also available. It is the perfect platform to follow your favourite teams in India vs South Africa 2022. Keep a track on your favourite batsmen and bowlers through India vs South Africa 2022 today match, ball by ball commentary, India vs South Africa, India vs South Africa live score, India vs South Africa scorecard. Follow the excitement of the India vs South Africa 2022 on Sports.NDTV.com as you can follow live match updates and live cricket score through our platform.
We are back for the chase.
Right then! It is a huge score but if South Africa gets past the opening spell, it would certainly be an exciting chase to watch out and who doesn't want one! India will hope to strike early on though and put some pressure on the visitors. Stay tuned for the second essay.
Ishan Kishan is up for a quick chat. He says the total they have is a big one given the surface and they are confident of defending it. Mentions that the wicket was a bit two-faced and the ball wasn't quite coming on and he just tried to watch the ball until the last second. Mentions that he didn't want to play too aggressively and his role was to play through the Powerplay and set a platform for the guys to come. Says that he had a chat with Shreyas Iyer and they both decided to take on one spinner each and it came off. Ends by saying that he thought honestly 150 was a par score on this wicket but they have got a big total on the board and reckons they can defend it.
South Africa got a bit of purchase early on but the rub of the green was with India. The bowlers asked questions in the first phase but never kept a lid on the run flow and failed to take wickets in a flurry as well. They found one but till then the batters had already done damage to the scoreboard before walking away. The spinners got some sharp turn as well but leaked runs and a lot of them. South Africa have a big chase waiting now.
What an entertaining start to the series! A box-office innings from India! It was all possible with a great start and it was well delivered by Ishan Kishan. Shreyas Iyer too came out with intent and started dealing in boundaries and both made sure the run rate kept floating around 10. Once both fell, Rishabh Pant and Hardik Pandya continued the good work and both went hard from the first ball and helped India get past 210-mark.
What an excellent finish from Hardik Pandya as his cameo has helped India get past the 210-mark. A tiring effort for the Proteas bowlers though as everyone were taken to the cleaners by India.
19.6 overs (2 Runs) Brilliant finish to the over from Anrich Nortje and apart from the six, Nortje was right on the money, Another yorker-length delivery on middle, Pandya jams it out towards long on and races back for the second. India finish with 211/4!
19.5 overs (0 Run) No run taken! Full and straight, Pandya flicks it towards deep mid-wicket and denies the single. Strange given that it's Karthik at the other end and not a tailender but then again Pandya is well-set at the crease.
19.4 overs (6 Runs) SIX! Up and over! Attempted slower delivery from Nortje, shorter and outside off but just not short enough. Hardik Pandya keeps on staying deep in his crease and powers this one well over the jumping fielder at long off for a maximum.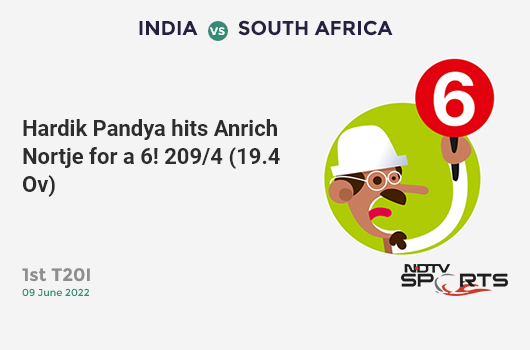 19.3 overs (1 Run) Nortje nails the yorker on middle stump at 147 clicks. Karthik just about manages to jam it out towards mid-wicket and sets off for a quick single. The fielder has a shy at the bowler's end but misses. Just a single then.
19.2 overs (0 Run) Pacy delivery, fuller and just hugging the tramline outside the off stump. Dinesh Karthik looks to go over extra cover but gets beaten for pace.
Dinesh Karthik comes out.
19.1 overs (0 Run) OUT! TAKEN! Anrich Nortje comes from around the wicket and digs it in short and wide. Rishabh Pant has to go after it and does so but can't get the required power as it is a bit too wide. Pant hits it flat and towards deep point where Rassie van der Dussen takes a safe catch. Nortje starts off the over with a wicket but Pant will feel he has done his job.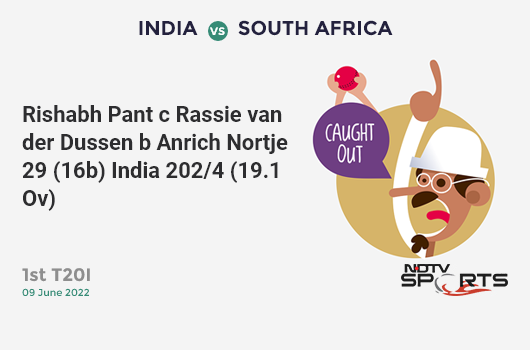 Anrich Nortje to bowl the last over.
18.6 overs (4 Runs) FOUR! Kagiso Rabada nails the yorker but still the ball goes to the boundary, a bit cruel for the bowler but Hardik Pandya certainly won't mind. On middle, Pandya looks to jam it out but gets an inside edge past the leg stump and the ball races away into the fine leg fence. The 200 is up for India.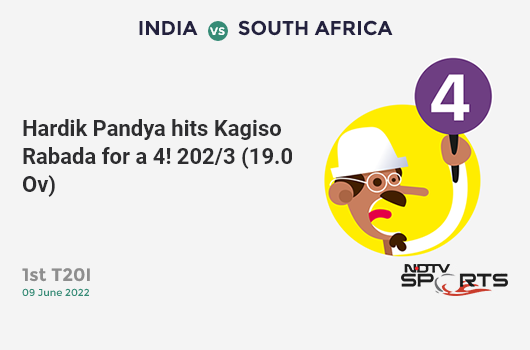 18.5 overs (1 Run) Very full and straight, Pant can only manage to get it down the ground for a single.
18.5 overs (1 Run) WIDE! Attempted slower bouncer over off but just a bit too high for the umpire's liking.
18.4 overs (2 Runs) Good fielding in the deep. Fullish delivery, outside off. Pant lofts it over cover-point. The fielder from the point fences runs across to his left and cuts it off, saving a couple of runs for his side.
18.3 overs (0 Run) Full and wide, bowled at a good pace. Pant can't reach it.
18.2 overs (1 Run) Leg bye! This is angled down leg, Pandya looks to get it away but misses. The ball goes off the thigh pad and onto the leg side for a leg bye.
18.1 overs (6 Runs) SIX! BANG! Slower delivery but it's another length ball. Hardik Pandya is waiting for it and just smokes it a long way back over the bowler's head for a biggie.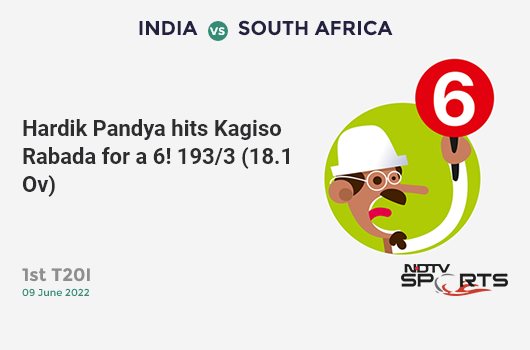 17.6 overs (1 Run) Around leg stump, flicked away through mid-wicket for just a single this time. India inching closer to the 200-run mark.
17.5 overs (6 Runs) SIX! Hardik Pandya doing it with ease here! length ball, over middle. Pandya hangs deep and forces it straight back over the bowler's head for a maximum.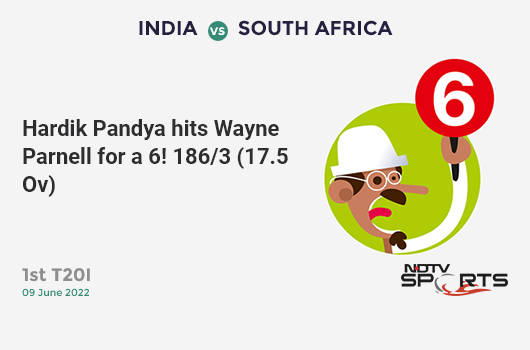 17.4 overs (4 Runs) FOUR! Another full toss, on middle and Pandya just heaves it to the left of the man on the mid-wicket fence for a boundary.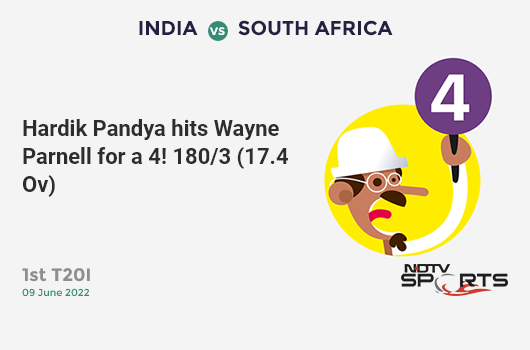 17.3 overs (0 Run) Wayne Parnell has been on the top of his game tonight. Executes the wide slower ball with perfection, Pandya has a swing at it but misses.
17.2 overs (1 Run) Full toss, angled into middle and leg. Pant flicks it on the bounce towards deep mid-wicket for a run. Not high enough to be called a no ball that one.
17.1 overs (1 Run) Very full and angled across the right-hander, Pandya drives it through covers for a single.
16.6 overs (4 Runs) FOUR! Rishabh Pant is on a roll now. Length ball, outside off. Pant throws his hands at it and slices it behind point for yet another boundary. 18 off the over and a wicket as well.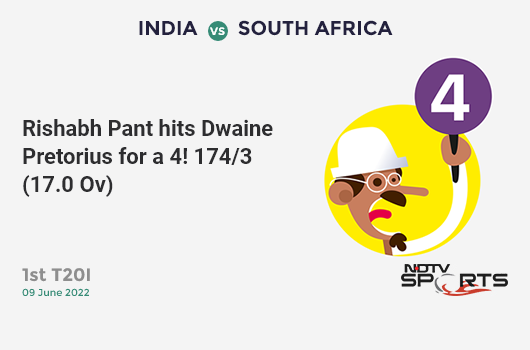 16.5 overs (6 Runs) SIX! Powerful hit from Rishabh Pant and no chance for David Miller! Back of a length, over off. Pant just powers it back to the left of Miller at the long on fence. Miller dives but can't reach it and the ball does go all the way.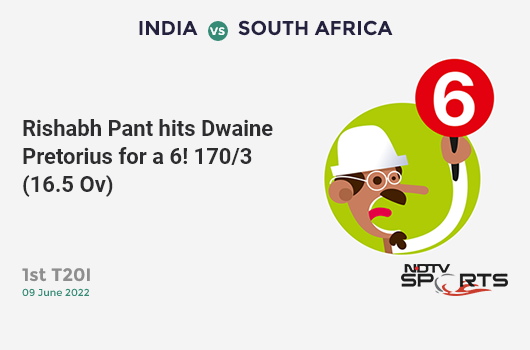 16.4 overs (0 Run) Well bowled! Pretorius goes full and wide again, bowls it slower and manages to keep it inside the tramline this time. Pant goes hard at it but is beaten all ends up.
16.4 overs (1 Run) WIDE! Fuller and wider, this is spilled beyond the tramline outside off.
16.3 overs (6 Runs) SIX! Rishabh Pant goes hard at it and gets maximum purchase! This is dug in short and on off, Pant advances and forces the ball over the bowler's head. Not great timing on it but enough to take it over the fence for a maximum.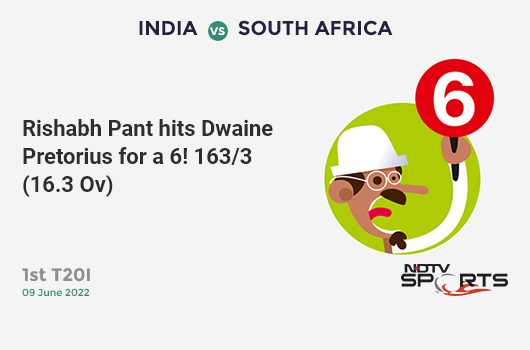 16.2 overs (1 Run) Full and straight, stylishly clipped away in front of square on the leg side by Hardik Pandya for a single.
Hardik Pandya is the new man in.
16.1 overs (0 Run) OUT! Cleaned up! Another timely wicket for Dwaine Pretorius and South Africa and they are slowly making a comeback here. Cross seamer from Pretorius, on a nagging length and around off. The ball nips back in a bit off the surface. Shreyas Iyer doesn't move his feet and just looks to swing through the line of the ball. He misses and the ball goes on to hit the top of off stump.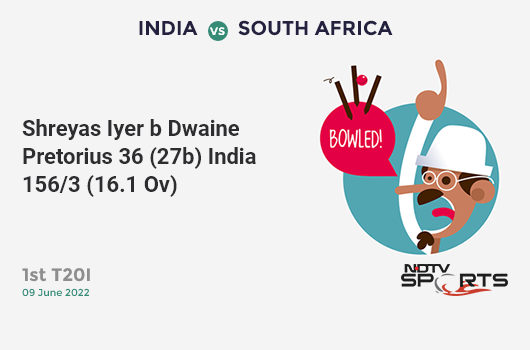 15.6 overs (1 Run) Back of a length, around off. Iyer slaps it on the bounce towards mid off and sets off for a quick single. Keshav Maharaj opts not to go for the direct hit.
15.5 overs (0 Run) That should have been a run-out! Wayne Parnell goes seam up this time and nails the yorker on off stump. Iyer just about keeps it out and looks to sneak in a run. Parnell kicks the ball towards the stumps but misses and the replay shows that Iyer would have been out if that had hit.
15.4 overs (0 Run) Goes fuller this time, around off but the pace is taken off the ball yet again. Iyer looks to hit through the line but gets a big inside edge onto the pads.
15.3 overs (1 Run) Parnell bowls a slower delivery, on a shorter length and angles it into the body. Pant gets cramped for room as he awkwardly fends it away onto the off side for a quick single.
15.2 overs (4 Runs) FOUR! A low full toss on off stump, Pant plays a controlled lofted shot right back over the bowler's head and picks up a boundary.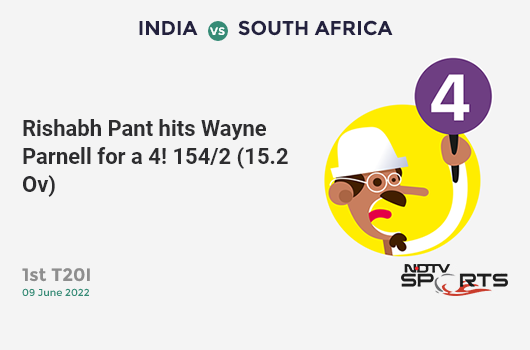 15.1 overs (0 Run) Nicely bowled! Parnell sees Pant giving the charge and drags back his length. The pace is taken off the ball as well and angled into the pads. Pant blocks it out.
Match Reports
Topics mentioned in this article