Story Progress
Back to home
India vs South Africa Live Score Ball by Ball, India vs South Africa 2022 Live Cricket Score Of Today's Match on NDTV Sports
Live Updates of Today Match between India vs South Africa from Arun Jaitley Stadium, Delhi. Check commentary and full scoreboard of the match.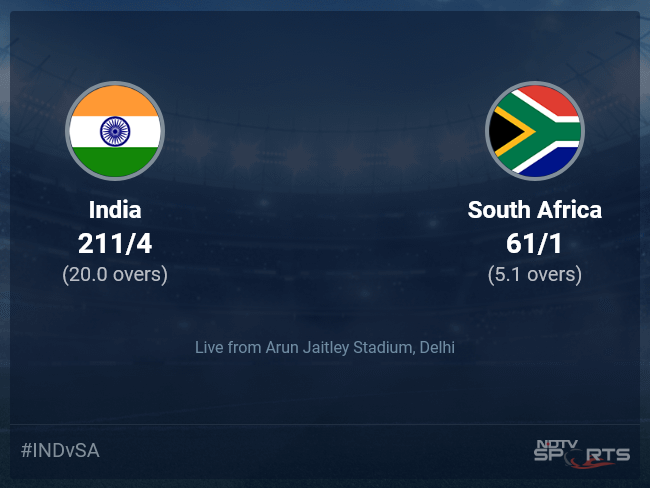 SA vs IND Latest Score
Follow the India vs South Africa 2022 live cricket score on Sports.NDTV.com. After 5.1 overs, South Africa, chasing a target of 212, are 61/1. Get live score, ball by ball commentary and much more. Keep track of India vs South Africa 2022 today match between India and South Africa. Everything related to India and South Africa match will be available on Sports.NDTV.com. Stay updated with India vs South Africa live score. Do check for India vs South Africa scorecard. You can get scorecard updates, match related facts. Get quick live updates with ads, Sports.NDTV.com, which is the perfect destination for live cricket score.
4.6 overs (0 Run) A bit of frustration here as Pandya bangs in a spicy bouncer over middle. Pretorius tries to get some bat on it but the ball just zips through.
4.5 overs (6 Runs) SIX! This is poor bowling from Pandya but Dwaine Pretorius won't mind it at all. Another length ball angled into leg stump. Dwaine Pretorius has a swipe across the line and connects well, the ball travels over the square leg fence for a mximum. 18 already off the over!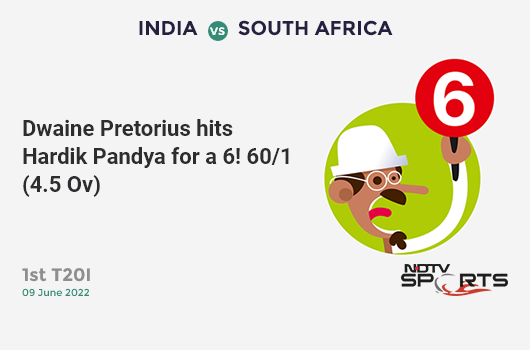 4.4 overs (0 Run) Better from Pandya! Slower and the line this time is outside off. Pretorius swings and misses.
4.3 overs (6 Runs) SIX! WOW! 50 up for South Africa in almost double-quick time! Length again from Pandya in the swinging arc of Pretorius and Pretorius has smoked it a long way over the mid-wicket fence.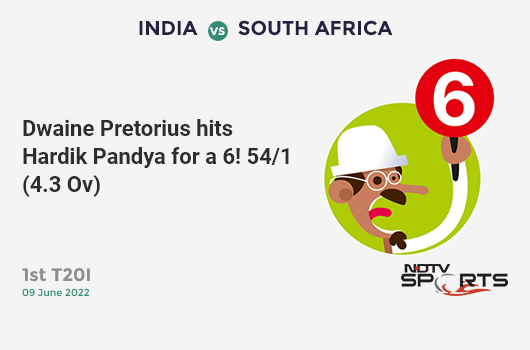 4.2 overs (6 Runs) SIX! South Africa keeping up with the required rate here. Length again, angled onto the hips. Dwaine Pretorius swings at it and connects this time as the ball flies over the fine leg fence.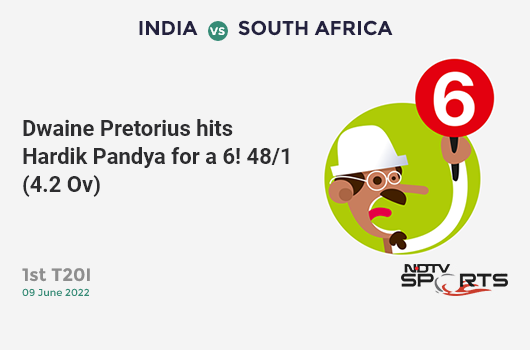 4.1 overs (0 Run) On a good length, outside off. The ball zips through as Dwaine Pretorius has a wild swing at it.
Change from both ends. Hardik Pandya to bowl now.
3.6 overs (4 Runs) FOUR! Back-to-back boundaries for Quinton de Kock and 16 runs come off the over! Short, around middle and leg, de Kock pulls it powerfully in front of square on the leg side for a boundary.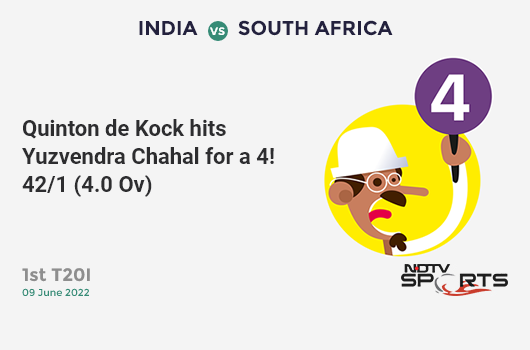 3.5 overs (4 Runs) FOUR! Quinton de Kock sweeps and does so aerially to beat the man. On middle, de Kock sweeps it over the man at backward square leg for a boundary.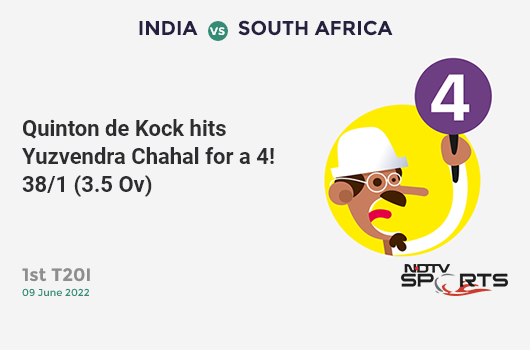 3.4 overs (0 Run) This is pushed through quicker on leg stump, de Kock nudges it towards mid-wicket.
3.3 overs (1 Run) Chahal immediately shortens his length and bowls it around off. The ball turns away as Pretorius pulls it towards deep mid-wicket for a run.
3.2 overs (6 Runs) SIX! This is what Dwaine Pretorius has been sent in to do! Tossed up on leg stump, Pretorius gets low and slogs it high and handsome over the wide long on fence for a huge hit.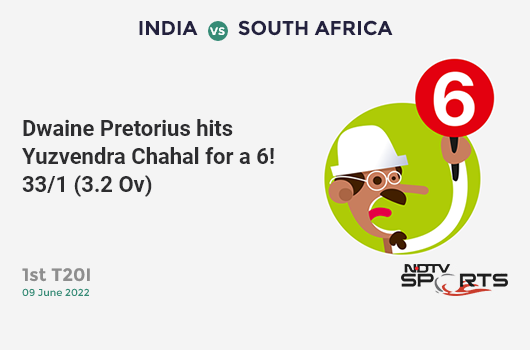 3.1 overs (1 Run) Good start from Chahal. On a length, around middle and it's the wrong 'un. De Kock gets a leading edge as he tries to work it leg side. The ball rolls towards cover-point as the batters race through for a quick single.
Yuzvendra Chahal is into the attack.
2.6 overs (0 Run) A dot ball to end a successful over from Bhuvneshwar Kumar, just 4 runs and a wicket off it. Slower delivery, on a good length and around off. Pretorius dabs it down towards backward point.
2.5 overs (0 Run) This is pushed a bit wider and Pretorius just pushes it towards cover.
2.4 overs (4 Runs) FOUR! Nicely played! length again, around off. Dwaine Pretorius plays a back-foot punch drive past point and gets off the mark with a boundary.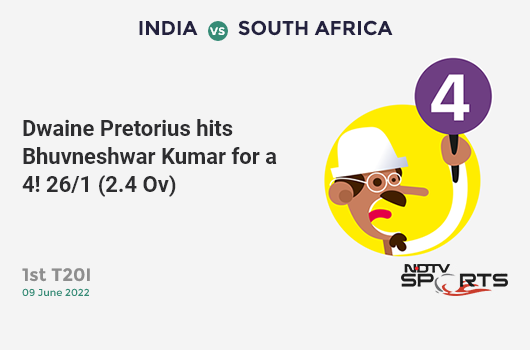 2.3 overs (0 Run) Length, around the top of middle and just nipping in a touch. Dwaine Pretorius looks to flick it off the back foot but gets pinged high on the pads. A stifled appeal from Bhuvi but just a bit too high.
Dwaine Pretorius is the new man in.
2.2 overs (0 Run) OUT! CAUGHT BEHIND! Indecisive from Temba Bavuma and he has to depart. It's the outswinger this time from Bhuvi, on a nagging length and outside off. Bavuma prods forward and doesn't drive at it, rather just has a poke at it. The ball takes the outside edge and Rishabh Pant takes a good catch diving forward. The catch is being checked though and there's a clear spike on UltraEdge and there's no problem with it bouncing in front of Pant, so Bavuma has to walk back and South Africa lose their first wicket.
2.1 overs (0 Run) On a length, angling into middle stump. Bavuma defends it off the front foot.
1.6 overs (4 Runs) FOUR! Short of a length and there's width on offer. Quinton de Kock flails at it and gets it over backward point for yet another boundary. 15 off Avesh's first over and South Africa are off to a good start here.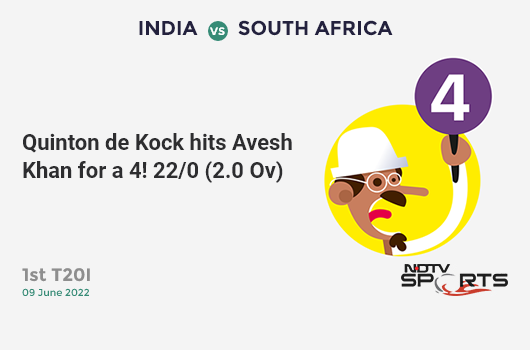 1.5 overs (1 Run) Back of a length, on middle. Bavuma turns it towards mid-wicket for a single.
1.4 overs (4 Runs) FOUR! Cheeky but effective! Fuller and on off, Bavuma shuffles right across the stumps and ramps it fine of the fielder at short fine leg for another boundary.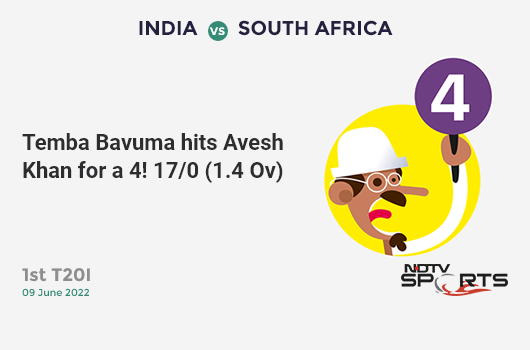 1.3 overs (4 Runs) FOUR! Nonchalant from Temba Bavuma! Length ball, on off. Bavuma gets low and with just a flick of the wrist gets it over square leg for a boundary. The first one off the bat in this innings.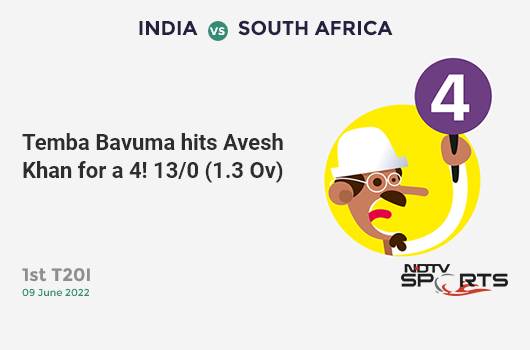 1.3 overs (2 Runs) TWO WIDES! Oh, that one flew off the surface! Banged in short and down leg, de Kock misses the pull and Pant fails to collect it cleanly. The batters sneak in a single as well.
1.2 overs (0 Run) Quinton de Kock can't find the gap! A bit short and wide, there to be hit. De Kock taps it sweetly but straight to the man at cover-point.
1.1 overs (0 Run) Avesh Khan starts off with a fullish delivery on off. The ball just shapes back in a touch as de Kock pats it back to the bowler.
Who will bowl from the other end? It is Avesh Khan.
0.6 over (1 Run) A single to end the first over and 7 runs come off it. Around the top of off, de Kock hangs back and just taps it towards point for a quick single.
0.5 over (1 Run) A tad shorter and around the pads, Bavuma flicks it off his hips towards deep square leg and gets off the mark with a single.
0.4 over (0 Run) Another big inswinger from Bhuvneshwar Kumar, swinging in from the off stump. Bavuma misses and gets hit on the pads. Bhuvi appeals but it's probably swinging down leg.
0.3 over (4 Runs) FOUR LEG BYES! Big inswinger from Bhuvi and it's baffled everyone! Length ball, around off and this one swings back in a mile. Temba Bavuma gets hit on the back leg and the ball goes in between the keeper and first slip for a boundary.
0.2 over (1 Run) Good running! Around off, played with soft hands onto the off side and Quinton de Kock races through for a quick single. South Africa are up and running here.
0.1 over (0 Run) Good shot for no run! Bhuvneshwar Kumar starts off with a regulation length ball outside off. Quinton de Kock drives it sweetly but straight to the man at cover.
Topics mentioned in this article