Story Progress
Back to home
India vs New Zealand: India vs New Zealand 2021 Live Cricket Score, Live Score Of Today's Match on NDTV Sports
Live Updates of Today Match between India vs New Zealand from Eden Gardens, Kolkata. Check commentary and full scoreboard of the match.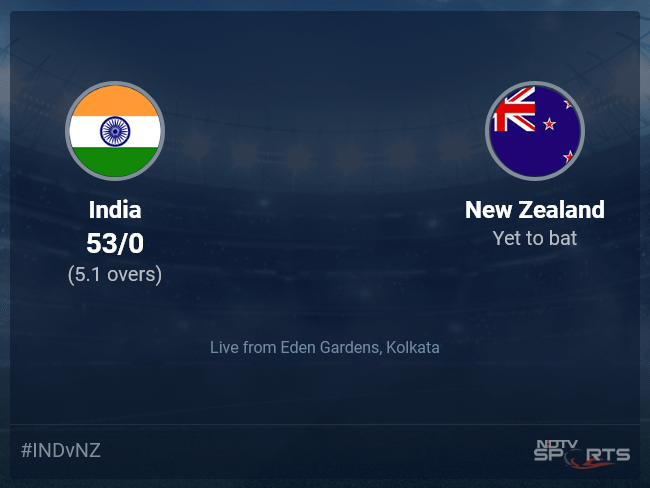 IND vs NZ Latest Score
A dedicated team of experts bring you live score, live cricket score, live match update on Sports.NDTV.com. After 5.1 overs, India are 53/0. The live updates of India vs New Zealand scorecard is also available. It is the perfect platform to follow your favourite teams in India vs New Zealand 2021. Keep a track on your favourite batsmen and bowlers through India vs New Zealand 2021 today match, ball by ball commentary, India vs New Zealand, India vs New Zealand live score, India vs New Zealand scorecard. Follow the excitement of the India vs New Zealand 2021 on Sports.NDTV.com as you can follow live match updates and live cricket score through our platform.
4.6 overs (1 Run) Another single to end. The over started well for the Kiwis but ends up being a good one for India. On middle, this is worked through mid-wicket for one.
4.5 overs (1 Run) A single now! On off, Kishan guides it to point for one.
4.4 overs (4 Runs) FOUR! Back-to-back boundaries for Kishan! This is a poor ball. On the pads, Kishan works it behind square on the leg side for a boundary.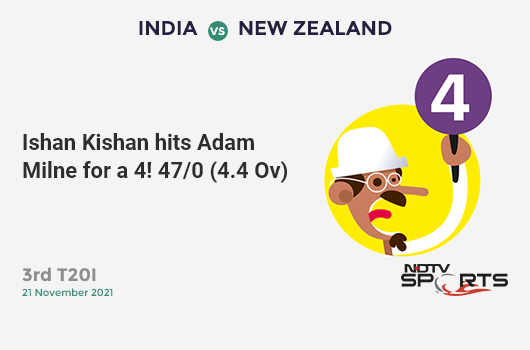 4.3 overs (4 Runs) FOUR! The fielder could have done better there! On off, length, this is hit towards mid off. The fielder runs to his left, slides and tries to stop but it goes through. Is this the boundary that gets Kishan going?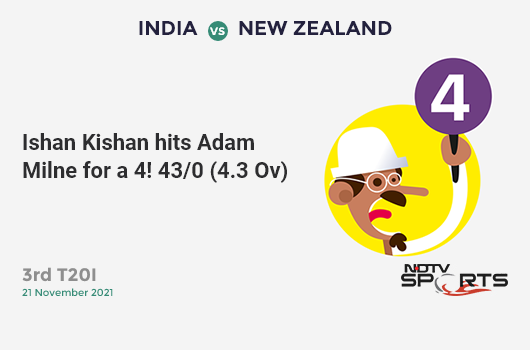 4.2 overs (0 Run) A slower one now, really good change in pace. Kishan does not pick it. He looks to cut but is beaten. Two dots to begin.
4.1 overs (0 Run) Kishan probably misses out! Shorter and outside off, Kishan slashes at it but misses.
Adam Milne to change the ends.
3.6 overs (1 Run) A single to end! The good overs continue to come for India! On off, Kishan plays it through point for one.
3.5 overs (0 Run) Another one on a length and on off, blocked.
3.4 overs (0 Run) Good length and on off, this is guided to point.
3.3 overs (3 Runs) That is brilliant from Phillips! What a fielder he is! This is angled into the pads, Rohit just clips it through mid-wicket. This one is racing across the turf. Glenn Phillips at deep square leg, runs to his left, he dives and tries to push it back but the ball seems to be trickling back towards the ropes. He though does brilliantly to kick it away. He seems to have saved a run for his side. The umpire takes it upstairs and replays show he has done fine.
3.2 overs (6 Runs) SIX! It did not seem right off the middle but clears the ropes! Length and outside off, Rohit clears his front leg and lofts it over mid off. It goes all the way. Short boundaries here.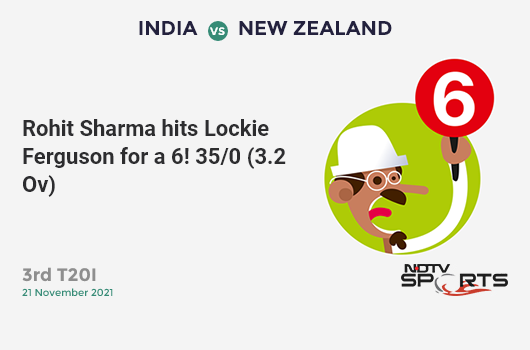 3.1 overs (0 Run) Sharma played that quite late! Length and on off, this one jags back in. Rohit plays it right under his eyes.
Lockie Ferguson is into the attack.
2.6 overs (0 Run) Back of a length and on middle, Kishan stands tall and pushes it to mid on. Yet another expensive over.
2.5 overs (0 Run) Shorter and outside off, extra bounce. Kishan misses his cut.
2.4 overs (4 Runs) FOUR! Easy pickings for Kishan! He loves such deliveries. This is on his pads. Kishan stands tall and whips it over mid-wicket. Races away to the fence.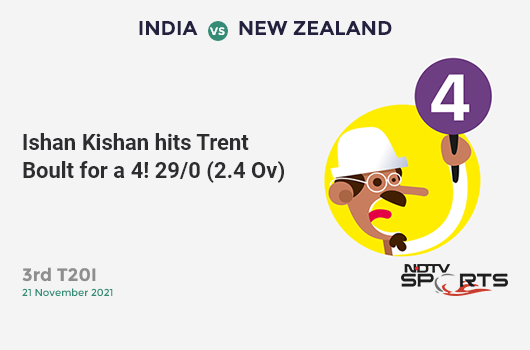 2.3 overs (1 Run) Sloppy from the keeper! Boult bowls an effort ball, short and outside off. Left alone. Tim Seifert takes his eyes off the ball as he tries to latch onto it at the very end. It hits the glove and goes back towards third man for one. Bye.
2.2 overs (6 Runs) SIX! Over the fence! First biggie of the game and it is raining boundaries in Kolkata! Short and on the body, Rohit swivels and pulls, it flies off the top edge and over the fine leg fence.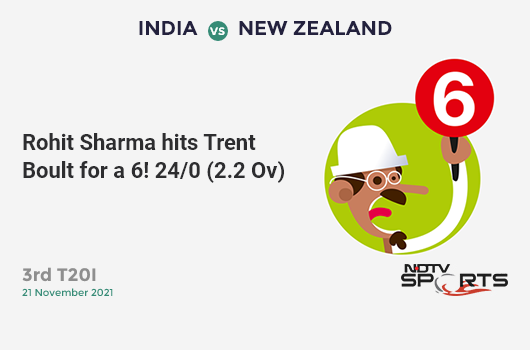 2.1 overs (0 Run) Outside off, shortish. Sharma chops it to point. A little too close to cut that one.
1.6 overs (4 Runs) FOUR! Nicely guided! Probably more off the outer half but he did want it to go there. Length and outside off. Kishan opens the face of the bat and plays it down to third man. Boundary. Yet another over with two boundaries. India off to a flier.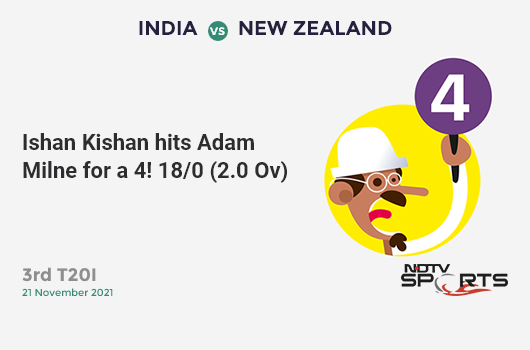 1.5 overs (2 Runs) Up and over! Two more! Outside off, Kishan looks to loft it over covers. He does not time it that well but hits it well enough to clear the in-field. Two taken.
1.4 overs (0 Run) Good delivery! Back of a length and on the stumps, cramping the batter for room. Defended.
1.3 overs (0 Run) Half an appeal but that has been turned down! Another very full ball, Kishan hits it into the ground and the man at cover-point holds onto it. He does appeal but nothing doing.
1.2 overs (0 Run) A yorker now and on middle, Kishan jams it out back towards mid off.
1.1 overs (4 Runs) FOUR! Yet another one off the edge, this time for Kishan! All luck going India's way right now. Full and outside off, Kishan goes after it, it goes off the outside edge, the man at third man runs to his right and dives but fails to stop it. India dealing in boundaries.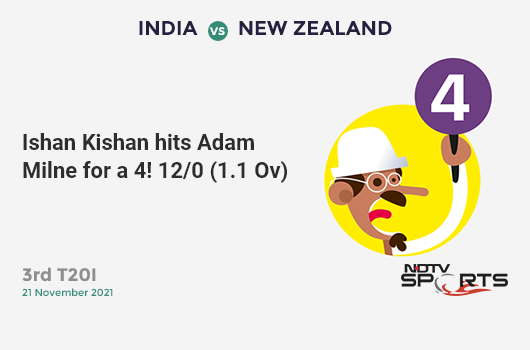 Who will bowl from the other end? It is Adam Milne.
0.6 over (0 Run) Good carry there to the keeper! A good start for India. 8 from the first. Length and outside off, left alone. Seems a good wicket already.
0.5 over (0 Run) Sharma misses out! This is a half volley, it is outside off, Rohit drives but does not beat mid off.
0.4 over (0 Run) Good comeback! A yorker now and on middle, Sharma jams it out.
0.3 over (4 Runs) FOUR! Up and over! Once again not right off the middle but Rohit won't care! Consecutive boundaries! This one is well wide outside off and full. Once again Rohit's feet are glued to the crease, he has a swing at it. It goes off the outer half over point for a boundary.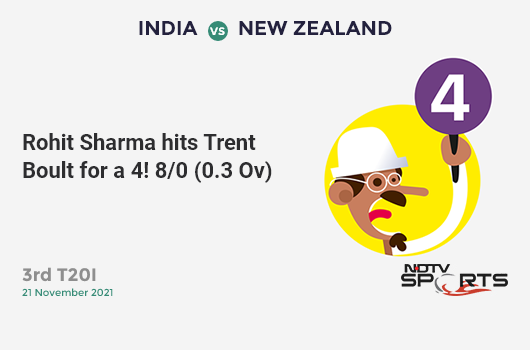 0.2 over (4 Runs) EDGY FOUR! India and Rohit are underway with a fortunate boundary! Excellent from Boult. Got the last one to come back in, gets this one to angle across. Rohit just hangs his bat out with no foot movement at all, it goes off the outside edge past the widish slip fielder and into the third man fence.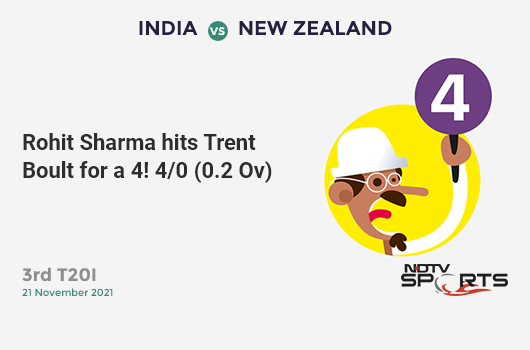 Halt in play as there is some issue near the landing area. The groundstaff are putting some sawdust.
0.1 over (0 Run) An appeal first up but turned down! Going down leg. Encouraging signs for Boult though as he got it to move back in. A little too straight. Sharma looks to flick but misses. He gets hit high on the pads.
We are all set for the action. Sourav Ganguly rings the bell in the iconic Eden Gardens. The Kiwi players stride out to the middle. Rohit Sharma and Ishan Kishan are the openers. Trent Boult to start with the ball. Here we go...
Rishabh Pant is up for a quick chat, he says that after the World Cup they are just trying to improve in some areas. Adds that they have taken positives so far and it is going well. Tells that if he can win the match for his team, it's his job and he is happy to do it. Says that due to bubble and all, they try to manage the workload.
Mitchell Santner, the skipper of New Zealand, says he wanted to bowl, the dew does play a big factor. States they have lost a couple of phases in the middle overs and the Indian batters have been tough to stop and he hopes they can play a good game here. Informs there is just one change.
Rohit Sharma, the skipper of India, says the pitch looks sticky and they want to challenge themselves by batting first. States they are going to try various things at various times and this is one of them, they want to see if the new group of bowlers can defend it. Informs they have two changes, Rahul and Ashwin have been rested and Kishan and Chahal come in. Adds they are clear about what they want to do and hence, Kishan had to wait as they want to give him the role that suits him. Further says also with Chahal, they want him to find his best and all the players are rearing to go.
New Zealand (Playing XI) - Martin Guptill, Daryl Mitchell, Mark Chapman, Glenn Phillips, Tim Seifert (WK), James Neesham, Mitchell Santner (C), Ish Sodhi, Lockie Ferguson (In for Tim Southee), Adam Milne, Trent Boult.
India (Playing XI) - Rohit Sharma (C), Ishan Kishan (WK) (In for KL Rahul), Suryakumar Yadav, Shreyas Iyer, Rishabh Pant (WK), Venkatesh Iyer, Axar Patel, Yuzvendra Chahal (In for Ravichandran Ashwin), Bhuvneshwar Kumar, Deepak Chahar, Harshal Patel.
TOSS - Mitchell Santner will lead New Zealand today as he walks out with Rohit Sharma. Up goes the coin and it lands in the favour of INDIA. They have elected to BAT first.
PITCH REPORT - Deep Dasgupta and Ajit Agarkar are down standing near the pitch. The former says that the pitch might have a little bit of grip for the bowlers and as the ground is lighting fast, it will be challenging for them. Also, dew will play its part as the game progresses. The team winning the toss will look to bowl first.
The Indians on the other hand will probably give a few players who are yet to play a game in this series a chance. They would want to test their bench strength. Will we see the Indian T20 League sensations Ruturaj Gaikwad and Avesh Khan get a chance here? We will find out. Stay tuned for the toss and other updates.
The Kiwis have been outplayed so far! Despite fielding most of their A-team players in the last game, they were no match for the Indians. Last chance for them before the Tests, can they make it 2-1?
It is time for the third and the final T20I between India and New Zealand! The action now moves to Kolkata. The series has already been sealed by the Indians but they would love a clean sweep. The Kiwis on the other hand would want to end the series on a high. This game by no means is a dead rubber. Will the change in venue bring in a change of fortunes for the visitors? We will find out.
Topics mentioned in this article