Story Progress
Back to home
Virat Kohli, Ravichandran Ashwin Static In Latest ICC Test Rankings
Virat Kohli remained the highest-placed Indian batsman at second, while off-spinner Ravichandran Ashwin held on to his top position in both the bowlers' and all-rounders' list of the latest ICC Test rankings.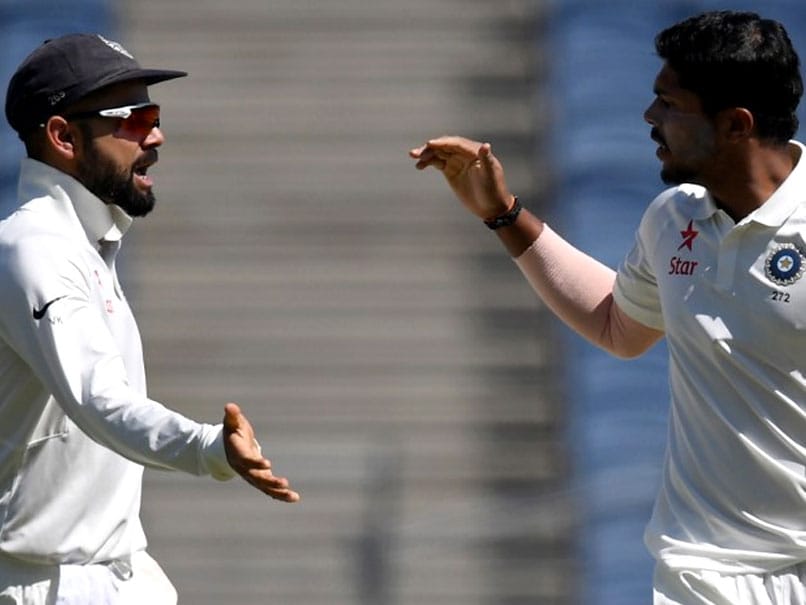 Virat Kohli still remains the highest placed Indian Test batsman
© AFP
Highlights
Virat Kohli is ranked second in the ICC Test rankings

Ravichandran Ashwin maintains top position as Test bowler

KL Rahul moved to his career-best ranking
After capitulating to a heavy 333-run defeat in the first Test match at Pune against the touring Aussies, few would have thought that it would not have an impact or an overall bearing on the ICC Test rankings. But as it turned out, ICC's latest rankings show the Pune loss has hardly had any impact on the rankings of the players. In fact, India's highest scorer in the 1st Test, KL Rahul moved up to his career-best ranking of 46 after scores of 64 and 10 in the recently concluded match.
Captain Virat Kohli was able to hold on to his second place and remained the highest placed Indian batsman while off-spinner Ravichandran Ashwin still remains the No 1 ranked Test bowler and kept his top position in the all-rounders' list of rankings.
The Australians, however, made substantial gains with match heroes Steve O'Keefe, Steve Smith and Matt Renshaw moving up the rankings.
Smith reached a career-high 939 rating points after an outstanding batting effort in the Test which his team take a 1-0 lead in the four-match series, the ICC said in a statement.
Smith has not only consolidated his position at the top of the Rankings for Test Batsmen but has also attained rating points which are the sixth-best ever after Don Bradman (961), Len Hutton (945), Jack Hobbs and Ricky Ponting (both 942) and Peter May (941).
Gary Sobers, Viv Richards and Kumar Sangakkara all had career-high ranking points of 938.
Smith, who scored 27 and 109 in Pune to gain six points, now leads Kohli by 66 points while England batsman Joe Root is 91 points behind him at third place with 848 points.
Renshaw has moved up 18 places to a career-best 34th position scoring 68 and 31.
In the Rankings for Test Bowlers, Australia's left-arm spinner Steve O'Keefehas rocketed up 33 slots to a career-best 29th place after figures of 12 for 70 which earned him the player of the match award.
O' Keefe's figures are the cheapest 12-wicket haul in Test cricket, beating ICC Hall of Famer George Lohmann's 12 for 71 against South Africa at Johannesburg in 1896.
Ashwin remained at the top of the bowlers' rankings with 878 points after taking seven wickets. But his spin partner Ravindra Jadeja now has company at second spot as Josh Hazlewood has caught up with him at 860 points, the Australia pace bowler's career-best.
India pace bowler Umesh Yadav's six wickets in the match have seen him gain four slots to reach 30th rank.
Promoted
Meanwhile, Australia pace bowler Mitchell Starc has moved up three slots in the list of all-rounders to fourth position after his fighting knocks of 61 and 30. Starc, who is ranked 10th among bowlers, has also moved up 27 places in the list of batsmen to a career-best 61st rank.
(With PTI Inputs)
Topics mentioned in this article