Story Progress
Back to home
Highlights, India vs Australia, 4th Test, Day 4, Dharamsala: Hosts Win by 8 Wickets, Reclaim Border-Gavaskar Trophy
After bowling out Australia for 137 in the second innings, India got off to a steady start chasing a target of 106. Murali Vijay and KL Rahul added 46 for the first wicket before Vijay nicked one off to the keeper. Pujara didn't trouble the scorers much as he was dismissed for a duck but Ajinkya Rahane along with Rahul took the hosts home without any more damage.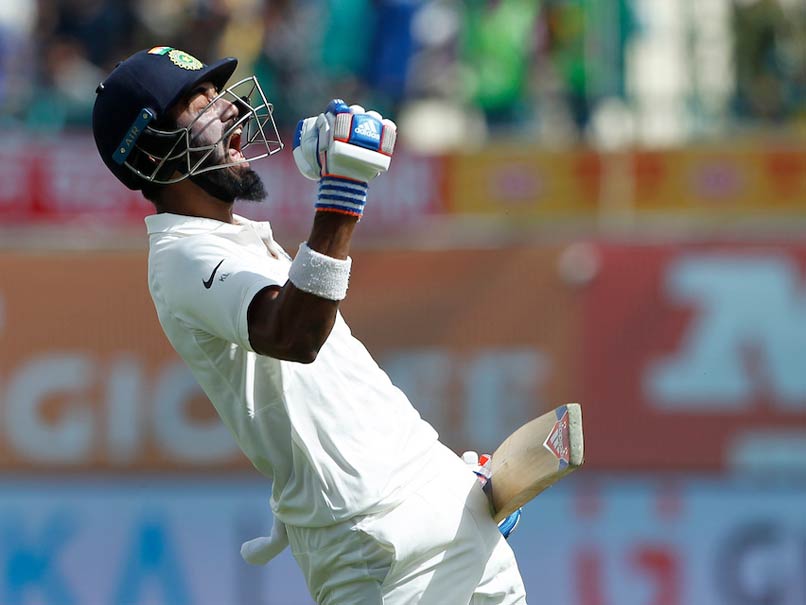 India vs Australia, 4th Test, Day 4: Hosts win series 2-1
© AFP
What a great comeback it has been for India. After losing the first Test match comprehensively, the hosts came back strongly in the second Test. The third Test ended in a draw as both teams went into the last Test match with the series hanging in balance. But it was India who came out on top in Dharamsala. After bowling out Australia for 300, India took the lead and bowled out the visitors for 137 in the second innings. WIth a target of 106 to chase, Ajinkya Rahane and KL Rahul took India home after Murali Vijay and Rahul added 46 for the first wicket. India win the series 2-1 and reclaim the Border-Gavaskar trophy. (SCORECARD)

Get highlights of India vs Australia, Day 4 in Dharamsala here.
11:23 IST: Lets look at where India are placed in the ICC Test rankings
ICC Test ranking
India 122
Australia 108
South Africa 107
England 101
New Zealand 98
Pakistan 97
Sri Lanka 90
West Indies 69#indvAus

— Mohandas Menon (@mohanstatsman) March 28, 2017
11:19 IST: Shikhar Dhawan not far behind. Here is what he tweeted!
THAT was the knockout punch!!! What a series win. CONGRATULATIONS #TeamIndia @BCCI @anilkumble1074 @imVkohli

— Shikhar Dhawan (@SDhawan25) March 28, 2017
11:19 IST: Shane Warne congratulates the Indian team.
Ps India is the hardest place to win, only 2 bad sessions cost the young inexperienced Aussie team the series. Congrats again India

— Shane Warne (@ShaneWarne) March 28, 2017
11:18 IST: Sachin Tendulkar is thrilled to bits.
Indiaaa Indiaaa Indiaaa Indiaaa!!!! #IndVAus pic.twitter.com/legRgX9JSk

— sachin tendulkar (@sachin_rt) March 28, 2017
11:16 IST:"Fantastic." says Anil Kumble. "We spoke about it that we will take one series at a time, one match at a time, one session at a time. To come back from 1-0 down, when you could see there were tired bodies around, it was brilliant. Rahane led the team brilliantly after losing the toss. The fast bowlers throughout the season have bowled brilliantly. The positives have been adapting to conditions. We have had almost 25 players starting from West Indies. All 25 have stood up in different conditions. Even the new home venues, we didn't know how those pitches would behave. Everybody put his hand up. The one area we need to improve is catching. Jaddu was brilliant through the season. He has always been in the shadows, but he has now come out of it. With this kind of line-up, with the lower-order contributions, I don't see any reason why we can't win abroad."
11:14 IST:"Fantastic series," says Cheteshwar Pujara. "Especially after the disappointment of the first Test. We probably wanted to win 3-1, but we are happy with 2-1. The way the fast bowlers bowled in the second innings was fabulous. We have been having good partnerships. I just told him we didn't want to to lose wickets in the first session on day two even if we didn't get runs. We knew if we didn't lose wickets, we could score big. The run rate was not that important. I would like to keep going if there were a few matches. I really enjoyed this home season, and hope to continue next season."
"After Pune, I knew I couldn't play my shots, it was a big restriction," says KL Rahul. "I love to play my shots, dominate the spinners, but I had to play a different game. Pretty disappointed I couldn't convert, but right now nothing else matters. Here I took a few knocks on the body. All I was telling myself, take a few hits for the team. I don't know what else was running in my mind. The way Jinks came out and started hitting Cummins for sixes... He just came out and said I am going to dominate."
10:53 IST: India reclaim the Border-Gavaskar trophy.
Game. Set. Match...#TeamIndia win the Decider Test by 8 wickets. Claim the 4-match series 2-1 #INDvAUS pic.twitter.com/UkpNLqNShH

— BCCI (@BCCI) March 28, 2017
10:52 IST: Thats it. India have won the series 2-1. KL Rahul also brought up his seventh fifty. What a home season it has been for India.
10:48 IST: Four leg byes!India inch closer to a famous series victory. Need six more.
10:46 IST; Four!O'Keefe bowling down the leg-side and Rahane gets some glove while sweeping. Gets a boundary.
10:41 IST:Short and wide from Lyon and Rahul makes full use of the opportunity.Four runs!
10:34 IST: Unbelievable shot! Is this Test cricket guys? Cummins stays round the wicket but Rahane this time makes room and slaps it over covers for a six. The shot just reminds us that IPL is round the corner.
10:32 IST: Six!Outstanding shot. Cummins comes round the wicket and bowls it short. Rahane pulls it off the front foot and it has gone all the way.
10:26 IST: Four!Cummins bowls it short, angling down the leg side and Rahane uses the pace of the bowler to pick up a boundary. 39 to win for India.
10:24 IST:Rahul again calls for the quick single, takes on Maxwell in the covers and the Australian once more hits the stumps directly. This is close. Rahul just makes it to the crease.
10:20 IST: Four!Lyon draws Rahul into the shot, gets a thickish outside edge and runs off to the boundary through the third man region.
10:18 IST:India 56 for 2 after 16 overs.
10:15 IST: Back to back boundaries for Rahane. This time pulls it in front of square for a boundary.
10:14 IST: Four:Rahane hits it straight past the bowler.
10:09 IST:Nathan Lyon comes on to the attack and bowls a good first over.
10:08 IST: Run Out! Terrible mix up between Pujara and KL Rahul and at the end Pujara was stranded in the middle of the pitch. Maxwell did the job by hitting the stumps. Pujara well short of his crease. India lose their second wicket.
10:01 IST:Cheteshwar Pujara joins KL Rahul in the middle.
10:00 IST: Out!Cummins gets it in and around off stump and Vijay nicks it through to the keeper. India lose their first wicket. Hosts 46 for 1
9:59 IST:Short from Hazlewood and Rahul pulls it away for a boundary. India need 60 more to win the series.
9:53 IST: Pat Cummins comes on to the attack. Replaces O'Keefe.
9:49 IST:Great length from Hazlewood so far in the over. Rahul caught in the crease.
9:45 IST: This time Rahul goes for the sweep and sweeps well. Gets it away for another boundary.
9:44 IST:Driven through covers and Rahul helps himself to a boundary. Too wide from O'Keefe and Rahul takes full advantage of it.
9:41 IST: Too close to cut and Rahul still goes for it. Gets a thickish outside edge and flies off to the third-man boundary. That was lucky. The ball went right between third slip and gully. Another day, it would have been out. Hazlewood has been right on the money this morning.
9:40 IST:So seven runs from that O'Keefe over. India will breathe a bit easy now.
9:38 IST:That ball spun a long way and it beats everybody. Runs away forfour byes!
9:36 IST:Steve O'Keefe to start from the other end. And Rahul clips it off his pads for a single. First runs of the morning. India are away.
9:34 IST: Again a big shout for leg before. Vijay living dangerously. A big inside edge and that is what saved him. A great first over from Hazlewood.
9:33 IST:Big appeal for leg before. The ball came back in from Hazlewood. May be just struck outside the line. The umpire rules it in favour of the batsman.
9:31 IST:Josh Hazlewood to start things off for Australia. Murali Vijay to take strike. Australia need wickets and they need all 10 of them. 87 to get for India to wrap up the series.
9:30 IST: So both the Indian openers make their way out to the middle.
9:28 IST:Spare a thought for the stand-in captain Ajinkya Rahane. He has been spot on with his field placements and bowling changes in this Test match.
9:25 IST:Umesh Yadav has picked up 30 wickets in 12 Test matches this season. What an outstanding effort from the Indian pacer.
9:12 IST:This has been a great pitch for Test cricket. There is something for everybody. The spinners got help from the track, there was bounce for the seamers and there was some runs on offer as well from the pitch.
One last look #INDvAUS pic.twitter.com/szO5CuSULQ

— cricket.com.au (@CricketAus) March 28, 2017
9:10 IST:Team India in a hurdle in what could be the final day of the series.
Positive vibes #TeamIndia #INDvAUS @Paytm Test Cricket pic.twitter.com/p6yVA7VUUs

— BCCI (@BCCI) March 28, 2017
9:08 IST: Australia did most things right in the series. They have had their moments but failed to use them to their advantage except in Pune.
9:07 IST:India's home season began on September 22 against New Zealand and from there on there has been no looking back. They won 3-0 against the Kiwis, 4-0 against England in a five-match series, won against Bangladesh in the one-off Test match and now against Australia they are on the brink of a series win.
9:05 IST: One hell of a series this has been as the visitors matched India in every department.
9:03 IST: India need 87 runs to win the series against Australia and take the Border-Gavaskar trophy
9:01 IST: India are all set to win the series after a brilliant performance with the ball in hand that reduced the visitors to 137 in their second innings.
9:00 IST: Hello and welcome to the fourth day's play.
At stumps, India were 19 for no loss, with KL Rahul (13*) and Murali Vijay (6*) at the crease.
Australia's dismal innings could have been worse, had it not been for knocks of 45 from Glenn Maxwell and unbeaten 25 from Matthew Wade.
Jadeja had figures of 3/24, while Umesh Yadav and Ashwin had identical 3/29 returns.
Earlier, resuming at 248/6, India were very much in a corner with the Australian fast bowlers on fire from the morning. However, Saha and Jadeja weathered the initial storm and put up a crucial 98-run seventh-wicket stand to ensure that India took a first-innings lead.

Promoted
Topics mentioned in this article