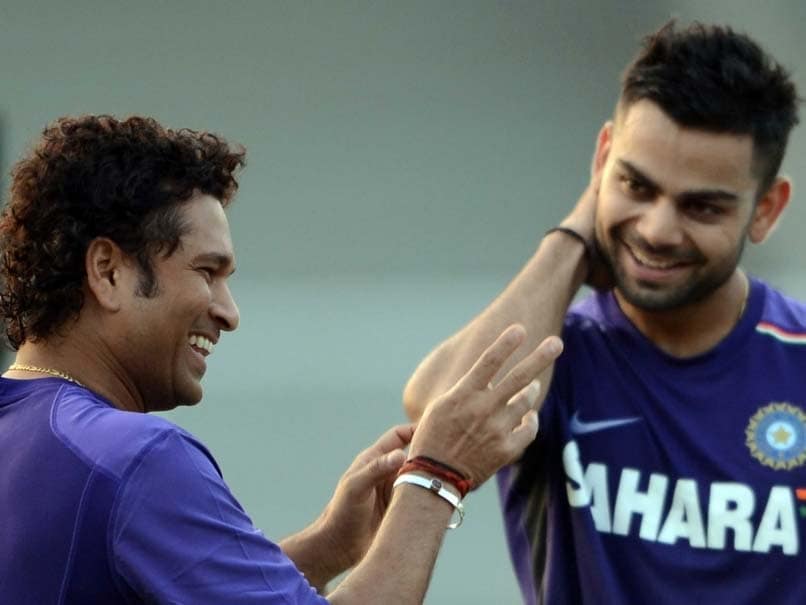 Sachin Tendulkar is on 898 points in the all-time ICC batsmen's ratings.
© AFP
Virat Kohli has been in a sensation run of form with his bat over the last couple of years. The Indian skipper took the cricketing world by storm in 2016, piling on runs across all formats of the game. In Tests, he has scored a double ton each in the last four series, all of which India have won in convincing fashion. Kohli's form has seen him tumble a number of records. With Australia set to tour India for a four-match Test series starting from February 23, Kohli will have his sights on Sachin Tendulkar's rating points in ICC's all-time batting charts.
Kohli, who had 875 points to his name before the start of the one-off Test against Bangladesh in Hyderabad, scored a double-ton against the neighbouring side, which propelled him to joint-33rd in the all-time list, alongside Steve Waught and Andy Flower, with 895 points.
With Tendulkar, who retired from the sport in 2013, being rated 31st with 898 points, it is fair to say that Kohli could get past the legendary batsman's figures during the upcoming series against Australia if he manages to sustain his form. Among Indians, the all-time record is held by Sunil Gavaskar with 916 points, while Australian great Don Bradman tops the list with 961 points.
After Kohli's double ton against Bangladesh, Tendulkar took to Twitter to heap praise on the Indian captain. "The sweet spot on your bat speaks about the awesome form you are in, don't need scoreboards.May god always keep your bat like that," he had tweeted.
Virat responded to the tweet on Tuesday, a day after India beat Bangladesh by 208 runs. The simplicity of his response aptly summed up the reverence with which he looks up to Tendulkar.
The first Test between India and Australia will start from february 23 in Pune.