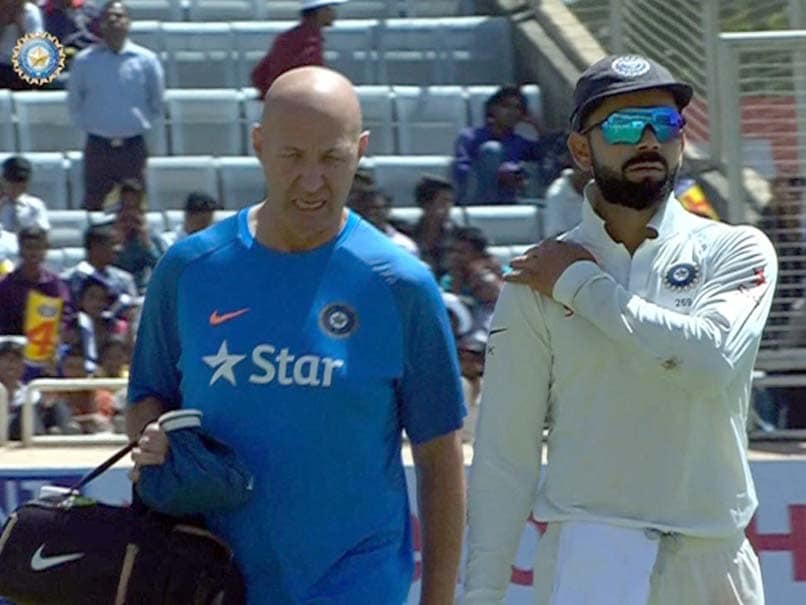 Virat Kohli got injured on Day 1 of the Ranchi Test
© BCCI/Twitter
Putting all the rumours to rest that have been doing the rounds on Virat Kohli's fitness, India speedster Umesh Yadav on Friday said that the Indian skipper is "fit to play" and is all set to bat in the Indian first innings in the Ranchi Test. "Bandage will obviously remain after an injury. But I think he's fit to play. The way he's practising at the nets it seems he's all set to come back," Yadav said when asked about Kohli's injury after the second day's play.
The hosts had heaved a sigh of relief on Thursday night when medical reports confirmed that there were no "serious concerns" with regards to Kohli's shoulder injury.
Kohli could not field after landing awkwardly on his right shoulder while trying to save a boundary in the post-lunch session on day one of the match at Jharkhand State Cricket Association stadium.
Such was the impact that he had difficulty in standing up and was grimacing in pain. He had to be rushed out of the field immediately.
Kohli's absence from the field, however, would not affect his number four batting position as this was an external injury.
According to the ICC's playing conditions, if a player is absent from the field for longer than eight minutes, the player, "shall not be permitted to bat unless or until, in the aggregate, he has returned to the field and/or his side's innings has been in progress for at least that length of playing time for which he has been absent or, if earlier, when his side has lost five wickets."
However, the clause does not apply if the player has suffered "an external blow (as opposed to an internal injury such as a pulled muscle) whilst participating earlier in the match and consequently been forced to leave the field.
Nor shall it apply if the player has been absent for very exceptional and wholly acceptable reasons (other than injury or illness)."
(With PTI Inputs)