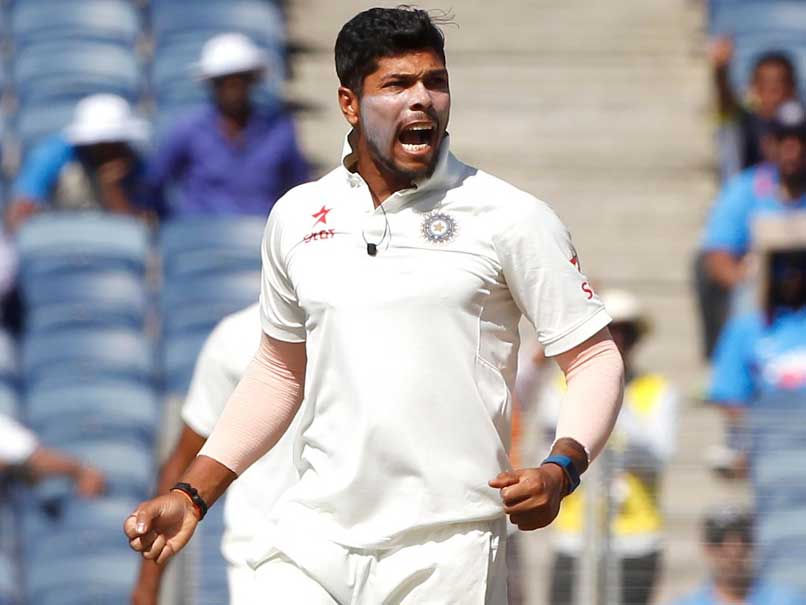 Umesh Yadav picked four wickets on Day 1 of the 1st Test vs Australia.
© BCCI
Umesh Yadav put India in command on Day 1 of the first Test against Australia with his four wickets on Thursday. Umesh, who dismissed David Warner, Matthew Wade, Steve O'Keefe and Nathan Lyon, generated movement on the ball as Australian batsmen struggled on a difficult batting track in Pune. The pacer was surprisingly introduced late into the bowling attack on Thursday, in the 28th over, and India's batting coach Sanjay Bangar has clarified that his late introcduction was part of the plan.
Umesh ended the day with figures of 4/32, with all his four wickets coming from the old ball.
"Umesh has been to known to bowl well with the old ball. Even in the series against England, you could see he got a lot of reverse swing. We had held him back, expecting that the ball would reverse-swing pretty early in the innings. It was the precise plan to hold him back as there were two left-handers at the top of the order," Bangar said at the post-stumps press conference.
"It's all part of the plan, wherein you know the instinct or strength that each individual possesses. We know that Ishant (Sharma) has troubled a number of left-handers from the Australian team over the years with his pace and bounce. We wanted to exploit him and give him the first go against left-handers," Bangar explained.
Umesh's ability to pitch the ball a bit fuller helped the team's cause, added the former Railways captain.
"We always knew about the capabilities of Umesh, who can pitch the ball slightly fuller with reverse swing coming very early into the game which we were expecting to happen. That was why he was held back. It was smart thinking by Virat. It helped him remain fresh throughout the day, which made him very incisive in his second and third spells as well," Bangar added.
Bangar said that even Umesh was kept in the loop about the plan that they had for him.
"Definitely. It's part of the communication and that is probably one of the stronger points of this current Indian team," said the former India opener.
'Credit to Shastri, Kumble'
Bangar also credited the Indian thinktank for the change in the fast bowlers' attitude.
"A lot of credit needs to go to captain and coach for the way they think. It all started with Ravi (Shastri) thinking in that fashion when he was in-charge, and after that Anil (Kumble) continuing in the same vein along with Virat who has been consistent factor in the making of the composition of the team. So, credit to them for having stuck to this combination of five bowlers," said Bangar.
Playing with five bowlers also makes the lower-order more responsible while batting, he stated.
"It means that the lower order has to take responsibility when they come out to bat, which they have been doing really well. We want all options as far as bowling is concerned because we want to bowl the opposition out twice.
"In Test cricket, getting 20 wickets is far more crucial to winning Test matches than just holding back and play mundane draws wherein both teams score 450 in three innings and not a result being there," he elaborated.
Bangar said India presently has a good crop of fast bowling talent.
"We have the quality of fast bowling. Very rarely have you seen Indian bowlers capable of bowling 140+ and hit consistent areas. It's not only the two who are on show in this game, but even Bhuvi (Bhuvneshwar Kumar) can bowl at 138kmph. (Mohammed) Shami, who is recuperating, hits 140+.
"And some other bowlers are coming up the ladder. So the long-term vision is that the fast bowlers will take up wicket-taking role when they go abroad and the spinners would do the job that the fast bowlers are doing in Indian conditions."
He also said one can bat with proper application on this track at the MCA Stadium.
"When you go to England, you have to negotiate seaming ball, in Australia you negotiate the bouncing ball and when you come to India you negotiate the turning ball.
"If you see, at the end of the day the score is still 256/9 and that is a lot of runs. The batsmen who applied themselves have shown that runs can be scored on this track," Bangar said.
"It's not that there was variable bounce. As Team India we never complain of any pitch when we go abroad, and it's just a day 1 of a Test match. And we are hopeful of, by where it (Test) stands, the next four days of cricket.
"Obviously, we would have been very happy had we batted in the evening. But we have seen in the past when our lower order has contributed a lot.
"So, all credit to (Mitchell) Starc because he came out and backed himself and played those shots. Because of that partnership they were able to end the day in a good position. I think we were expecting them to be bowled out around 230 or less than that. But they applied themselves," he added.
(With inputs from PTI)