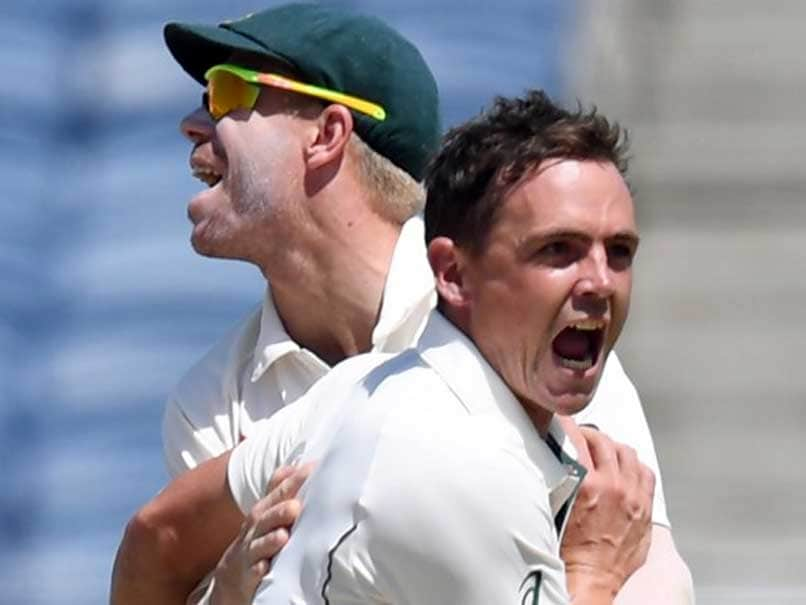 Steve O'Keefe claimed 12 wickets in the match against India
© AFP
Australian left-arm spinner Steve O'Keefe recorded his career-best figures of 6 for 35 in both the innings, claiming 12 wickets in the match by giving away only 70 runs. Keefe was lethal with the ball which helped Australia bundle out India for 105 and 107 in their first and second innings. Australia now lead the four-match Test series 1-0 and Keefe was instrumental in giving the visitors the all-important lead in the series. Keefe said he was relieved that he could contribute in his side's first win in India after such a long period.
"Probably relieved, it's the main one. It was a long time coming, a lot of preparation has gone into this one before we travelled over here. We went to Dubai before coming to Mumbai. So I am just relieved with the position that we're in, 1-0, and to personally take some wickets. It gives me a lot of confidence going forward," the 32-year-old said.
"I didn't think it was going to turn out the way it did today. One of the things from bowling for a lot of time is that you build up a lot of belief. When you've got good structures around you with the captain and the coaching staff, you're going out there feeling confident in your own ability. And that's an important place to be out there particularly as a spinner," O'Keefe said at the press conference.
"So to say that I was going to take 6/35, no I didn't think but I had belief I could keep hitting the same area, and that was just the result of it today," he added.
Malaysia-born O'Keefe said he enjoyed bowling in tandem with senior spinner Nathan Lyon who picked up five wickets in the series-opener.
"Nathan and I enjoy bowling together, we've done it for a long time. We've done it unsuccessfully and we've done it successfully. The best thing about Nathan is that he takes that in his stride and we're willing to communicate in how we can improve and we do that throughout the match.
"We've got a good relationship, and that's going to be important going forward," said O'Keefe who played in only his fifth Test.
But he does not expect smooth sailing in the remaining matches.
"These guys are great players and great players of spin in their own backyard. So there are going to be tough days, and the good relationship will certainly help. We enjoyed today for sure."
The man-of-the-match bowler's analysis is the second best for an overseas bowler in India, after Ian Botham's 13 for 106 in the Golden Jublilee Test at Mumbai's Wankhede Stadium in 1980.
(With PTI Inputs)