Story Progress
Back to home
South Africa vs Sri Lanka: ICC T20 World Cup 2021 Live Cricket Score, Live Score Of Today's Match on NDTV Sports
Live Updates of Today Match between South Africa vs Sri Lanka from Sharjah Cricket Stadium, Sharjah. Check commentary and full scoreboard of the match.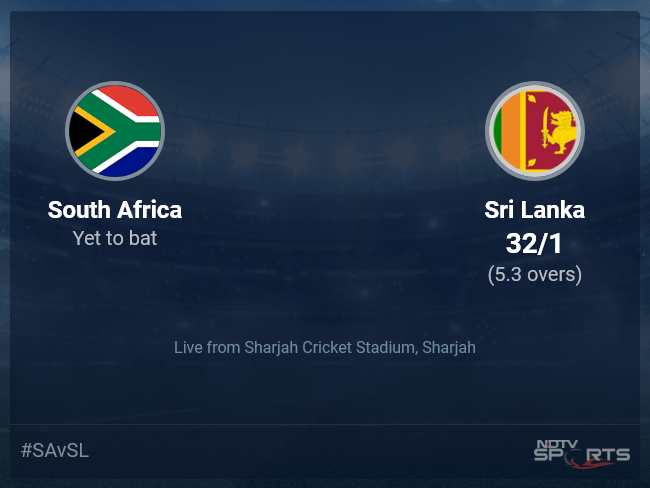 SA vs SL Latest Score
A dedicated team of experts bring you live score, live cricket score, live match update on Sports.NDTV.com. After 5.3 overs, Sri Lanka are 32/1. The live updates of South Africa vs Sri Lanka scorecard is also available. It is the perfect platform to follow your favourite teams in ICC T20 World Cup 2021. Keep a track on your favourite batsmen and bowlers through ICC T20 World Cup 2021 today match, ball by ball commentary, South Africa vs Sri Lanka, South Africa vs Sri Lanka live score, South Africa vs Sri Lanka scorecard. Follow the excitement of the ICC T20 World Cup 2021 on Sports.NDTV.com as you can follow live match updates and live cricket score through our platform.
4.6 overs (0 Run) Good length and around off, Pathum Nissanka opens the face of the bat and guides it to point. A good over for Lanka. Rabada has been expensive so far. 17 from his 2.
4.5 overs (1 Run) Back of a length and on off, Asalanka guides it down to third man and gets to the other end.
4.4 overs (1 Run) Now follows the biggie with a single as this is worked through square leg. Good batting.
4.3 overs (6 Runs) SIX! WHACK! Over the fence! Welcome biggie for Lanka! Not a risky shot. This is coming in with the angle, Nissanka shuffles across and heaves it over the mid-wicket fence for a biggie.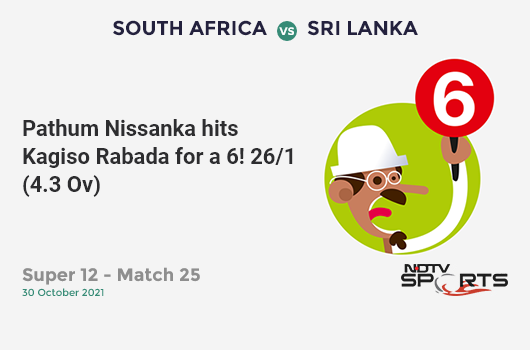 4.2 overs (0 Run) Another one, tailing back and on middle, Nissanka plays it late and to point.
Change of ends for Kagiso Rabada.
4.1 overs (0 Run) Good length and on off, Nissanka blocks.
3.6 overs (0 Run) On middle, Asalanka works it to mid-wicket. A successful over from Nortje.
Charith Asalanka walks out to bat.
3.5 overs (0 Run) OUT! TIMBER! Perera walks back for yet another low score and it is Nortje who provides the breakthrough! Slightly shorter in length and on middle, Perera looks to pull but this one does not bounce a lot. He misses and the middle pole is uprooted. This is a really good start for South Africa.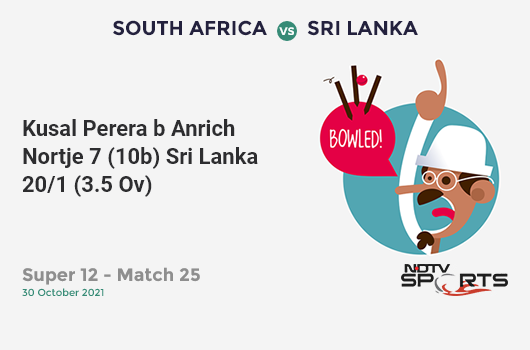 3.4 overs (1 Run) On off, Nissanka guides it down to third man and gets to the other end.
3.3 overs (0 Run) Yet another delivery which could have been put away but not put away! Short and wide outside off, Nissanka cuts but to point.
3.2 overs (1 Run) Perera misses out! Short and on the pads, Perera looks to pull but it hits the pad and rolls towards short fine leg. A leg bye taken.
3.1 overs (1 Run) Too full but the gap is not found! Fuller and on off, Pathum Nissanka drives, the man at mid off moves to his left and keeps it down to one.
Anrich Nortje comes to bowl.
2.6 overs (1 Run) Another single to end! Markram continues to keep it tidy! On middle, this is eased down to long on.
2.5 overs (0 Run) Slightly shorter, Pathum Nissanka pulls it hard but to mid-wicket.
2.4 overs (1 Run) On middle, this is worked towards mid-wicket for one.
Review time! Temba Bavuma has opted for a review as Kusal Perera has been struck on his pad. The Ball Tracker clearly shows that the impact was well outside off and Kusal Perera survives.
2.3 overs (0 Run) NOT OUT! Impact outside off! It did seem that way and that is how it remained. South Africa lose a review. This is fired outside off. Perera looks to sweep but misses. He gets hit on the pads. A huge appeal but turned down. Bavuma reviews but replays show it is not a good one.
2.2 overs (0 Run) Angled into the pads, Perera works it to square leg.
2.1 overs (1 Run) Gives it flight and bowls it outside off, PN drags it towards long on for one.
1.6 overs (4 Runs) FOUR! Nice and fine! A boundary to end! Second in the over and Perera's first! Another gift for the batter. It is on the pads, Perera works it fine and this one races away to the fence.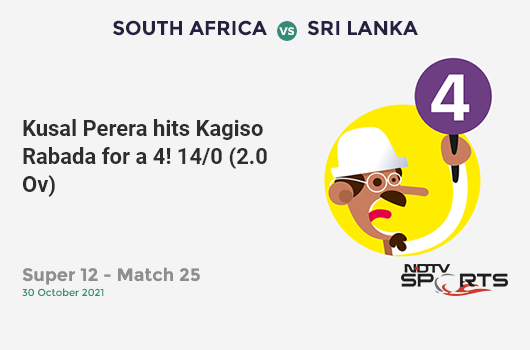 1.5 overs (0 Run) Width on offer this time, it is outside off, Perera goes after it but he gets it off the underedge to the cover fielder.
1.4 overs (0 Run) Ouch! That might have hurt! On the pads, it is worked to short fine leg. The fielder has a shy but he throws it towards the batter by mistake. Perera though jumps early and then gets hit on the body.
1.3 overs (1 Run) Better! Length and on off, Nissanka guides it down to third man for one.
1.2 overs (4 Runs) FOUR! Fortunate boundary! Sri Lanka won't mind how they come as long as they do. First one of the game. Poor ball by Rabada but that is a poor shot too. Short and wide outside off, Pathum Nissanka has his feet glued to the crease as he tries to cut, he gets an inside edge, it goes past the off pole and down to the fine leg fence.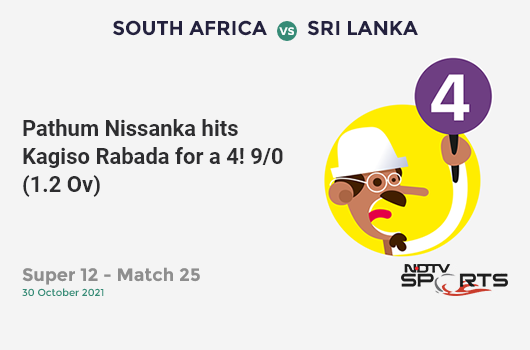 1.1 overs (0 Run) Good length and on middle, Pathum Nissanka plays it to mid on.
Who will bowl from the other end? Kagiso Rabada it is!
0.6 over (1 Run) A quiet first over then! Just the 5 from it! On middle, Pathum Nissanka flicks it through wide mid on for one.
0.5 over (0 Run) On middle, Nissanka works it to mid-wicket.
0.4 over (1 Run) Yet another one! Angled into the pads, Perera nudges it to mid-wicket and gets to the other end.
0.3 over (1 Run) Flatter again and on the stumps, it is once again pushed down to long on for one more.
0.2 over (1 Run) Confusion but safe! Also, excellent from de Kock! On middle, this is worked to square leg. Rabada runs to his right but as he tries to pick the ball up, slips, he lets it through. Pathum Nissanka wants another and sets off but is sent back. The throw to de Kock is a wide one. He collects and without looking, flicks it back onto the stumps but the batter is in.
0.1 over (1 Run) Sri Lanka and Pathum Nissanka are underway! Flatter and on off, this one skids through, it is pushed down to long on for one.
The players of both the teams are out for their respective national anthems! First, it will be the anthem of Sri Lanka followed by the anthem of South Africa! We are done with all the formalities and are set for the action! The players of South Africa are in a huddle before spreading out on the field! Kusal Perera and Pathum Nissanka are the opening batters for Sri Lanka. Before we begin, the players from both teams take knee to show their fight against racism! Aiden Markram to start with the ball.
Aiden Markram is up for a chat. He says that they had few challenging days but they want to give their best in this competition and they don't want to bother about the things that are going outside. Tells that he is enjoying his batting and he is still learning on playing in such conditions. Says that Sri Lanka are a good side and they are certainly up for the challenge. Tells that the pitch does not look that bad and they have watched the previous game that was played on the similar track.
Dasun Shanaka, the skipper of Sri Lanka, says that they have played two games at Sharjah and they know the conditions really well. Tells that their batters as well as bowlers have played here before and they exactly know what to do. Informs that they are unchanged.
The skipper of South Africa, Temba Bavuma says they have one change, de Kock comes in for Klaasen. States the team is feeling a lot better than they were a cople of days ago, de Kock is in a much-better mindset and they are looking forward to this game. Adds the first 5 overs will be very key for them and that is why they want to bowl first, they want to adapt to the conditions. Ends by saying he assumes the wicket to be slow and low.
Sri Lanka (Unchanged playing XI) - Kusal Perera (WK), Pathum Nissanka, Bhanuka Rajapaksa, Avishka Fernando, Charith Asalanka, Dasun Shanaka (C), Wanindu Hasaranga, Chamika Karunaratne, Dushmantha Chameera, Maheesh Theekshana, Lahiru Kumara.
South Africa (Playing XI) - Reeza Hendricks, Quinton de Kock (WK) (In for Heinrich Klaasen), Temba Bavuma (C), Aiden Markram, David Miller, Rassie van der Dussen, Dwaine Pretorius, Keshav Maharaj, Kagiso Rabada, Anrich Nortje, Tabraiz Shamsi.
TOSS – Both the skippers stride out to the middle for an all-important toss. The coin goes up and lands in favour of South Africa. They have opted to BOWL first.
PITCH REPORT - Daren Sammy is down for the pitch report. He says that the conditions are very hot and as far as the dimensions of the ground are concerned, the straight boundaries are a bit on the bigger side as compared to the square boundaries. Mbangwa is also there, he says the bowlers should hit the deck at the back of a length. Adds, the bowlers should go wide in the death overs, a yorker can be a risky deal.
South Africa, led by Temba Bavuma, have looked a really good unit so far and they would be high on confidence coming into this fixture after having won against the defending champions West Indies in their previous game. The Proteas have a world-class bowling attack, not only on paper but they have proved it with their performance on the field as well. They certainly missed the all-round services of Quinton de Kock in their previous match but there is a possibility that he will be back for this clash. Their top order spent some quality time in the middle against West Indies and they seem to be even more dangerous when their batting unit fires. We are in for a cracker of a game as both teams will go hard at each other in Sharjah's scorching heat. Stay tuned for toss and further updates.
Sri Lanka, the most consistent side of this mega event in terms of overall wins, started well by winning their opening encounter against Bangladesh but suffered a defeat in their next game. They have batted reasonably well so far but it is their bowling which has been a tad inconsistent. Charith Asalanka, with the bat has been a revelation for them and they would hope that he carries his sublime form into this game. Sri Lankans do have some quality spinners but they haven't been able to make a strong impact in the Super 12 stage. Dasun Shanaka and his men would hope that they will be able to put up a solid team performance against the Proteas as they cannot afford to lose two games in a row in a tournament like this.
Things are heating up in the ICC Men's T20 World Cup 2021 as the matches are coming thick and fast. Hello and a very warm welcome to another intriguing contest where South Africa is set to take on Sri Lanka. Both sides have managed to grab 2 points so far and they have all to play for as the race for semi-final is well and truly on.
Topics mentioned in this article