Story Progress
Back to home
Pakistan vs New Zealand Live Score Ball by Ball, ICC T20 World Cup 2021 Live Cricket Score Of Today's Match on NDTV Sports
Live Updates of Today Match between Pakistan vs New Zealand from Sharjah Cricket Stadium, Sharjah. Check commentary and full scoreboard of the match.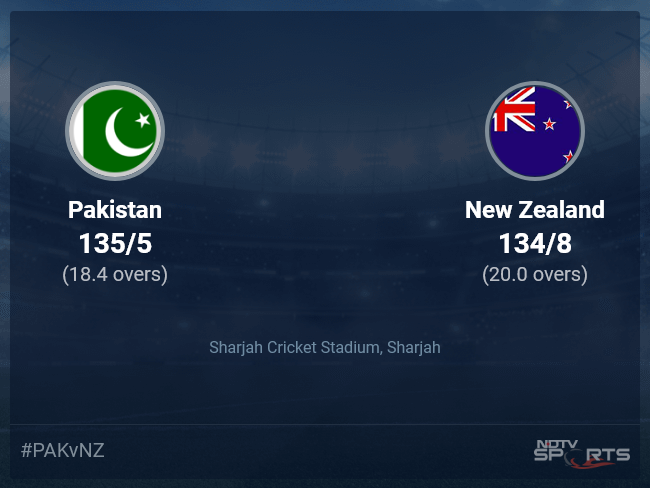 NZ vs PAK Latest Score
Follow the ICC T20 World Cup 2021 live cricket score on Sports.NDTV.com. After 18.4 overs, Pakistan, chasing a target of 135, are 135/5. Get live score, ball by ball commentary and much more. Keep track of ICC T20 World Cup 2021 today match between Pakistan and New Zealand. Everything related to Pakistan and New Zealand match will be available on Sports.NDTV.com. Stay updated with Pakistan vs New Zealand live score. Do check for Pakistan vs New Zealand scorecard. You can get scorecard updates, match related facts. Get quick live updates with ads, Sports.NDTV.com, which is the perfect destination for live cricket score.
So, that is it from this game, it was South Africa who won the first one in the afternoon and then it was Pakistan who emerged victorious second time in a row. Two games coming your way on Wednesday. First it is England taking on Bangladesh and then Scotland will be locking horns with Namibia. Action begins at 1400 local (1000 GMT). Till then, take care and goodbye!
Babar Azam, the victorious skipper, says that he is always happy with a win and it gives them a lot of confidence. Adds that it was a team effort, the way they started with the ball and they way the spinners bowled and finally Haris Rauf bowled really well. Adds that mainly the fielding effort was exceptional. Mentions that they leaked 10 or so more runs and when they came out to bat, early wickets fell. He applauds the efforts of Shoaib Malik and Asif Ali for the way they batted and finished off things. Mentions that they want to take it day by day and make sure they perform on the day of the match.
Kane Williamson, the New Zealand skipper, is up for chat. He says, it is very disappointed. They were quite optimistic in the halfway mark, but this is good Pakistan side, who managed to take it over the line. Mentions, the boys could not nail it in the end. On being asked about the bowling pack, he says, the bowlers were outstanding for the 80 percent of the game. They had planned to keep it on the stumps but once there were poor deliveries, the batters pounced on them and took the game away from us. Mentions, they have a lot of positives to take from this game. Also, the venue is also different and the opponent as well, India is a good looking side. Ends by saying, they will hope to comeback stronger in the next game.
Haris Rauf wins the Man of the Match award for his tremendous spell with the ball. (4-0-22-4). He is up for a chat. He says, that the team's effort in the field, supporting the bowlers was the key and the fans support too was important. Adds that the type of bowlers they have, they support each other and they constantly talk about the pitch and conditions. Mentions that his pick of the wicket today was the one of Guptill as it took New Zealand's momentum away. He ends by thanking his family for their continued support.
... Presentation Time ...
Earlier in the day, after electing to bowl, Pakistan put in another excellent display with the ball as they restricted New Zealand to a low total on a challenging surface. They were struggling to gun it down but a good innings from Malik and a superb knock form Asif Ali took them over the line.
The Kiwis actually should be pleased with the fight they showed, they bowled hard lengths and made it difficult for Pakistan to score. Southee was terrific, Sodhi was also very impressive. To add to that, they were brilliant in the field. However, when mattered they failed to keep their nerve, they needed to bowl well at the death but that was not to be.
The start though was not that great for Pakistan. They began slowly and lost Babar Azam in the Powerplay. They just could not get a move on and just as they seemed like moving ahead with the game, they kept losing wickets. They were in a spot of bother when Rizwan fell. The Men in Green were reeling at 69 for 4 and the run rate needed was nearing 9. Malik though kept his cool, played sensibly, he wanted to take it deep. Pakistan though still needed someone to play a cameo for them and it came from the bat of Asif Ali. He is picked as the finisher and he played a gem of a knock.
What a chase that turned out to be! It was the opening two which came to the fore for Pakistan in the first game and this time it was the middle and the lower order. Absolutely stunning from Malik and Asif Ali. Especially the former, he paced his innings so well and the others who came out to bat with him just played around him and did their job. Pakistan really look a superb team and they have more or less sealed their passage to the semi finals.
18.4 overs (2 Runs) That's it, Pakistan have gone 2 out of 2! Fullish ball, around off. Asif Ali drives it through cover and the batters come back for the second. Pakistan WIN BY 5 WICKETS!
18.3 overs (6 Runs) SIX! That outta do it now! Trent Boult bangs in a short ball, around middle and it's just not short enough. Asif Ali hangs back and absolutely muscles it over the wide long on fence. Just 2 needed now.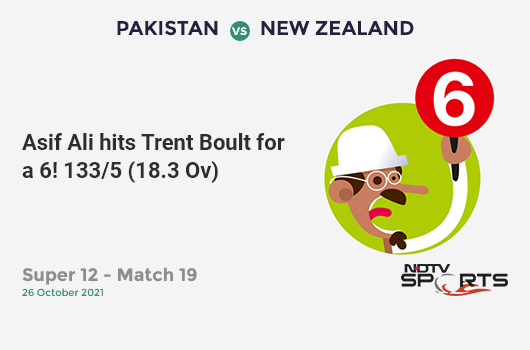 18.2 overs (0 Run) A length ball, around leg stump, cramping Ali for room. Ali looks to flick it away but misses and gets hit on the pads.
Asif Ali looks to struggle in the middle at the moment. He had been hit in the grills a while back. The physio is out to go through the concussion test yet again. This is taking some time. Asif Ali decides to continue and the physio makes his way out of the pitch.
18.1 overs (1 Run) Fullish ball, around off. Shoaib Malik walks across the stumps and heaves it through mid-wicket for a single.
Trent Boult (3-0-20-1) to bowl the penultimate over.
17.6 overs (0 Run) Flatter and on off. Ali drives it to cover. A great over for Pakistan, they are inching closer to the finish line.
17.5 overs (2 Runs) Flatter and on middle and leg. Ali clips it through mid-wicket. The batters take two, as there is no one inside the circle. Good-running.
17.4 overs (1 Run) On the pads, flicked through mid-wicket for a single.
17.3 overs (6 Runs) SIX! HIGH AND HANDSOME! You can't let Malik come down the ground. Tossed up, on off. Malik dances down the track and smokes it over the long off fence for a maximum.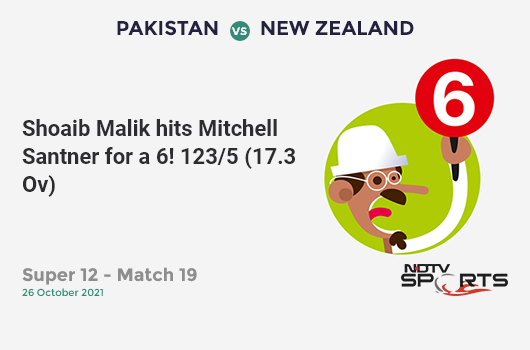 17.2 overs (2 Runs) On the pads. Malik flicks it through mid-wicket for a brace.
17.1 overs (4 Runs) FOUR! Santner is brought back and Malik is on the charge straightaway. Short and outside off. Malik hangs on the back foot and cuts it through point for a boundary. This match is swinging from one end to the other.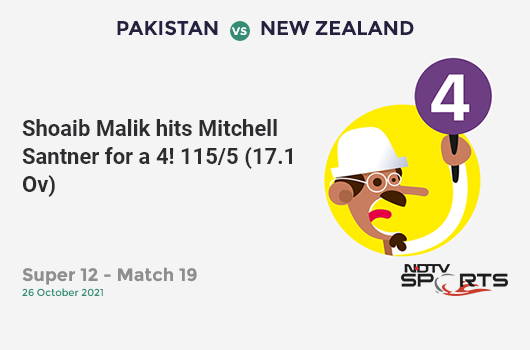 Asif Ali has been hit on the grill of the helmet and hence, out comes the physio for the compulsory concussion check. Hope he is fine and the physio is asking him a few questions. Everything seems fine now and we are ready to resume play. Mitchell Santner (3-0-18-1) comes on to bowl his final over.
16.6 overs (0 Run) Back of a length, around off. The ball skids off the surface. Ali looks to pull it away on the back foot but misses. The ball takes the top edge and Ali gets hit on the helmet. He goes down in the crease, but he shows thumbs up to the kiwi players who surround him while checking on him. A great over for Pakistan 13 runs coming off it.
16.5 overs (0 Run) Swing and a miss! Good-length ball, outside off. Ali looks to chase it but misses.
Kane Williamson has taken the review for an LBW decision. This one is more hope than certainty. UltraEdge shows that there's no bat involved and Ball Tracker confirms that the ball is going over the stumps. Asif Ali stays at the crease.
16.4 overs (0 Run) NOT OUT! Southee appeals for an lbw but the umpire is unmoved. A length ball, around middle and off. Ali stays inside the crease and looks to pull it away but misses. He gets rapped on the pads, Southee and the team appeals but the umpire says no. Kane Williamson decides to take it upstairs. The UltraEdge shows no bat is involved. The Ball Tracker shows that the ball is missing the wickets. Asif Ali survies.
16.3 overs (6 Runs) SIX! Ali is on a roll. Back-to-back maximums. Touch short and on off. Ali hangs back and powers it over the long on fence for another biggie. Pakistan are right back in it.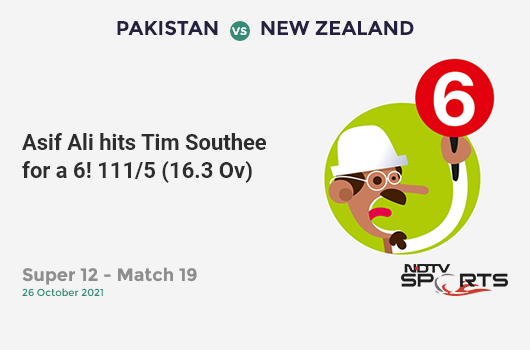 16.2 overs (6 Runs) SIX! BANG! Ali is getting his side back in the game. He hits it down the ground. Slower ball, half volley, around off. Ali powers it down the ground for a maximum at long off.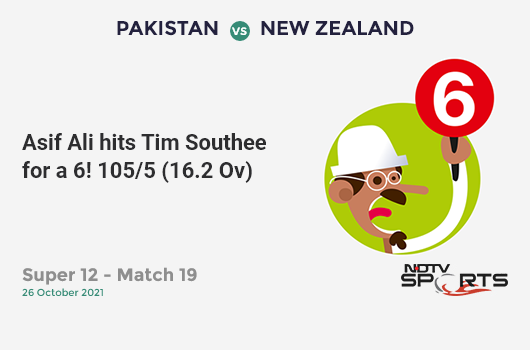 Tim Southee (3-0-12-1) to bowl out.
16.1 overs (1 Run) Southee starts his final over with a single. Slower, length ball, around off. Malik hangs back and punches it through cover for a single.
15.6 overs (1 Run) LEG BYE! Full and down leg. Malik misses his sweep. The ball rolls out off the pads. The batters collect a leg bye. 37 needed in 24 balls.
15.5 overs (4 Runs) FOUR! This might release some pressure. Full and on middle. Malik dances down the track and lifts it towards long on. The ball ends up in the boundary.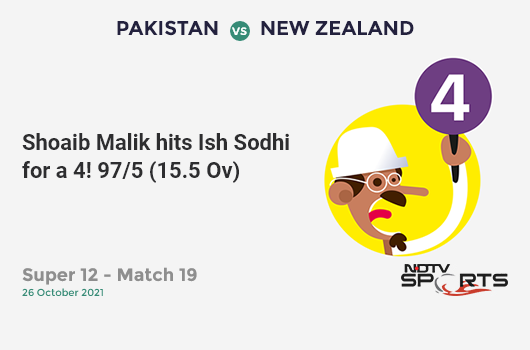 15.4 overs (0 Run) Two dots in a row now. The pressure keeps mounting with every dot ball. Darted, on the pads. Malik looks to sweep it away but misses. The ball rolls out off the pads.
15.3 overs (0 Run) A dot now! Flighted, full and on off. Malik steps forward and pushes it to cover.
15.2 overs (1 Run) Another single now! Flatter and around off. Ali guides it towards third man for a single.
15.1 overs (1 Run) Tossed up, on off. Malik comes down the track and works it to long on for a single.
Match Reports
Topics mentioned in this article