Story Progress
Back to home
Dense Fog Makes FIH Worry Ahead of Junior Hockey World Cup
The Junior Hockey World Cup will be played in Lucknow from December 8 to 18.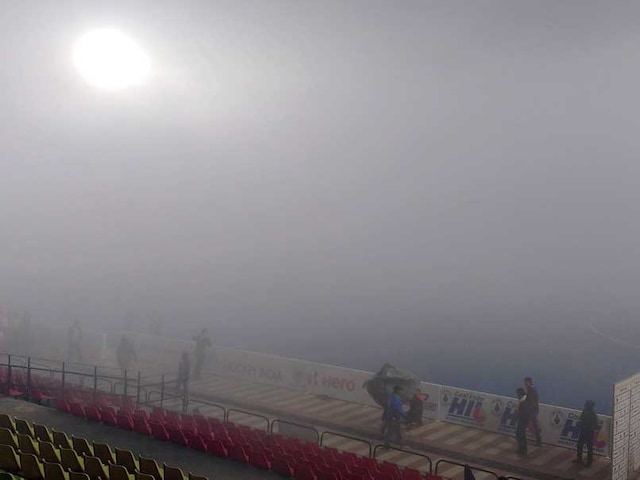 The dense fog in Lucknow will be an issue to deal with for the FIH.
© PTI
Highlights
The Junior Hockey World Cup is being played in Lucknow

The tournament will be held from December 8 to 18

India will open their campaign against Canada on Thursday
Lucknow:
Adverse weather conditions in North India this time of the year was always a concern after Lucknow was named host city of 2016 World Cup, and the FIH now seems to be in for a tough time as visibility at the venue dropped considerably just a day before the start of the 16-team event in Lucknow on Wednesday.
Dense fog engulfed the Major Dhyan Chand Astroturf Stadium, situated at the outskirts of the city, forcing the Malaysian team to delay their practice session by half an hour.
Such was the weather condition that the stadium was completely invisible for some time due to dense fog which cleared up to some extent later on but appeared again, forcing the Malaysian team to cut short their training session.
With many matches scheduled for 7 pm and 8 pm start, including the title clash on December 18, the International Hockey Federation (FIH) is now thinking about back up plans, which includes changing the timing of the matches and even shifting a few games to the other hockey ground in the middle of the city at Gomti Nagar, which has been earmarked for practice of teams.
"It was unbelievable today. Fog is turning out to be a serious issue especially for the late matches. The FIH is concerned about the weather condition but it is not in our hands. We are trying to work out a contingency plan in case of such adverse weather," an FIH official told PTI on condition of anonymity.
India senior side chief coach Roelant Oltmans, who is a part of the coaching staff of the Indian junior team here, too is concerned about weather conditions but said they cannot lose sleep thinking over it.
"A few things are not in our hands and one of these is weather conditions. We have to cope according to situations. We played a practice game two days ago where it was a bit foggy but still good enough to see everything.
"We are not worried about that, we are just focused on executing our job properly and if there is any outside influence we will have to handle it accordingly," Oltmans said.
Germany coach Valentin Altenberg said it would be a risk to play in such adverse weather conditions and the FIH will need to work out an alternate solution.
Promoted
"If it (fog) gets thicker then we have a problem. Not only for the players, but also for the umpires, the TV umpire and also for those who will be watching it. So if we reach a point where it could get dangerous, then we need to look at alternatives," he said.
India play their tournament opener against Canada on Thursday in the last game of the day, the scheduled start of the match being 7 pm.