Story Progress
Back to home
Tributes Pour in for Arnold Palmer, Memorial Service Planned
Golf legend Arnold Palmer died on Sunday at age of 87. A public memorial has been scheduled for next week in his hometown.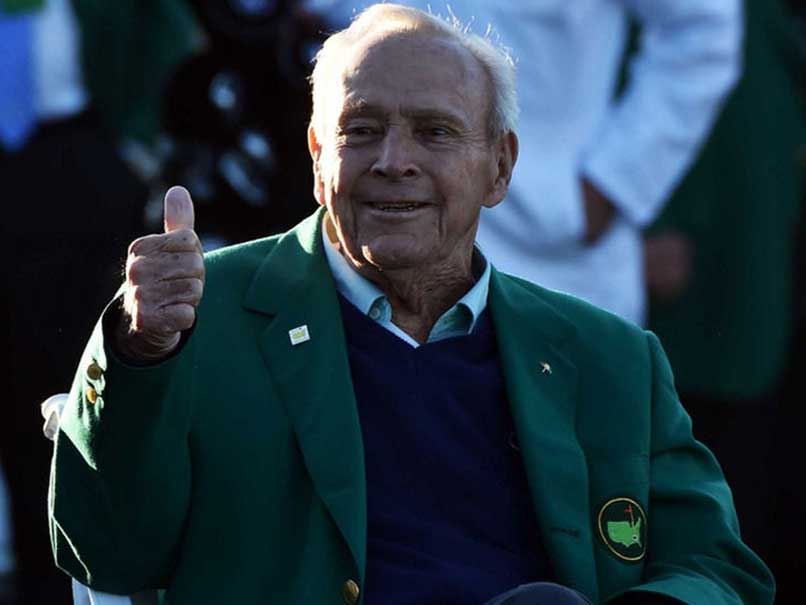 Golf Legend Arnold Palmer was a seven-time Major winner.
© AFP
Highlights
Arnold Palmer died at the age of 87

He was a seven-time Major winner

He also won 62 titles on PGA tour
Worldwide tributes continued for Arnold Palmer, the golf icon who died Sunday at age 87 as a public memorial was scheduled for next week in his hometown.
South African legend Gary Player toasted his 1960's "Big Three" rival in an emotional statement, the 80-year-old saying, "I hope to be reunited for another round together in time."
Palmer's grandson, PGA player Sam Saunders, announced a private ceremony will be held for "The King" this week while a public memorial service will be staged on October 4 at St. Vincent's College Basilica in Palmer's hometown of Latrobe, Pennsylvania.
Alastair Johnston, the chairman of Arnold Palmer Enterprises, said the decision was made to delay the public ceremony until after the Ryder Cup so it does not overshadow the biennial US-Europe men's team golf matches being staged Friday through Sunday at Hazeltine.
"The last thing he would have wanted was the whole golf schedule to be interrupted because of his passing," Johnston said.
'Simply transcended' golf
The US flag was at half staff at Hazeltine, St. Andrews, Riviera, Pinehurst and Bay Hill -- where the US PGA Arnold Palmer Invitational is annually played -- as well as other top-level golf courses worldwide.
"He was a true gentleman, one of the greatest ever to play the game and a truly iconic figure in sport," said R and A chief executive Martin Slumbers.
"His contribution to the Open Championship was, and remains, immeasurable. He will be missed and forever remembered by all at the R and A and throughout the world of golf."
Player recalled how they began as rivals and became fast friends as years passed.
"He was simply a dear friend for over 60 years... and I will miss him terribly," Player said.
"Arnold Palmer simply transcended the game of golf. He was inspirational to so many and lived his life to the fullest. He had a slashing, dashing style accompanied with a knowing smile. He always made an effort, even when the odds were stacked against him.
"I will raise my glass and toast your life tonight my friend. Rest in peace. I love you."
'American Dream comes to life'
US President Barack Obama, who received a White House golf lesson from Palmer, called him "the American Dream come to life" in a statement Monday.
"With his homemade swing and homespun charm, Arnold Palmer had swagger before we had a name for it," Obama said.
"Along the way he racked up win after win -- but it wasn't his success that made him King. Arnold's freewheeling, fearless approach to the game inspired a generation of golfers and, for the first time on TV, enthralled an audience across the world.
"Sure, we liked that he won seven majors, but we loved that he went for it when he probably should have laid up."
More so than the skills that brought Palmer 62 career wins, it was his beloved personality that kept him among the richest retired athletes with endorsement revenues at $40 million a year, falling from second behind NBA legend Michael Jordan to third only after English football star David Beckham called it quits.
Palmer's desire to play the British Open in the 1960s helped spark global passions for the sport.
"Without question Arnold's participation in The Open Championship in the early 1960s was the catalyst to truly internationalize golf," European Tour chief executive Keith Pelley said.
Promoted
US Golf Association President Diana Murphy recalled his inspirational powers both in his prime and as an elder statesmen of golf.
"He always had a twinkle in his eye, and a smile of encouragement for all of us," she said. "His history is our history, and his impact on the game transcends generations."
Topics mentioned in this article