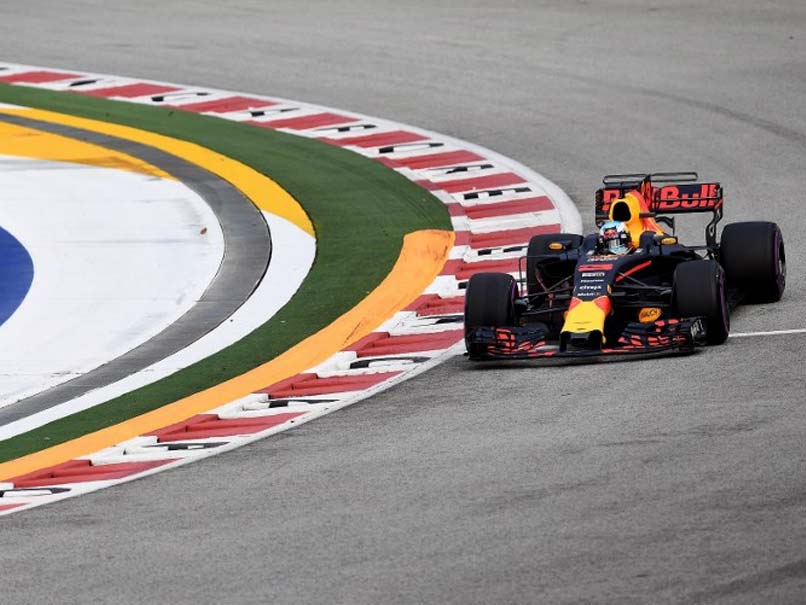 Red Bull's Daniel Ricciardo and Max Verstappen topped free practice for the Singapore Grand Prix
© AFP
Red Bull's Daniel Ricciardo and Max Verstappen topped free practice for the Singapore Grand Prix on Friday, as McLaren's move to dump engine supplier Honda triggered a wave of upheaval off the track. Ricciardo clocked a record 1min 40.852sec in the second session at the floodlit street circuit, while Verstappen was half-a-second back -- with Mercedes' Lewis Hamilton and Valtteri Bottas third and fourth. All four were significantly quicker than the Ferraris, indicating possible problems for the Italian team. Kimi Raikkonen was ninth quickest, two seconds off the pace, and Sebastian Vettel was down in 11th.
"I'm after a dominant weekend and so far this has been a good start," said a confident Ricciardo. "It's important that we keep that for tomorrow but I have faith that we can perform on this level all weekend.
"I know the challenge in qualifying will be a potentially stronger Ferrari and Mercedes but I'm confident we can stay up there and fight with them at the top."
Vettel is a four-time winner at the Singapore night race, which started in 2008 and will now run until at least 2021 after organisers announced a four-year contract extension.
He arrived in Southeast Asia just three points back in the standings behind Hamilton, who has been in rampant form, winning three of the last four grands prix.
"We were obviously close with the field today and we have still got some improvements to make with the car," said Hamilton.
"Red Bull seem like they're very strong... but nothing is out of reach."
- Honda split -
Renault's Nico Hulkenberg was fifth on the day while it was a positive session for McLaren's Stoffel Vandoorne and Fernando Alonso, who were sixth and seventh.
Their performance came after McLaren confirmed its widely trailed split with Honda, ending a troubled partnership with the Japanese engine-maker which began in 2015.
McLaren will be powered next year by Renault, which simultaneously said it was leaving Toro Rosso -- who will now be driving Honda engines.
As part of the multi-faceted deal, highly rated Toro Rosso driver Carlos Sainz was loaned to the Renault team for 2018, elbowing out British pilot Jolyon Palmer.
"Today's announcement gives us the stability we need to move ahead with our chassis and technical programme for 2018 without any further hesitation," said McLaren executive director Zak Brown.
Britain's most successful Formula One team have failed to win a race since 2012 and are a long way from challenging Mercedes, Ferrari or Red Bull.
The vexed collaboration with Honda came to a head this month in Italy as Alonso and Vandoorne both collected grid penalties and failed to finish.
Vandoorne was penalised before the race after being fitted with a brand-new engine -- and still suffered a power failure, underlining Honda's problems with reliability.
Honda have been a part of Formula One as a constructor and engine supplier -- on and off -- since 1964, but they have struggled with current regulations which require a hybrid, part-electric power unit.
There was no word from Renault or Red Bull on their future together, following reports that the French manufacturer will walk away from their partnership after 2018.
Red Bull and Renault have also been at odds over the complex hybrid technology, whose introduction in 2014 coincided with the end of their four-year hold on the drivers' and constructors' world championships.