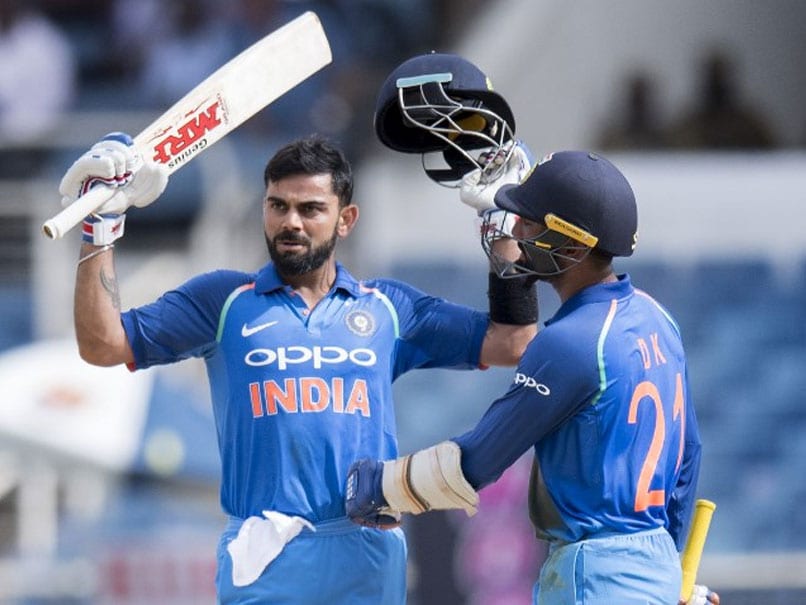 Brett Lee feels Virat Kohli has improved around his off-stump area.
© AFP
Former Australia pace bowler Brett Lee termed India captain Virat Kohli's technique as 'impeccable'. The Australian added that Kohli has improved in the last few years and his technique has gotten tighter. Commenting on the Indian's ability on the field, Lee said that Kohli's want and will to score runs is the reason why he is one of the world's best batsmen. "Kohli's technique is impeccable. He has improved it a lot over the last few years and gotten a lot tighter with his technique. There's a lot of hype about him nicking off, certainly as a bowler, you could get a few years ago but now he has changed it," Lee told the official TNPL website.
"To me, it's his hunger, yes he is such a talented player but his mental strength, his want and will to score so many runs end on end which is why he is one of the world's best batsmen. We haven't seen the best of Kohli yet. He has many more years to come and is really young," he added.
About the current Indian bowlers, Lee said, "You (Indian bowlers) have got some raw pace. To me it's some of the guys, who can back up Test match after Test match. Mohammad Shami is a guy, who when he's probably fit is a guy that really impresses me. He is really quick and has good pace. (Jasprit) Bumrah is definitely one to watch out for, a unique action works for him and he is got good pace as well. You have got guys who can bowl over 140 kph consistently. Keeping them on the park and ensuring they are injury-free is more important in my opinion."
The Australian also had some good words about young Tamil Nadu all-rounder MS Washington Sundar. "I am a big fan of Washington Sundar. He is a very exciting player. He is a player who offers a lot with the bat and ball. He is tall, confident and very good in the field. Definitely, a player for the future," Lee said.
Talking about if the pacers need to pick and choose formats, Lee said, "They could but to me it's always about playing Test cricket. It was my favourite over ODIs and T20s. I do know that they will play what they want to play and the bowling will be different. I have always said do what makes you feel more comfortable and I think a stage will come where they will pick the format they want to play."
"Bowlers have to work on how they can outsmart the batsmen. The batsmen are playing different shots like the lap sweep, reverse sweeps, switch hits, going down town on both sides with the pull-shots, hook shots and top edges. The bowlers have to work on a way to get the batsmen out. I haven't seen enough proper quick bouncers and slower bouncers and wide line yorkers being bowled," Lee said.
(With PTI inputs)