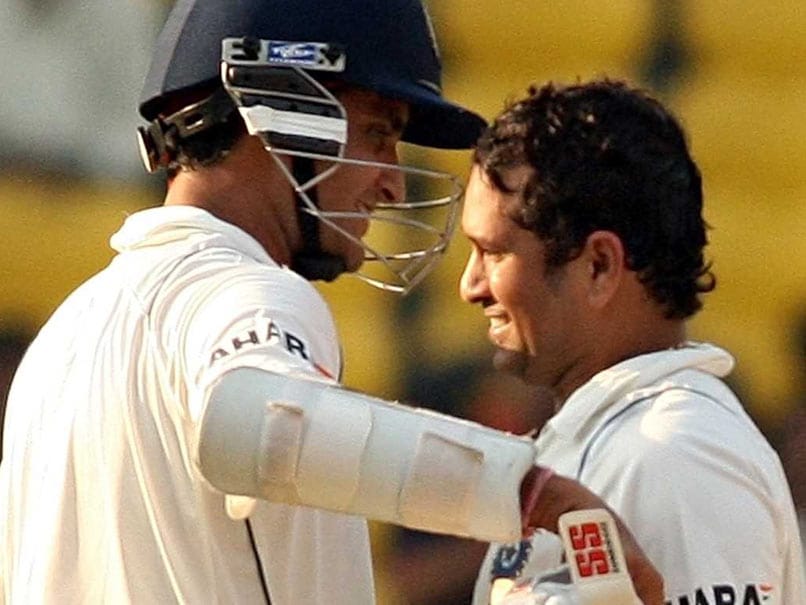 Sachin Tendulkar and Sourav Ganguly during 2008 Border-Gavaskar trophy
© AFP
Former India captain Sourav Ganguly has played a lot of international cricket with master blaster Sachin Tendulkar. In his recently released book, 'A Century is Not Enough', Ganguly has made a lot of revelations about his playing days and his relationship with former India coach and ex-Australian captain Greg Chappell. Ganguly, in a special interview with NDTV, shared an incident from his debut Test at Lord's in 1996 when Tendulkar helped him tape his creaking bat during tea interval. "It was in my first Test, I was batting at 100 at tea," Ganguly replied when asked about the incident. "I quickly came in after batting for six hours. My handle had creaked. I was padded up and a cup of tea was given to me. The tea is very short...of 15 minutes. I was tying my bat handle with the tape so he walked up to me and said 'you just rest and finish your cup of tea because you have to go and bat, I will do the job'," Ganguly said.
He played his last international match for India in November 2008. The former India captain's final outing was the fourth Test against Australia in Nagpur. As the match drew to a close, the then captain Mahendra Singh Dhoni asked Dada to lead the side for one final time, as the Indian cricket fans bid goodbye to an iconic batsman and captain.
India also became the No 1 Test side under Dhoni's leadership.
Ganguly is known to be one of the greatest captains India has produced. While writing his autobiography, Ganguly also made and assessment about Dhoni.
Dhoni made his debut for India when Ganguly was the skipper and the 45-year-old was instrumental in shaping his career from a wicket-keeper to a recognised top-order batsman. In one such instance, Ganguly had promoted Dhoni to number 3 which saw the man from Ranchi come into his own and from then on there was no looking back for Dhoni.
"I had over the years constantly looked out for players who remain steady under pressure and possess the capability to change the course of the match. Mahendra Singh Dhoni, who came to my notice in 2004, was a natural progression of this thought. I was impressed with MS Dhoni from day one," Ganguly wrote in his autobiography.
"I wish I'd Dhoni in my 2003 World Cup team. I was told that when we were playing the 2003 World Cup final he was still a ticket collector with Indian Railways. Unbelievable!" added the former India skipper.
"Today I am happy that my assessment was proven right. It is amazing how he broke through the ranks to become what he is today," added Ganguly.
(With inputs from Sreenivasan Jain)