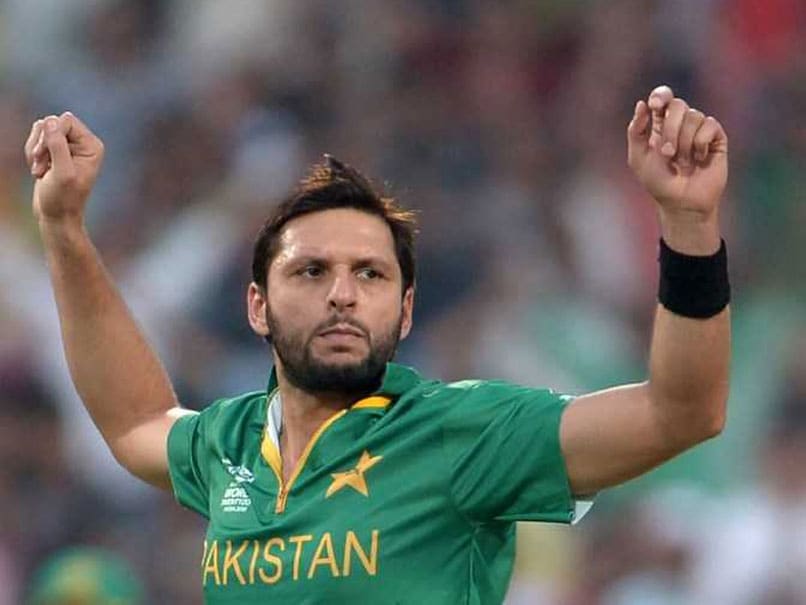 Shahid Afridi was a part of the Pakistan squad that won the ICC World T20 2009
© AFP
Shahid Afridi and Shoaib Malik of Pakistan and Sri Lankan Thisara Perera have confirmed their participation for the ICC World XI in a T20I match against the Windies to be played at Lord's on May 31, the International Cricket Council announced in a statement on Thursday. The match is being organised to raise funds for stadia in the Caribbean that were badly damaged following Hurricanes Irma and Maria last year, the statement added. Afridi and Malik were part of the Pakistan squad that won the ICC World T20 2009 at Lord's, while Perera was a member of the Sri Lanka side that lifted the silverware in Dhaka in 2014. More names will be added to the ICC World XI's star-studded line-up which will be led by England's Eoin Morgan.
"I am humbled to have been selected for such a noble cause. Cricket is one big family and no matter how hard and tough we play against each other, there is tremendous comradery within the group," Afridi said.
"As such, it is our moral and professional obligation to stand up and support whenever and wherever we can, to assist our members, colleagues and cricket fans."
"Lord's is an iconic venue and the perfect location for this match. I have some fond memories of this great venue, having played the finals of the ICC Cricket World Cup 1999 and the ICC World T20 2009, and I look forward to visiting it again in May with an aim to entertain the fans," added.
"It's a matter of great honour and pride to be selected in an ICC World XI and a wonderful opportunity to play along with and against some of the biggest names in world cricket," Malik added.
"As much as the chance of figuring in such a select group, I also see this as an opportunity to contribute in a meaningful cause. We have all heard of the damage caused by the two hurricanes in the West Indies last year and it is really good to see so many cricketers come together for the objective of raising funds to repair the damage to cricket venues.
"That the match is being played at Lord's makes this event extra special for me. Lord's obviously is one of the most revered cricket venues but I also have some very delightful memories there. One that really stands out is anchoring the chase along with Shahid Afridi when we beat Sri Lanka in the final to win the ICC World Twenty20 in 2009," he added.
"I'm privileged to have made the World XI side for a second time after having also played in the series against Pakistan in Lahore last year. I'm looking forward to the match at Lord's next month with great enthusiasm as this is one of those rare opportunities when you get to rub shoulders with the best in the world. To be playing alongside so many top players from different countries will definitely be a high point of my career," Perera said.
"I'm also very happy because I have been given the opportunity to contribute in what I think is a very good cause. It is heartening to note that players have come together for helping rebuild stadia in the West Indies. The West Indies have contributed a lot to world cricket over the years and they deserve all support from our generation of players."
The Windies, led by Carlos Brathwaite, will boast of some big names like Chris Gayle, Marlon Samuels, Samuel Badree and Andre Russell.