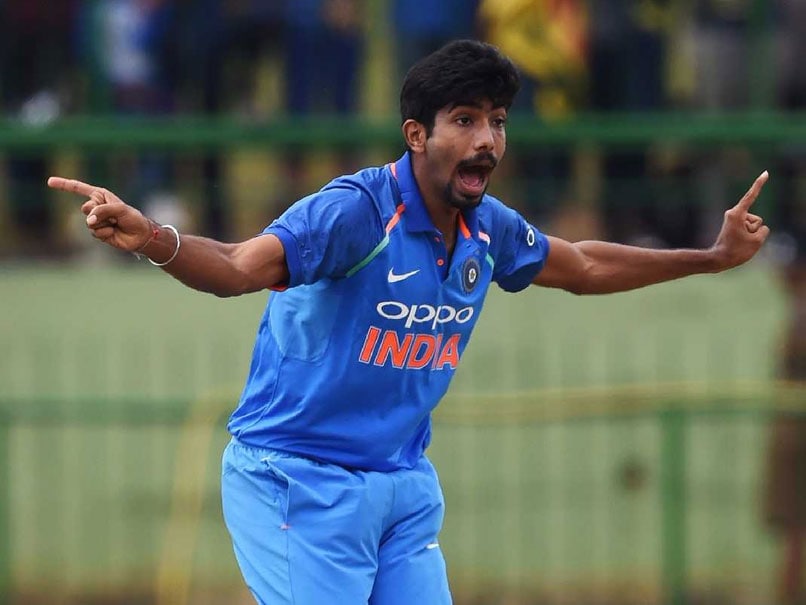 Jasprit Bumrah spoke to Rohit Sharma on the sidelines after the 3rd ODI
© AFP
Jasprit Bumrah picked up his first five-wicket haul against Sri Lanka in the third ODI that helped the visitors restrict the islanders to a paltry total of 217 for 9. Bumrah returned figures of 5 for 27 and went through the Sri Lankan middle-order and didn't let the hosts off the hook and post a reasonable total for India to chase. Virat Kohli's men were in a spot of bother in the run-chase after losing a couple of early wickets but Rohit Sharma (124*) and MS Dhoni (67*) had other ideas as they stitched together a 157-run partnership that helped India take an unassailable 3-0 lead in the 5-match ODI series. In a video interview with his senior Rohit Sharma, Bumrah opened up on his performance and the conditions, considering this his first trip to Sri Lanka and how he has worked on his variations.
MUST WATCH - Presenting the @ImRo45 - @Jaspritbumrah93 chat from Kandy by @RajalArora https://t.co/Vuv61zHZde #TeamIndia #SLvIND pic.twitter.com/u8SNzkmFQa

— BCCI (@BCCI) August 28, 2017
"Talk to me about the conditions out there. This is your first time in Sri Lanka. How you have been feeling? You got some rest after Champions Trophy, so how was your time off the field," Rohit asked Bumrah in a video interview on bcci.tv.
In reply, Bumrah said, "It is always good to have a break because, in Indian cricket, you don't usually get a break because you are continuously playing cricket throughout the year. So it was good to take a break, spend some time with the family and you can get the strength level back up. So whenever you come back, you feel refreshed and your hunger is back. So you want to perform well. So it is good to be back."
Rohit agreed with Bumrah and also went on to add that it is equally important to spend time off the field after spending so much on the field and then went ahead with his next question.
"Talking about the conditions here, anything different you were trying to do because we saw in Dambulla that the ball was carrying nicely but here, even when I was batting, I felt the pitch was a little slower. So any adjustments you try and do when you play wicket to wicket," asked Rohit.
"In the last match, the wicket was a bit slow, so the ball was gripping at that time. Over here, when we started to bowl there was a bit of seam movement with the new ball. So we were trying to extract that and use it to our advantage, bowl good line and length and try to mix it with the odd variation. So we were just trying to do that and trying to hit good areas. So that would give us good results," replied Bumrah.
Praising Bumrah's bowling skills, Rohit said that the young fast bowler has a lot of variations and asked the Indian fast bowler, "Is it too much of pressure sometimes that you have so many deliveries or you are happy with it?"
To this, Bumrah responded, "You don't think about it because on a particular day you don't try to use everything that you have. You have to stick to one or two things because if you experiment too much, things can't go your way. So it's always good. There is always pressure on you when you play for India but you don't think about the pressure but you look to enjoy the responsibility that is given to you by the team. So I look to do that."
Talking about Bharat Arun's influence on the young fast bowler, the 23-year-old said, " He (Arun) has been very helpful. I have done a U-19 NCA camp with him. So he knows my bowling from U-19 days. So he understands my bowling and it is always easier to interact and talk to him because he knows how your body goes and what kind of deliveries you can bowl. It is always good to discuss with him and chat about bowling."
As cheeky as Rohit can be at times, the Indian opener surprised Bumrah by asking him all of a sudden who his favourite actress was.
"I don't see this question relevant to the match," Bumrah replied while laughing.
India won the third ODI against Sri Lanka by six wickets and will head to Colombo to play the 4th ODI of the series on Thursday, August 31.