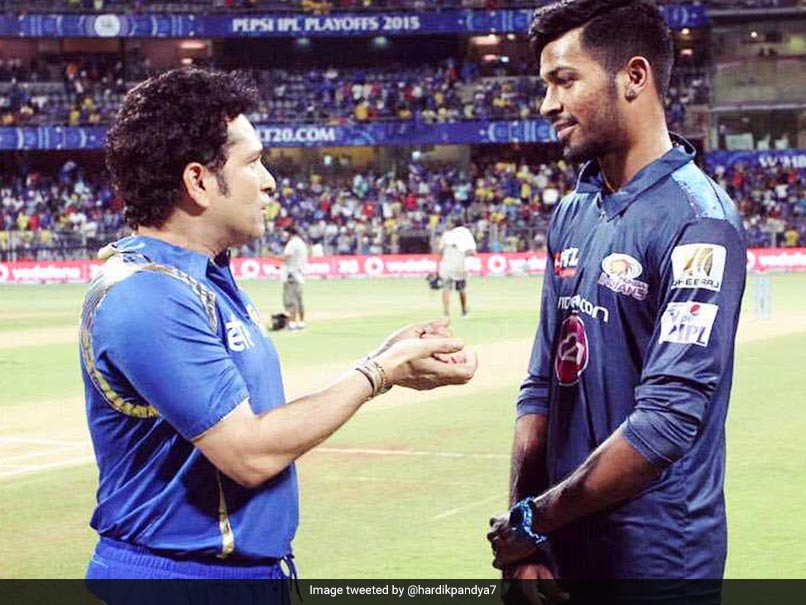 Sachin Tendulkar was among the first ones to recognise Hardik Pandya's talent.
© Twitter
Hardik Pandya has taken to international cricket like a duck to water. The 24-year-old has quickly climbed up the ranks with some whirlwind performances to become an indispensable part of the Indian team. Coming from Baroda, Pandya admitted that while things have moved quickly in his career, he remains cautious about his success and tries to stay on the right path. But before Pandya set the international stage alight, he was making his name in the Indian Premier League (IPL) and a certain Sachin Tendulkar realised the potential in him at a early stage.
In an exclusive chat with NDTV, Pandya revealed that Tendulkar's belief in his abilities gave him a lot self-confidence and pushed him to work much harder to achieve his goals.
"When Sachin sir told me that you will play for India. 'If you keep playing like this you will play for India in one and half years'. To be honest, when he told me this I was more than happy and not even thinking of playing for India. I thought if Sachin sir is saying something like this, then at least I have something in me. So, it gave me a lot of self-confidence," Pandya told NDTV.
That time I was very happy. It feels good that someone you admire comes and tells you these sort of things. It gives you a lot of confidence, you start believing in yourself. When he said that I was like 'ok, let's work hard now'," the Indian all-rounder added.
Pandya took the decision of playing cricket for living and focussing on it at a very young age. He dropped out of school in Class 9th to focis completely on cricket. However, Pandya had a very important message for all the youngsters in the country.
"I didn't leave my studies because of the sport. It's just that I was not good at it. There were many factors, money was a problem and I was not involved in studies. But I won't suggest this to the youngsters. When someone has crossed 17-18, I just tell them to study. It's very simple. Cricket is very difficult reason being a degree stays with you. As cricketers we are here right now, we might be somewhere else the next day," said Pandya.
A fact that many do not know is that Pandya started off being a leg-spinning all-rounder, however, he said he lost interest in that. Much later, it was Baroda former Baroda coach N Sanath Kumar, who saw his potential to become a fast-bowling all-rounder.
"I stopped bowling leg spin because I got angry. They use to not give me bowling and I use to get angry. So I said I'm not bowling and I'm just going to bat. Then I use to get bored and would go help fast bowlers. One day, it was Sanath Kumar from Bangalore, he was our coach, he made Hardik Pandya as an all-rounder. He saw me in the nets and in 15 days I was bowling in the Ranji Trophy, which was surprising."
After his superlative against Australia in the ODI series earned him the Man of the Series award, Pandya will hope continue his good form against the visiting New Zealand team.