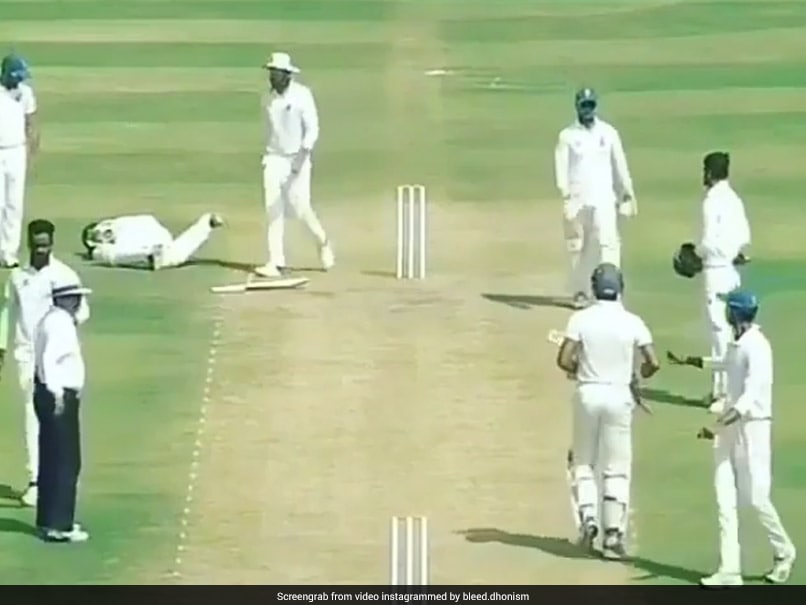 A Vidarbha batsman was hit on the rib cage area during a Ranji trophy match.
© Instagram
The Ranji Trophy 2017-18 season ended with Faiz Fazal-led Vidarbha winning their maiden title against seven-time champions Delhi. Veteran batsman Wasim Jaffer hit the winning run as they scripted history. However, one incident which took place during the final may once again raises questions on cricket being a gentleman's game. In a video uploaded on Instagram by a user named as 'bleed.dhonism', a Vidarbha batsman can be seen hit by a vicious bouncer. After taking the hit, the batsman falls to the ground in severe pain while holding the area around the rib-cage.
However, what followed the incident caught on. As the batsman lay in pain, no one from the opposition checked up on him. Only his partner, at the other end, signalled the dressing room to bring in medical help. With all this happening, Delhi players walked past the batsman as they changed ends for the next over.
Even the on-field umpires did not extend any help.
Soon, the users flooded the comment section and criticised Delhi for their behaviour and lack of sportsmanship. They urged the Rishabh Pant-led team to learn sportsmanship from former India captain Mahendra Singh Dhoni.
Meanwhile, Gautam Gambhir of Delhi, after the match, had taken to Twitter to extend his warm wishes to Vidarbha for displaying an all-around performance and winning their maiden title.
Rajneesh Gurbani of Vidarbha was named as man of the match for his brilliant bowling performance. He finished the match with the figures of eight for 151. With this win, Vidarbha became the 18th team to win the title since Ranji Trophy's inaugural in 1934-35.
Vidarbha captain Fazal in a post-match conference had said that he was satisfied with the team's effort and as they had worked for hard and have finally achieved it.