Story Progress
Back to home
Rahul Dravid Backs Rishabh Pant To Become 'Very Important Player For India'
Rahul Dravid said that his team's failure to win close games cost them dear and was one of the big reasons for Delhi Daredevils' failure to reach the play-offs.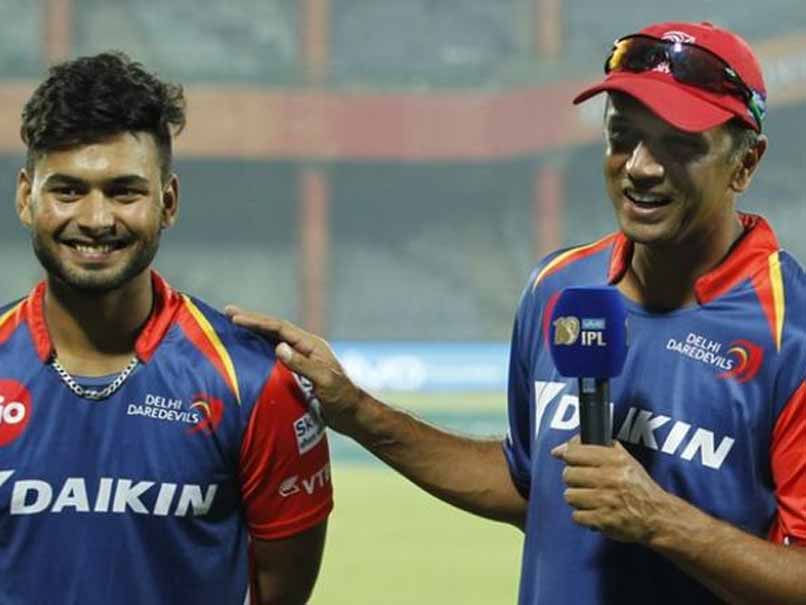 Rishabh Pant has had a very good IPL 2017 playing for Delhi Daredevils
© BCCI
Highlights
Rahul Dravid is the batting mentor of Delhi Daredevils

Rishabh Pant has had a very good IPL for Delhi Daredevils

Delhi came close to qualifying for the play-offs in IPL 2017
Rahul Dravid hardly ever makes predictions about anything and even less so about the future of a player. However, the batting legend has stuck his neck out and backed Delhi Daredevils' (DD) rising star Rishabh Pant to become "a very important player for India" in the near future, praising the youngster for showing exemplary courage and mental strength following the death of his father just before the start of the Indian Premier League (IPL) 2017. Despite losing his father only days before the start of the tournament, the 19-year-made himself available for Delhi's opening match of season 10.
"Rishabh played very well this year, played a very good innings, he entered the tournament at a very a difficult time, he lost his father, which shows his mental strength," DD mentor Dravid said.
"Pant overcame that tragedy and did consistently well throughout the season. I am sure he will go on to become a very important player for India."
DD came close to qualifying for the play-offs but in the end finished sixth in the standings with 12 points. Dravid said that his team's failure to win close games cost them and was the difference in the end.
"It's disappointing obviously, had hoped to qualify at the start of the tournament but there were some close matches in the middle which we couldn't win.
"You need eight wins to qualify in this tournament, we got seven last year, six this year and I think the close games we lost probably cost us," Dravid said at the post-match press conference after his side's loss to Royal Challengers Bangalore.
"Few of the changes were obviously forced due to injuries, sometimes you do make tactical changes as well when people are not in form, so it's hard to assess. Each and every game was different. That's not really an excuse.
"I believe we had the squad and the players to make up for that. I think the team was really good, maybe a little bit inexperienced in the batting because of the injuries early on but I still think we had the ability and a lot of opportunities in a lot of games."
Delhi had suffered a massive setback before the start of IPL 2017 with star South Africa recruits Quinton de Kock and JP Duminy opting out of the tournament due to an injury. And with IPL auction already over, Dravid said it was next to impossible to find replacements.
"Unfortunately for us at the start of the season, after the auction, Quinton (de Kock) and JP (Duminy), who were probably our two experienced players, pulled out of the IPL because of injury and we had to look for replacements at the last minute and, which, I guess, isn't easy when most of the players are taken.
Promoted
"So, to balance it out, we tried to go with a slightly more experienced bowling attack because we knew we had young Indian batsmen. I think there is a lot of talent but, maybe sometimes you have to get the balance right. Maybe we didn't have a little bit of luck as well: injuries at the wrong time, maybe a couple of guys didn't kick on as well as we would have liked."
(With PTI Inputs)
Topics mentioned in this article