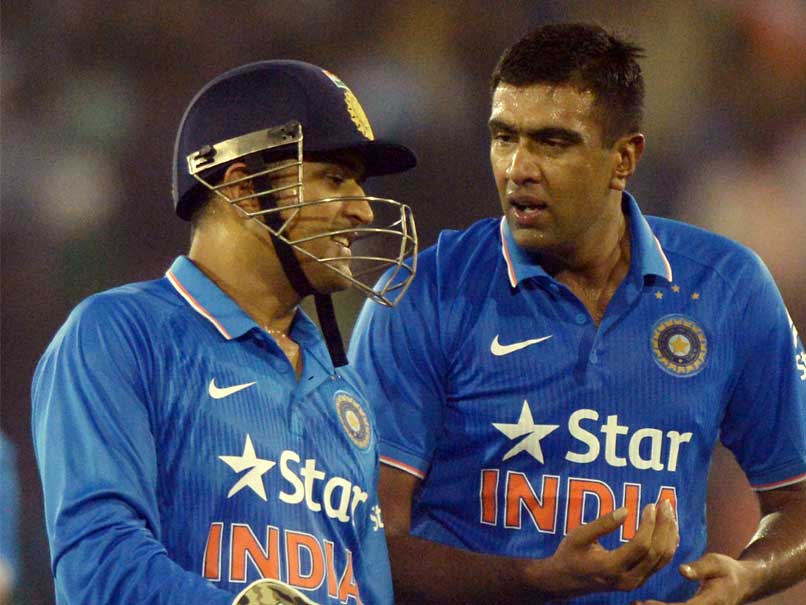 Ravichandran Ashwin has played for a long time under MS Dhoni in Indian team
© AFP
Ravichandran Ashwin has had a perfect year so far. He finished as India's top wicket-taking bowler and was also named the Cricketer of the Year by the International Cricket Council (ICC). Everything seemed to be going perfectly fine, but for a small hiccup.
In the acknowledging tweet for the award Ashwin thanked his wife Prithi Narayanan, Shanker Basu - Head strength and Conditioning Coach of India, coach Anil Kumble, Test captain Virat Kohli and his parents. But there was not mention of Indian ODI and T20 captain Mahendra Singh Dhoni.
I would like to take this day as an opportunity to thank @prithinarayanan @basu2013 @anilkumble1074 @imVkohli and my parents.

— Ashwin Ravichandran (@ashwinravi99) December 22, 2016
Dhoni's fans were irked by the fact and vent out their anger on social media.
Ashwin made his Test debut in 2011 under Dhoni and play for the same Indian Premier League team - Rising Pune Supergiants. They also played together in the now suspended team Chennai Super Kings.
In fact, in an interview after becoming the ICC Cricketer of the year, Ashwin made just a passing reference to Dhoni, while praising Virat Kohli instead.
"I'd like to dedicate this award to my family. I'd like to thank ICC and most importantly my team-mates. I'd also like to thank the support staff for our success. We've had a great transition ever since Mahendra Singh Dhoni hung up his boots. A young captain has taken over, we fell on the right track, and we now have a new bunch of boys," Ashwin said.
ICC Cricketer of the Year @ashwinravi99 says thanks after winning the Sir Garfield Sobers Trophy and Test Cricketer of the Year #ICCAwards pic.twitter.com/B3eW9ZIEZs

— ICC (@ICC) December 22, 2016
This hasn't gone down well with Dhoni's fans, who did not keep their feeling to themselves.
@ashwinravi99 :) when u Faced Tough time in overseas in ur early stage Mahi As a captain Backed You :) and trusted Ur Ability

— Mahendra Singh Dhoni (@KarthieMSD) December 22, 2016
@magicumesh @ashwinravi99 He is trying to ignre the man bcz of whm his career started and flourished.. I m ashwin's fan but ths is arrogance

— Shantanu Sharma (@shantanu224) December 22, 2016
@ashwinravi99 @anilkumble1074 @imVkohli Oho Mr Legend! I guess U Forgot To mention Mahi Bhai! I know U won't Be So Cruel!
Anyways #Congo

— Mahendra Singh Dhoni (@Ansh_MSDian) December 22, 2016
@ashwinravi99 You should also thank @msdhoni under whom you grown as a better cricketer & results are reflecting under @imVkohli Congrats

— sashikant (@sashikant87) December 22, 2016
@ayanc_99 @ashwinravi99 these plyrs r the 1 bcoz of which MSD was accused of giving chnce only to CSK players..now they cant even thank him

— Shantanu Sharma (@shantanu224) December 22, 2016
@ashwinravi99 @prithinarayanan @basu2013 @anilkumble1074 @imVkohli And what abt MSD?? Does he not matter foe u now

— venkathrao (@venkathrao) December 22, 2016