Story Progress
Back to home
Pranav Dhanawade, The 1,009-Run Hero, Gives Up 1 Lakh Scholarship
In a letter to the MCA, Pranav Dhanawade, who shot to the limelight after his 1,009-run epic innings last January, has said he has been unable to perform up to expectations.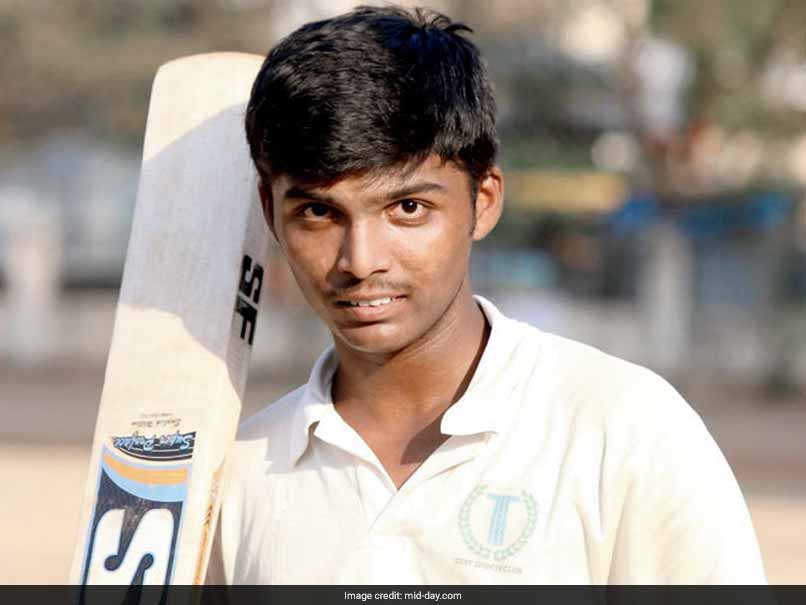 The youngster came into the limelight in January 2016, when he smashed 1,009 runs.
© Mid-Day
Highlights
Pranav Dhanawade shot to the limelight after his 1,009-run innings in Jan

Dhanawade's historic feat put him in instant focus across the world

The wonder knock landed him a contract with the Air India
Ever heard of a sportsperson returning his scholarship money because he couldn't live up to expectations? Teenaged cricketerPranav Dhanawade has just done so in an effort to re-focus and put his cricket career back on track. The youngster came into the limelight in January 2016, when he smashed an unbeaten 1,009, a world record. He got the scholarship following the knock.
In January last year, Dhanawade, then 16, scored an unbelievable 1009 not out for KC Gandhi against Arya Gurukul in the inter-school U-16 Bhandari Trophy, an achievement that created ripples in world cricket. After the felicitations, the Mumbai Cricket Association (MCA) granted him a scholarship which meant Dhanawade would get Rs 10,000 per month for five years.
Launching pad
The innings propelled him into some sort of stardom, but the young cricketer has not lived up to expectations. In less than two years, Dhanawade is no longer needed to train with the Air India team; has been asked to look out for a new club by Dadar Union and was not included in the final Mumbai U-19 probables. His father Prashant and coach Mobin Shaikh admit Dhanawade has not scored runs on the local circuit, but also bemoan the lack of facilities to train in Kalyan. Yesterday, Dhanawade Sr delivered a letter to MCA [a copy of which is with mid-day] requesting them to discontinue the scholarship with immediate effect.
Prashant, who drives an auto rickshaw for a living in Kalyan, in his letter written in Marathi, stated: "We are thankful for the scholarship that the MCA announced when he created a world record with his unbeaten 1009. Since Pranav has not performed to expectations in the last one and a half years, it is not right for us to accept the MCA scholarship. If Pranav performs well later, the MCA can think of awarding him a scholarship. As of now, I request you to discontinue it with immediate effect."
However, though the MCA has already sanctioned Rs 1,20,000 for the second year, Prashant said it has not been received. The call to discontinue MCA's scholarship was a joint decision by Dhanawade's coach Mobin Shaikh and Prashant. Shaikh noticed that Dhanawade was not playing freely since his wonder knock. "A lot of people pass comments like, 'Pranav made enough money from the 1009-run knock. So, there is no need for him to play any cricket now'. People also started spreading rumours that he has now got a house in Bandra. All this false talk hurts us. Not living up to expectations was also bothering him. We don't want any accusation of him accepting the scholarship money and kuch kiya nahi. We want to erase all memories of that (1009-run) knock. The aim is to play a high level of cricket, but not at the cost of integrity. We just want him to enjoy his cricket like he used to before the 1009," Shaikh, who does honorary coaching in Kalyan, told mid-day.
Dhanawade's father is a relieved man after submitting his letter to MCA. "We never asked for money. We have always appealed for better facilities and infrastructure from all those who came forward to help Pranav after his knock. They promised to bear the cost of his education and cricketing expenses but nobody addressed our actual need of proper training facilities and quality pitches. Bhuke ko khane ki zaroorat hai, kapde ki nahi (Those who are hungry require food, not clothes)," said Dhanawade Sr.
Poor ground conditions
He stressed on the pathetic condition of Subhash Maidan where his son and other aspirants toil. "The first thing the boys do when they arrive in the morning is to clear the glass pieces from the ground. Although there is a proper pavilion with a toilet facility, the players cannot access it as it is locked by the municipality. Cricket kits are out in the open and there is no shade as well. We have written to the authorities to at least give access to the pavilion, but there has been no response. "I stressed to all the politicians who met Pranav after his knock on the need to have a proper training facility in Kalyan. We were told that the two plots have been finalised, but nothing has happened," said Prashant.
Promoted
Rise and fall of Pranav
Pranav Dhanawade's historic feat put him in instant focus across the world. He was hounded for selfies, autographs and made to attend countless felicitations. However, the flip side of this sudden fame was that Dhanawade's every innings was now closely monitored. Every knock ignited discussion and scrutiny. A few innings were enough to pass judgement on his ability to play at a higher level. The last 22 months have been a rollercoaster ride for Dhanawade. The wonder knock landed him a contract with the Air India and an offer to join one of Mumbai's premier clubs Dadar Union.
Dhanawadewas also sponsored for a trip to the United Kingdom to get a feel of English conditions. He was also picked amongst the 70 players, who would form the Mumbai U-19 probables. Dhanawade's coach Mobin Shaikh, a former Mumbai club cricketer, said these setbacks will make his ward tougher. "If he doesn't perform, he will be dropped irrespective of wherever he plays. "We want to start afresh. We will take baby steps now and I will ensure he develops his skills. He is working extremely hard, but the runs are not coming. "We will work harder than ever," the coach concluded.
(This story has not been edited by NDTV staff and is auto-generated from a syndicated feed.)
Topics mentioned in this article