Story Progress
Back to home
Josh Hazlewood Urges Nathan Coulter-Nile To 'Crack Open' England Batsmen
Josh Hazlewood told Nathan Coulter-Nile to go after the English batsmen.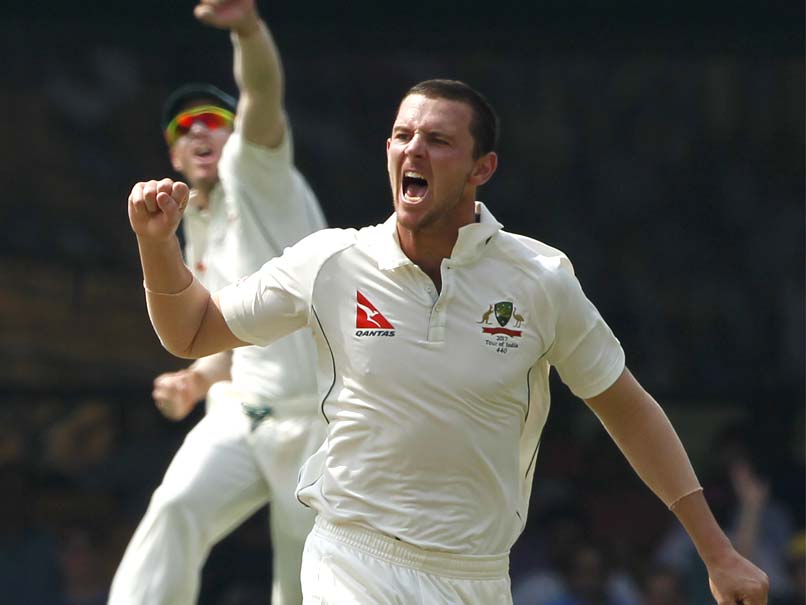 Josh Hazlewood is expected to lead the Australian new-ball attack vs England in the Ashes.
© AFP
Highlights
Hazlewood urges Coulter-Nile to crack open England batsmen

Coulter-Nile will lead a WA XI side in tour game vs England

The first Ashes Test will start on November 23
Josh Hazlewood is hoping fellow pacer Nathan Coulter-Nile can "crack open" England's batsmen and "create a few scars in their top order" ahead of the first Ashes Test starting on November 23. England start their Ashes tour on Saturday (November 4) with a two-day match against a Western Australia XI side, captained by Coulter-Nile, in Perth. Coulter-Nile was sidelined from Western Australia's Sheffield Shield game against NSW in Sydney, and will instead get a chance against the English tourists in the two-dayer.
Hazlewood, who is expected to lead the Australian new-ball attack with Mitchell Starc and Pat Cummins in the Ashes series opener in Brisbane later this month, told Coulter-Nile to go after the tourists' batsmen.
"Maybe he can crack open a few guys early and create a few scars in their top order and middle order," Hazlewood told reporters late Thursday.
"It's disappointing he's not playing in the Shield game against us but he's obviously had injuries in the past few years so they're easing him back into it."
The injury-jinxed Coulter-Nile bowled 15 overs in the opening Shield round last week in his first first-class game in more than two years.
Coulter-Nile took three for 18 from six explosive overs for WA as Tasmania were skittled for 63 in last week's Shield match in Perth.
"That top order, it will be their first real hit-out in Australia and to have a guy like Coults there to warm them up and to maybe create a few scars, would be nice," Hazlewood said.
"Obviously their plan is to jump straight into it on the bounciest and quickest wicket and get used to conditions that way."
Hazlewood said an Australian Test pace attack comprising Starc and Cummins would be a handful for England in the first Test in Brisbane, where the wicket traditionally rewards fast bowlers with bounce and movement off the pitch.
"They're not going to fear me or (off-spinner) Nathan (Lyon) but the other two guys obviously put fear into the batsmen," Hazlewood said.
Promoted
"That's part of their game, bowling fast and bowling short on occasions."
(With AFP Inputs)
Topics mentioned in this article