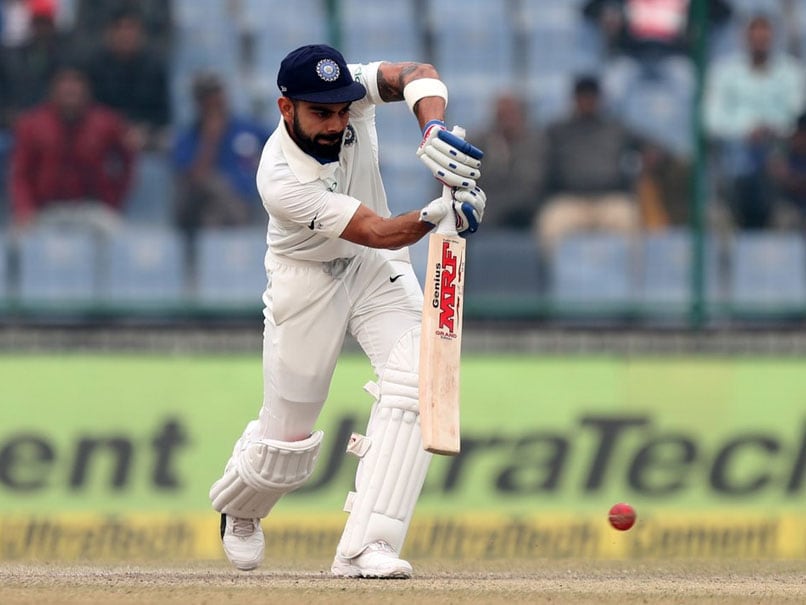 Virat Kohli has played 63 Tests so far and has scored 5268 runs.
© AFP
Virat Kohli has almost made a hobby out of notching up centuries at will across all formats. While many would like to call him the modern day Don Bradman, and there is every reason to put him in the same pedestal as that of the Australian great, but has the Indian star done enough to enjoy such a superior stature in a generation where players like Joe Root, Kane Williamson are coming up the ranks at the rate of knots? While Kohli is head and shoulders ahead of any of his contemporaries in the limited-overs formats, there is an Australian who is setting the bar really high for everyone in Test cricket. Australian captain Steven Smith is leading by example at the moment and his unorthodox nature to play the game is leaving bowlers all around the world clueless. There isn't a chink in his armour at the moment as most Englishmen would agree, given his outstanding show in the ongoing Ashes.
It probably wouldn't be fair to compare Kohli with Smith as the Indian captain plays a lot of one-dayers and T20Is catering to the Indian market while Smith travels around the globe playing the purest form of the game - Test cricket.
The 29-year-old Indian has played 63 Tests so far and has scored 5268 runs at an average of 53.75. He has notched up 20 centuries, scoring them after every 5.30 innings which is a phenomenal conversion rate, leaving behind the likes of Root and Williamson.
To compare, Smith has played 59 Test matches, four less than Kohli and has scored 5796 runs at an average of 62.32. The Australian captain has 22 Test hundreds and he gets them after every 4.91 innings which is a touch above everybody else in the current crop of players.
The Indian great has played 31 Tests away from home to Smith's 32 in overseas conditions. While Kohli averages 45.13 away from home, Smith's record is superb. He averages 53.94 away from home that makes him the undisputed champion.
While Smith is clearly having his say in the longest format of the game but Kohli is king in ODIs. Having played 202 matches, Kohli has scored 9030 runs at an average of 55.74. His average in run-chases is just magical. It goes up to 65.29 whereas Smith has played 103 matches, scored 3329 runs at an average of 43.23. Smith averages 46.32 in run chases and there is no denying that Kohli is winning the one-day battle by a fair margin.
Now let's shift our focus to T20Is and you would see there is not much of a difference there either. Kohli keeps on asserting his dominance in the shortest format of the game as well. Having played 213 T20Is, Kohli has scored 7068 runs at an average of 40.85 and a strike-rate of 133.28 whereas Smith has played 136 T20Is and scored 3124 runs at an average of 30.03 with a strike-rate of 125.36.
India will be touring South Africa, England and Australia in the next year-and-a-half and if Kohli can get his act together and continue to play the way he has been, there is no reason why he can't challenge Smith in Test matches also.
But for that to happen, the Indian captain has to score loads of runs in the coming months and that will probably put to rest the most animated debate going on around the world at the moment -- Who is better? Kohli or Smith?