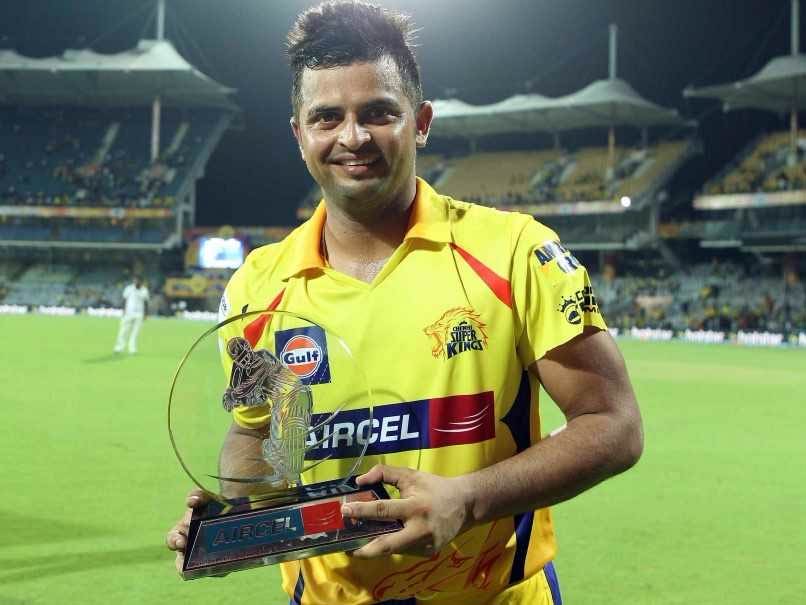 Suresh Raina has a tremendous batting record in the Indian Premier League.
Chennai Super Kings (CSK), one of Indian Premier League's (IPL) most successful teams, are all set to return to the competition in 2018 after a two-year suspension. Ahead of the 11th season of the cash-rich league, the CSK franchise finds itself in a rather tricky position. The IPL Governing Council is expected to announce the retention policy, going into the next season, in a week's time. The teams are likely to be allowed to retain two Indians and one overseas player. According to several media reports, the CSK want to retain MS Dhoni, Ravichandran Ashwin and Faf du Plessis. Considering star left-hander Suresh Raina's record playing for Chennai, several fans were not exactly pleased after these reports surfaced. The reaction of the supported compelled the franchise to issue a clarification.
Lots of rumours online about not retaining #ChinnaThala. Don't Believe! We want to bring the pride back together. A roaring #SummerIsComing #WhistlePodu ????

— Chennai Super Kings (@ChennaiIPL) November 14, 2017
Prior to CSK's suspension, Dhoni and Raina were among the few players to have represented the same franchise through the eight seasons. In a sense, the local fans saw Dhoni as Batman and Raina as Robin during their hugely successful run in the series.
we want @ImRaina in our team. @msdhoni knows how important he is! main fact, we can't imagine csk without RainaDhoni

— Minhaz Mehedi (@imutsha) November 15, 2017
NO CSK WITHOUT RAINA! #BringRainaBack

— Kunal Khetan (@imkunalkhetan) November 15, 2017
We want #thala and #ChinnaThala in yellow army #SummerIsComing #WhistlePodu

— Gökül (@gokull_0602) November 15, 2017
without Raina there is no csk...

— Nishant (@imNickRaina3) November 15, 2017
Finally we want @ImRaina at any cost @msdhoni

— Minhaz Mehedi (@imutsha) November 15, 2017
"We are going to propose minimum 3 retentions --1 Indian and 2 foreigners. The players, who played for Pune and Gujarat in last two years can be retained by Chennai Super Kings and Rajasthan Royals. We will place it infront of owners during workshop next month," an IPL GC member told PTI last month.
When IPL chairman Rajiv Shukla was contacted, he said that total retentions including Right To Match (RTM) could be anything between three to five, depending upon what majority of the franchises agree.
It was also learnt that majority of the franchises want an increase in salary purse from Rs 60 cr to Rs 75 crore while a few want it to be Rs 80 crore.
"Most of the franchises want the salary purse to Rs 75 crore. I guess it would be done," the official said