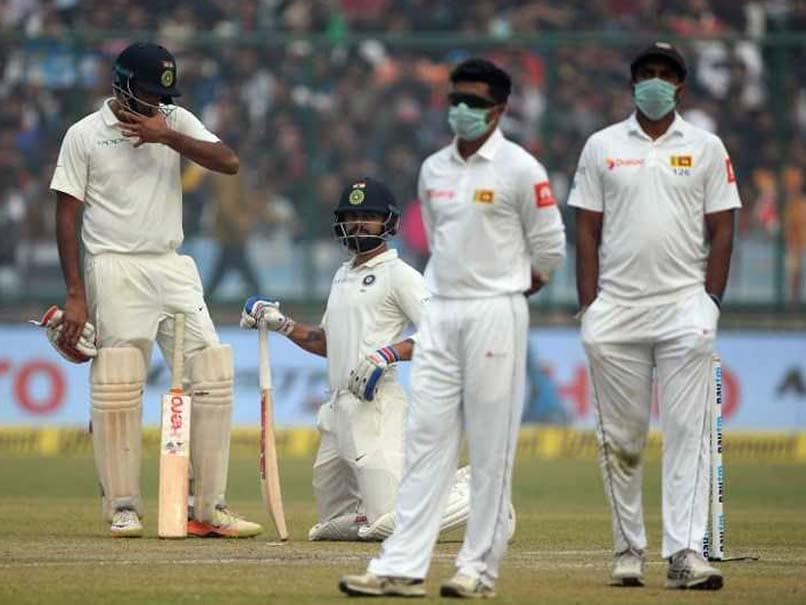 Shikhar Dhawan unhappy with SL players' on-field behaviour over Delhi pollution
© AFP
Shikhar Dhawan on Tuesday questioned the Sri Lankas' approach to the pollution issue during the Delhi Test and said that it cannot come in the way of going about their job of playing as professional cricketers. Delhi's viability as an international sports venue has been called into question after Sri Lankan players complained of breathing problems due to smog and continued to wear anti-pollution masks in the ongoing third Test against India here. "I can't hide the fact that there is pollution but if you have been assigned a job then you have to go ahead and do it," Dhawan said matter-of-factly at the end of the fourth day.
He added that a lot of Indian players from other states are adjusting to the prevailing conditions in the national capital.
On the fourth day, the Sri Lanka players once again wore anti-pollution masks while rival pacers Suranga Lakmal and Mohammed Shami threw up on the field.
Asked if he sympathised with the Sri Lankans, Dhawan replied: "There are a lot of players in our team who are not used to this pollution thing in Delhi as they come from other states. But if you have been assigned a job (to play), you can't let anything come on its way. That's my thinking because not everyone in our team is from Delhi. The situation is same for them also."
But when a journalist reminded him that the Ashwins, Vijays and Rahanes play a lot of cricket in Delhi round the year, Dhawan was more tactful in his response.
"Look, if you are playing in Delhi during some other time, the pollution won't affect you as much as it is affecting now. I would never say that there is no pollution in Delhi. Of course there is pollution. During winters, there is a lot of smog, so whatever the situation is, we need to adjust accordingly. When you are playing for the country, you have to do your job," the opener said.
Dhawan said that the Sri Lankans, who primarily come from cities surrounded by sea, may be facing some problems.
"May be they are uncomfortable. May be there is less pollution in Sri Lanka. There are more beaches in Sri Lanka. It's natural that a city surrounded by beaches won't have much pollution.
"As I said I won't hide that there is pollution in Delhi. Now if it's there, it's there! We can't help it. May be they are feeling it more, I don't know. But still I would insist that we should do our duty - that is to play cricket."
Coming from the city, Dhawan tried to put things into perspective further.
"Look I have been born and brought up in Delhi. Since this is the time of crop harvesting in some of the states, the pollution is wee bit more during this time of the year. Also this time, we haven't experienced good sunshine.
"May be if there was sunshine, pollution would have been less. I don't think playing cricket was a problem. As far as Shami is concerned, he is fine and you will see him in action tomorrow."
(With PTI inputs)