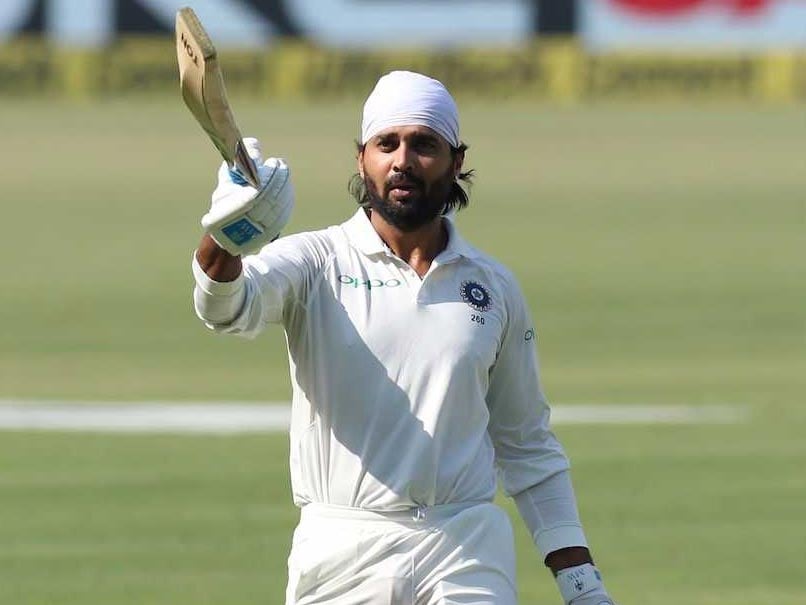 Murali Vijay marked his return with a patient 128 off 221 balls
© AFP
India opener Murali Vijay marked his return to international cricket with a patient 128 off 221 balls against Sri Lanka on day two of the second Test at Nagpur. Vijay, who was not part of the team in the first Test at Eden Gardens, was given a spot in the playing XI after Shikhar Dhawan opted out of the Nagpur Test due to personal reasons. However, on getting the chance he grabbed the opportunity with both hands and played a brilliant knock along with Cheteshwar Pujara to leave India in command at the end of day two.
In the post-match conference, while Vijay emphasised that as a professional one should always be ready for the opportunities, he also mentioned that it is difficult for him to be in and out of the side but wants to contribute whenever he gets the chance. "I feel as a professional you should always be ready whether you get a chance or not. You should be ready from inside, eyeing to get a chance. So whenever you get that chance, you are at least not lacking on that aspect (mental preparation). You can be fully aware of what's happening and what's going to happen.
"It is difficult but I am used to it by now. I just wanted to contribute whenever I get an opportunity to play for India," Vijay told mediapersons on Saturday.
While it has been a case of musical chair for two opening slots between him, Rahul and Dhawan, Vijay said that he just wants to remain comfortable in his own space.
"I really don't have to deal as long as I am happy and comfortable in my space. That's all I want it to be and if I am able to achieve that on a consistent basis, I think I am doing a good job."
He was the first choice opener in March this year before being relegated to third choice in November, but the Tamil Nadu batsman does not want to look at it from that angle.
"Playing for India is difficult and whoever gets a chance, I wish him luck. I know how difficult it is to be in that space and perform, so whoever gets a chance should perform. That's all I can say," he said.
Vijay has had as many as 10 century partnerships (nine in sub-continent) with Cheteshwar Pujara.
Asked about their chemistry, the 33-year-old smiled and replied: "I like batting, so it does not matter who bats at the other end! Pujara also has similar mindset as he likes to dig in deep and scrap it out in situations of varied demands. So hopefully, we can continue to do it for India more number of times."
There was a passage of play in the post-lunch session when he wasn't able to get too many runs off Rangana Herath. Quizzed about that particular spell of play, he said: "That's Test cricket and you have to respect it. I think that's how innings should be built. The easy way is being more aggressive and taking high percentage of risks. But they were bowling well and so we thought that we can buy time now and may be cash in at later half of the day."
There has been a lot of talk about South Africa tour but Vijay does not want to get too far ahead mentally.
"I am a person who doesn't like to overthink too much till I see that particular ground or venue. I don't want to have pre-conceived ideas and plans. I like to take things as it comes.
"Yes, bounce is something, we have got one week to handle (before first Test starts). Everybody knows about it and we are working on it. I have few things to work on and I am at it," said Vijay.
(with PTI inputs)