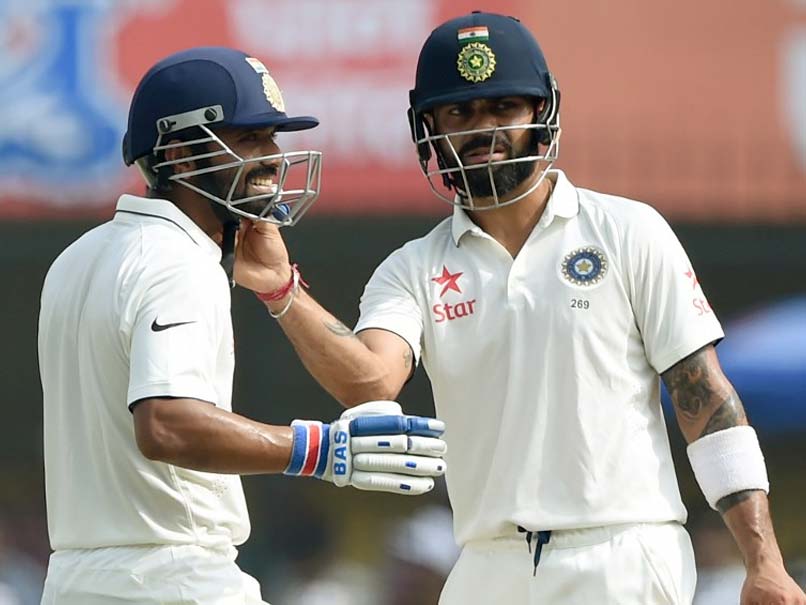 Virat Kohli hinted Ajinkya Rahane to replace Karun Nair against Bangladesh
© AFP
The distinction of being only the second Indian to score a Test triple-century will not be enough for Karun Nair to cement his place in the Indian Test-playing XI, as he will have to pave the way for Ajinkya Rahane to come back for the one-off Test against Bangladesh starting from Thursday. Indian captain Virat Kohli made it clear in the pre-match press conference that Rahane, at whose expense Nair was picked to play the final Test against England, is their preferred choice.
While the top four batsmen - KL Rahul, Murali Vijay, Cheteshwar Pujara and the captain himself are automatic selections, the tricky part starts post the number four slot. Rahane was out of the side for the last two Tests after he injured his finger during the third Test in Mohali and missed out on the remaining two matches.
Thereafter, Nair made a name for himself, scoring only the third triple-century for India, the other two having gone to Virender Sehwag.
Asked about the team combination, Kohli said, "Ajinkya Rahane has done enough in 2-3 years to walk into XI when fit. Probably our best batsman in this format."
Kohli also said that the team management's focus is to back players making a comeback from injury. "The big challenge is to ensure that we back players making a comeback and keep the youngsters in the squad and groom them.
"We are lucky that we have bench strength. We have a pool of 20-30 players from which we can choose," he added.
Rahane had missed the last two England Tests due to a finger injury and is now fit to take the field. Before injury, he scored 63 runs in the three matches of the series against England with the highest score of 26 and an average of 12.60.
(With inputs from PTI)