Story Progress
Back to home
India vs Bangladesh: Centurion Murali Vijay Reveals His New Batting Strategy
Murali Vijay hit a classy century against Bangladesh on Thursday, his 9th in Test cricket. The Tamil Nadu right-hander spoke about the aspects of his game that he worked on.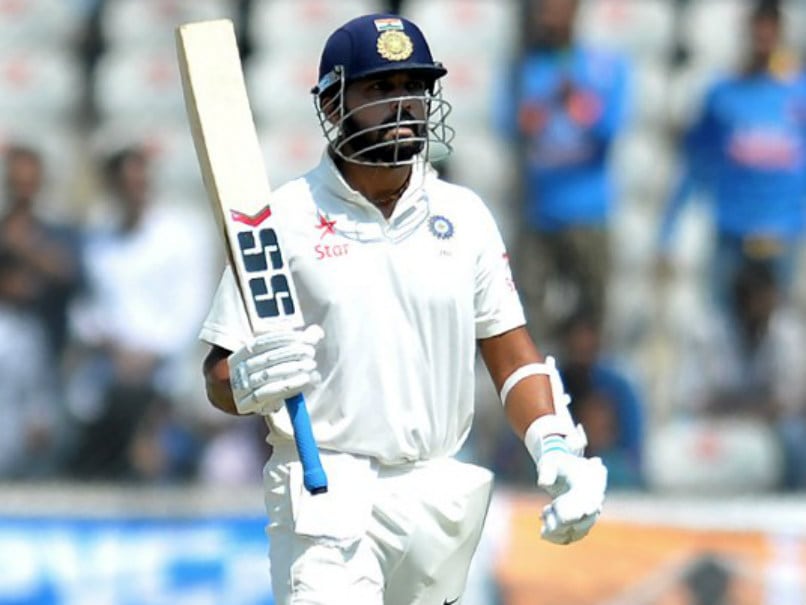 Murali Vijay said the gameplan was to rely on instincts in certain situations.
© AFP
Highlights
Murali Vijay scored a classy ton on Day 1 vs Bangladesh

Virat Kohli was unbeaten on 111

India ended the opening day at 356/3
Hyderabad:
Ton-up India opener Murali Vijay on Thursday revealed that has resisted the urge to nibble at balls outside off and is back to playing the way that fetched him runs in international cricket earlier. The stylish right-hander cracked a classy century against Bangladesh in Hyderabad, his 9th in Test cricket. The Tamil Nadu batsman spoke about the aspects of his game that he worked on.
"See, I was playing at the balls that I should be leaving actually. I went back home and gave it a thought, came back to Bombay (England Test in Mumbai) and played in the way I would play rather than playing for the situation which was putting too much pressure on me. These are small things, I rectified in the Bombay Test," Vijay said at the post match conference.
"As I am playing one format of the game at the moment, I have got a decent idea about it and hang of it. I want to give as many consistent starts as possible for India. I am ready for my opportunity in other two formats as well," reminding that he has not resigned to the fact that he is not considered for limited overs format.
On his strategy for the day, Vijay said: "To be honest, I was feeling good about my game coming into the series, Hopefully, I can carry that forward. I just saw the new ball for 4-5 overs, read the wicket. Then I thought, I can kind of play my shots and it came out my way today. It was two paced in morning session and in the afternoon it became slower."
The 32-year-old said the gameplan was to rely on instincts in certain situations and the team was well equipped to handle the short ball which Bangladesh slinger Kamrul Islam Rabbi dished out consistently.
"In international cricket, you expect that (short ball). It's more instinct rather than plan."
Vijay believes that it was purely because of Kohli, India scored nearly 20 runs extra with a whopping 63 runs coming off last 9 overs.
"It's always a great sight to watch Virat play, the way he is playing at the moment. He has taken his game to a different level at the moment. End of the day, you can see we are 354 (356) and I thought 340 would be great. The 10-20 runs extra just happened because of him.
"The way he was striking the ball was fantastic. After the new ball was taken, it came onto the bat more faster I guess. And I think he has a set game plan. It's working out well for him. Hopefully, he can continue to go on."
On his 178-run stand with Pujara and fifth three-figure stand this season, Vijay attributed it to the great rapport that they share.
"We really enjoy each other's company out there in the middle and he has a solid game. He makes things easy for me and we both share a good rapport and that makes it easier inside," he said.
Vijay also lauded his teammate Pujara for his success.
"I think he's going to become a great player. It's great honour to move along with him and pick his brains. We are totally different characters in the dressing room because we don't think the same way but once we go in the middle, we enjoy the company and enjoy each other's success. He's been a fantastic role model for all the youngsters in India."
His miscommunication with Pujara nearly cost Vijay his wicket and he had a laugh about it.
Promoted
"We need to work on that. Had I been out, I would have had different conversation with him (laughs)."
(With inputs from PTI)
Topics mentioned in this article