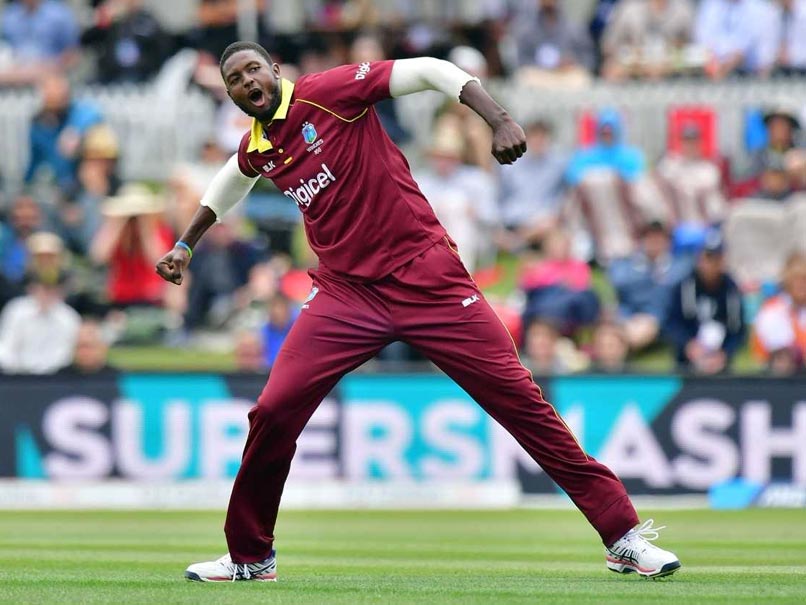 ICC World Cup Qualifier, Highlights: West Indies lose to Afghanistan by three wickets
© AFP
Afghanistan made a stunning start to their super sixes match of the ICC World Cup qualifiers as they beat West Indies by three wickets on Thursday. Rahmat Shah starred with the bat as he hit a fine half-century to keep his team in the run-chase. During his innings, Rahmat hit five boundaries and one six before he was dismissed for 68. Apart from Rahmat, Mujeeb Ur Rahman starred with the ball as he finished the match with figures of three for 33. He was also adjudged as the man of the match.
Highlights of the West Indies vs Afghanistan ICC World Cup Qualifier from Harare, Zimbabwe.
20:17 IST: Thank you for joining us for the live blog.
20:15 IST: Afghanistan beat West Indies by three wickets in the first match of the super sixes of the ICC World Cup qualifiers.
20:11 IST: Afghanistan need 4 runs in 15 balls.
20:08 IST: Afghanistan need 6 runs in 18 balls.
20:03 IST: Afghanistan need 8 runs in 21 balls with three wickets remaining.
19:45 IST: WICKET! Najibullah departs after hitting two successive boundaries. Afghanistan need 30 runs in 40 balls
19:33 IST: WICKET! Big breakthrough for West Indies. Rahmat Shah departs for 68. Afghanistan 152/5.
19:30 IST: Afghanistan, 150/4, need 48 runs in 60 balls. Rahmat Shah 67* and Najibullah Zadran 3* out in the middle.
19:25 IST: Four! Rahmat, down on one knee, sweeps Nurse for a beautiful boundary.
19:14 IST: Najibullah Zadran is the new man in.
19:13 IST: WICKET! Jason Holder gets his second as Mohammad Nabi departs for 31.
19:06 IST: FIFTY! Rahmat Shah reaches his fifty. What a patient knock by the Afghanistan's middle-order batsman. Afghanistan need 72 more runs from 16 overs.
Can Afghanistan keep their qualification dream alive? They require 77 from the remaining 17 overs - with 7 wickets remaining! #WIvAFG LIVE https://t.co/uGiyiA9Byx pic.twitter.com/QV6BzmF7Bo

— ICC (@ICC) March 15, 2018
18:35 IST: 100 up for Afghanistan in the 26th over. They require another 95 runs with 7 wickets and 24 overs remaining.
18:15 IST: WICKET! Shenwari c Gayle b Nikita Miller 27(51)
Excellent bowling from Nikita Miller and Chris Gayle takes an almost dropped on the third attempt.
After 21 overs, Afghanistan are 86/3. They require another 112 runs with 7 wickets and 29 overs remaining.
17:50 IST: 50 up for Afghanistan in the 14th over.
They require another 142 runs with 8 wickets and 36 overs remaining.
17:35 IST: 10 overs gone and Afghanistan are 36/2. They need another 162 runs in 40 overs.
17:15 IST: WICKET! Mohammad Shahzad c Rovman Powell b Holder 8(12) 
A poor shot from  Mohammad Shahzad and Jason Holder strikes.
After 5 overs, Afghanistan are 20/1.
17:00 IST: WICKET! Javed Ahmadi lbw b Keemo Paul 1(2)
Debutant Keemo Paul strikes in his first over.
After 2 overs, Afghanistan are 11/1.
16:25 IST: West Indies end their innings at 197/8.
16:05 IST: WICKET! Rovman Powell c Mujeeb b Rashid Khan 3(12)
Finally, Rashid Khan gets a wicket, debutant Keemo Paul comes to the crease.
After 45 overs, WI are 169/8.
16:00 IST: WICKET! Brathwaite c Rahmat b Sharafuddin Ashraf 4(5)
In last 5 overs, West Indies have lost 3 wickets and scored just 14 runs.
After 44 overs, WI are 169/7.
15:55 IST: WICKET! Shai Hope c Najibullah b Mujeeb 43(94)
A huge wicket for Afghanistan at this crucial juncture. Well-set Shai Hope falls after a splendid knock of 43.
After 43 overs, WI are 161/6.
15:45 IST: WICKET! Holder c Najibullah b Mujeeb 28(26)
The dangerous Jason Holder departs after Najibullah Zadran takes a regulation catch.
After 38 overs, WI are 158/5.
15:35 IST: 150 is up for the West Indies. Shai Hope is still going strong and Jason Holder is supporting him well.
After 38 overs, WI are 152/4.
15:05 IST: WICKET! Samuels c Naib b Nabi 36(64)
Marlon Samuels falls after a gritty knock, Mohammad Nabi gets rid of him.
After 31 overs, WI are 109/4.
14:55 IST: 100 is up for the West Indies and the partnership between Shai Hope and Marlon Samuels is now worth 50.
After 29 overs, WI are 103/3.
14:40 IST: In the last 5 overs, the West Indies have scored 20 runs without losing a wicket. Shai Hope and Marlon Samuels consolidate the Windies.
After 25 overs, WI are 83/3.
14:26 IST: Shai Hope and Marlon Samuels are trying to steady the ship for the West Indies, who suffered 3 early blows.
After 20 overs, WI are 66/3.
14:02 IST: WICKET! Lewis run out (Najibullah) 27(37)
Well-set Evin Lewis throws away his wicket. It was a complete lack of judgment on his part as Najibullah Zadran's direct throw did the trick.
After 13 overs, WI are 54/3.
13:55 IST: WICKET! Hetmyer lbw b Nabi 15(22)
Poor decision from the umpire. There was a big inside edge and Shimron Hetmyer was given LBW. Unfortunately, there's no DRS system in place for this tournament.
Nonetheless, Mohammad Nabi has now become the first Afghanistan player to claim 100 ODI wickets.
13:50 IST: Evin Lewis and Shimron Hetmyer are now scoring at a consistent pace.
After 10 overs, WI are 42/1.
13:30 IST: Although West Indies lost Chris Gayle early, Evin Lewis is going strong.
After 6 overs, WI are 17/1.
13:19 IST: WICKET: Gayle b Mujeeb 1(9).
West Indies lose Chris Gayle cheaply. Mujeeb Ur Rahman's delivery clips the top of the back pad and hit Gayle's off stump.
13:05 IST: Windies' explosive duo of Chris Gayle and Evin Lewis begin the proceedings, Dawlat Zadran opens the attack for Afghanistan.
12:52 IST: There is bright sunshine in Harare and there is some sheen on the flat surface.
Rashid: We didn't play well in the first round, lucky to be here. Want to play good cricket in this round. Learned from the first round. We forgot what happened in the last week. Fresh tournament for us, have to win all the matches. Two changes from the last game.
Holder: We're going to bat first, looks a pretty good wicket. Want to put some runs on the board. Want to tick all of our boxes. Yet to play the perfect game, hopefully, this will be it. We could still get more consistency from the top-order. Forced changed: Roach is out, Keemo Paul makes his debut. Nikita Miller comes in as well.
The Playing XIs:
Afghanistan: Mohammad Shahzad (wk), Javed Ahmadi, Rahmat Shah, Najibullah Zadran, Samiullah Shenwari, Mohammad Nabi, Sharafuddin Ashraf, Rashid Khan (capt), Gulbadin Naib, Dawlat Zadran, Mujeeb Ur Rahman
West Indies: Chris Gayle, Evin Lewis, Shimron Hetmyer, Marlon Samuels, Shai Hope (wk), Jason Holder (capt), Rovman Powell, Carlos Brathwaite, Ashley Nurse, Keemo Paul, Nikita Miller
12:45 IST: Keemo Paul will be making his debut for the Windies today.
12:40 IST: West Indies have won the toss and have opted to bat
12:35 IST: Hello and welcome to the live updates of the ICC World Cup Qualifier between West Indies and Afghanistan.
Teams:
Windies (From): Chris Gayle, Evin Lewis, Shimron Hetmyer, Marlon Samuels, Shai Hope(w), Jason Holder(c), Rovman Powell, Carlos Brathwaite, Ashley Nurse, Kemar Roach, Kesrick Williams, Jason Mohammed, Devendra Bishoo, Nikita Miller, Keemo Paul
Afghanistan (From): Mohammad Shahzad(w), Javed Ahmadi, Ihsanullah Janat, Samiullah Shenwari, Mohammad Nabi, Najibullah Zadran, Sharafuddin Ashraf, Rashid Khan(c), Dawlat Zadran, Mujeeb Ur Rahman, Shapoor Zadran, Rahmat Shah, Afsar Zazai, Gulbadin Naib, Nasir Jamal, Asghar Stanikzai
The West Indies, thanks to their four points carried over into the Super Sixes, will start as favourites but their performances in the group matches have been inconsistent.
The Windies, world champions in 1975 and 1979, slipped to 58 for four before achieving their 201-run target against Papua New Guinea, recovered from 83 for five to 258 for eight against Ireland and then were behind the Netherlands on the Duckworth-Lewis-Stern method at one stage before the Dutch lost four quick wickets to eventually lose by 54 runs.
Captain Jason Holder insisted the important thing for his side was to progress to the Super Six with a maximum four points.
"I think this is one box ticked -- we have not only qualified but qualified going into the Super Six with four points.
"We've got Afghanistan first in the Super Sixes, and we know we have to win that game. I think everybody will be up for it, it's obviously a must-win game, a very important game."
(With inputs from AFP)