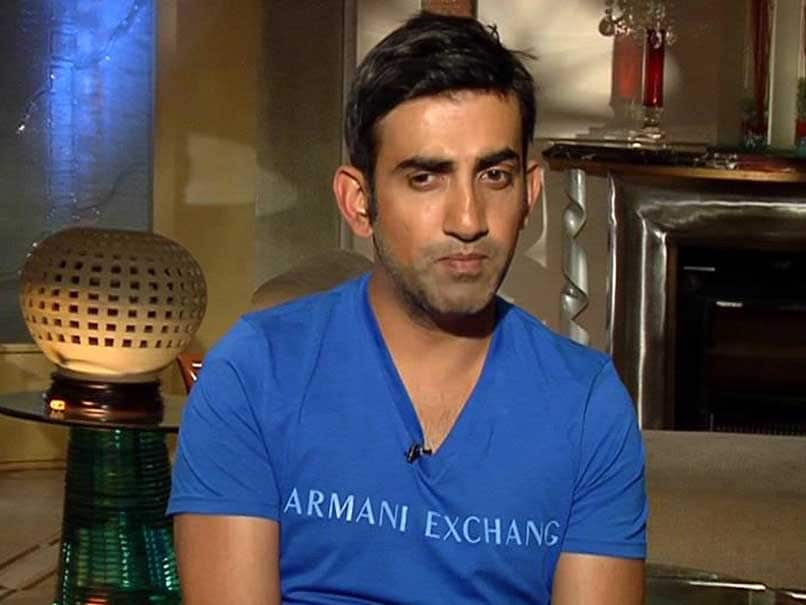 Gautam Gambhir spoke to NDTV to clear the air surrounding the latest controversy.
© NDTV
One of India's 2011 World Cup win heroes, Gautam Gambhir, came under the scanner on Monday after he unleashed a barrage of verbal abuse on Delhi coach Bhaskar Pillai. This is not the first time he has been involved in a fight but many called this incident a new low in Delhi cricket. The KKR captain spoke to NDTV to clear the air and it seems his heart is in the right place.
NDTV: We heard that you had a heated exchange with Delhi coach Bhaskar Pillai after Delhi was knocked out of Vijay Hazare and you crossed the line. What made you angry?
Gautam Gambhir: These things should not have come out. A lot of things happen in the dressing room and they should stay in the dressing room because it is a sacred and confidential place. There are a lot of happy moments, there are a lot of frustrating and sad moments as well. Whatever claims he (Pillai) has put in media are absolutely wrong. I know what to talk and where to draw the line. There was no use of abusive language.
NDTV: Could you take us through the incidents that led up to this?
GG: Lot of incidents have happened since Pillai took over. For the last few years, we have been trying to make the players feel secure about their place in the side. Delhi cricket makes you insecure and there is not much support from the association either. Vijay Dahiya and I wanted to stick to a bunch of boys and groom them. But look at the way Unmukt (Chand) was dropped. Milind Kumar and Navdeep Saini, who have done reasonably well, have been made to feel insecure by the coach. I am not against dropping players but have to tell them the reason.
NDTV: Did they drop you from captaincy because you were backing players the selectors did not want?
GG: I do not know, neither do I care about that. I was never interested in captaining. The only reason I wanted to be there was to groom this young bunch of boys and make them feel secure. I knew if I left these people will make the youngsters their target, pick and drop them at their will.
NDTV: Would you say the current bunch of Delhi selectors are making players insecure?
GG: That is always the case in Delhi cricket and that is why I have had so many arguments even in the past. I have never had arguments with any administrator but selectors, including Chetan Chauhan.
NDTV: Not just selectors, you have fought with cricketers on the field too - incidents with Manoj Tiwary, Virat Kohli, Shane Watson are recorded and archived. Do you regret any of these incidents?
GG: You go out on the field to win a game. I have maintained that tomorrow if I am captaining KKR and I have to be aggressive to make my team play well, I won't shy away from doing that. It is a serious business, you always go out to win and not just to compete. This fight was about securing careers of a few young players. I know how insecure a cricketer or a sportsman's life is.
NDTV: Aggression is all good but from October 1, umpires will have an extra weapon which will be equivalent to a red card in football. How will you manage your anger and work around that?
GG: Hope I do not get a red card. But on a serious note, it is good! People should behave themselves on the cricket field and not cross the line. Playing aggressive cricket, and even sledging within the spirit of the game is fine, but you cannot cross a line because a lot of people are watching you. This will keep players in check. Now a team can be reduced to ten men. Players will have to tone down aggression, even if they do not want to...It is not about themselves alone, it is about the team as well.
NDTV: Would you say you have been victimised because you stood by players in times of need?
GG: No regret even if I am victimised. I have played enough cricket to know all these things happen. If you are honest to your profession, you might have to pay the price at times. If you believe in a few things, you have to stick by them, you will only regret when you do not side with your principles.