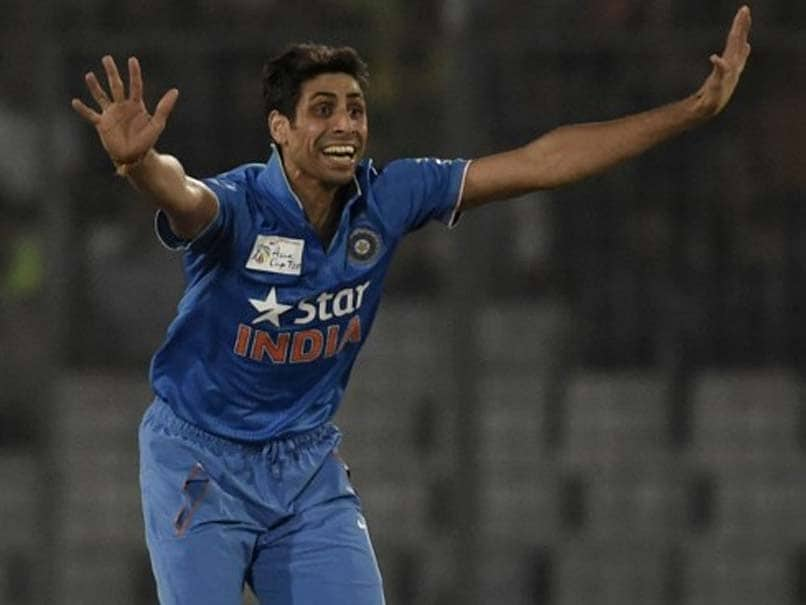 Nehra addressed a press conference on Thursday ahead of the final T20I.
© AFP
Ashish Nehra will bring the curtains down on his long career, where he had been in and out of the Indian side for 18 years. The veteran left-arm seamer, who has made quite a name for himself, had made it known on Wednesday that he would retire on November 1, when India take on New Zealand in a T20 International. The Delhi pacer addressed a press conference in Hyderabad, ahead of the 3rd T20 International against Australia on Friday, where he revealed the reasons behind his retirement from all forms of cricket.
"I have spoken to the team management as well as the chairman of the selection committee," Nehra told the media.
Ashish Nehra to bid adieu to International Cricket on November 1 in Delhi. pic.twitter.com/Cl9AfOapHK

— BCCI (@BCCI) October 12, 2017
"The game against New Zealand has come in in Delhi. It can't get any bigger than that, that you retire in front of your home crowd, where I played my first Ranji Trophy match 20 years back," he said.
'No IPL'
"I was always mentally strong and whenever I used to train, I always used to play for India," Nehra said about his retirement from the Indian Premier League as well.
"A lot of people are asking me why I was retiring from the IPL, that I could easily play IPL. But when I train day in and day out, I train to play for India.
"I realise that when I retire on November 1, there are five months before the next IPL and I could easily play. I could even play another year of international cricket," he said.
"But that's my decision. Once I will leave, I will leave. I won't even play IPL," Nehra stressed.
Its my own decision and once I retire from International Cricket, I will not play in the IPL as well - Ashish Nehra pic.twitter.com/TLCKp28cNc

— BCCI (@BCCI) October 12, 2017
"It is always good to retire when people say 'why', not 'why not'. I always wanted to retire on a high," the veteran seamer said.
It's always good to retire when people are asking Why rather than Why Not? - Ashish Nehra on his retirement pic.twitter.com/Uacvs17Z8S

— BCCI (@BCCI) October 12, 2017
"I feel this is the way forward. As I have said, there are no big (T20) tournaments coming. Also, the way Bhuvneshwar (Kumar) has been bowling, there have been times when I and Jaspreet Bumrah have played while Bhuvi and (Mohd) Shami have sat out.
"So I think it is the right time and my decision has been welcomed by all concerned," Nehra added.
Nehra was included in the squad for the three-match T20I series with Australia but wasn't the part of the playing XI in the two matches completed so far.