Story Progress
Back to home
Harbhajan Singh Says He Doesn't Get Same 'Privileges' As MS Dhoni In Selection Matters
Harbhajan Singh wonders why his experience doesn't count as much as MS Dhoni's in selection matter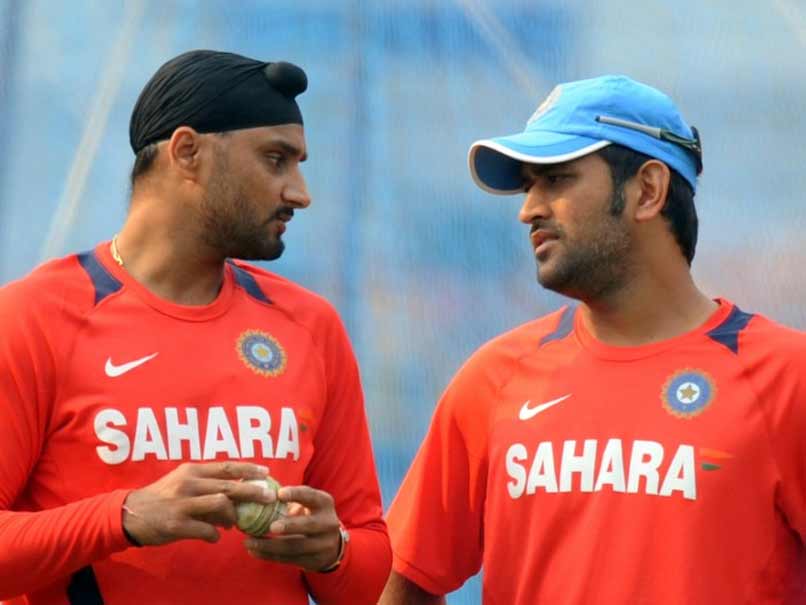 Harbhajan Singh expressed his unhappiness with selection committee
© AFP
Highlights
Harbhajan claimed 8 wickets in IPL 2017

Bhajji is unhappy with the selection committee

I don't want to sing my own praises: Harbhajan Singh
Veteran off-spinner Harbhajan Singh says that he is not given the kind of 'privilege' that Mahendra Singh Dhonigets when it comes to selection for Team India. Harbhajan was referring to Dhoni being named for the Indian squad for the ICC Champions Trophy. The BCCI Chairman of Selectors, MSK Prasad, had said on Dhoni's selection that he brought much more to the table than just his batting in the form of experience and his tactical brain. Harbhajan weighed in on the matter with a straighter one, suggesting that he too was a senior player and brought a lot more to the table than just his bowling or batting but in his case it is not taken into consideration.
'Yes there is no doubt that Dhoni brings a lot to the table apart from his batting, whether he is in form or not. Obviously we have seen that he is not hitting the ball as well as we have seen,' Harbhajan told NDTV.
"But he has been captain and he understands the game and having him in the middle will help lot of youngsters and people out there who are not feeling great in particular moments. So he has that edge.
"But when it comes to me. I do feel that we are not given that sort of privilege," the bowler added. "We too have played for 19 years and won and lost India matches. I have won two World Cups too. So this privilege is for some players, and for some it is not and I'm one of those for whom this privilege is not there. I don't know why that is the case.
"That question of 'why', needs to be asked to the selectors. I don't want to sing my own praises but the amount of cricket others have played even I understand the game as much and what they bring to the table we also bring to the table. We too wish to play for the country as much," he added.
Harbhajan was also critical of the fact that neither Gautam Gambhir nor his name was discussed at the selection committee meeting for the Champions Trophy at a time when both have done so well at the IPL recently (as was reiterated by Prasad as well). Harbhajan had the best economy rate for Mumbai Indians at 6.48 on their journey to winning the 3rd IPL title.
'It is not fair to be honest. Why do we play such tournaments (like the IPL)? We play to get selected to play for India. If people are doing well. Let's talk about Gautam Gambhir. He has the most number of runs consistently. If I talk about myself, yes, you know we all were hoping that we might be somewhere in the mix. But knowing that in my scenario I knew that If Ashwin will be fit then he will be there in the team and if he is not then I have a chance.
"He (Ashwin) was rested for the IPL because he needs to get fit for the Champions Trophy. I understand all of that. But if you do well, you should be rewarded or considered at least. Aisa naheen key humney discuss naheen kiya, next question. Why do we have two different rules for two different people?'' the bowler asked.
Asked about the possibility that the selectors may not have considered him or Gambhir for the Champions Trophy because their fielding perhaps doesn't match up to the level of the younger lot, Harbhajan retorted by saying, ''See if someone comes and tells me that this is one thing that is lacking in you that's the reason you're not there in the squad but nobody has told me. There is no communication. If someone tells me this is how fit we need you to be, at the end I want to play for India so I will work on it.
"I don't know my weakness because nobody has spoken to me. None of the selectors, no one actually. But I've always felt that when I do I get somewhere so I'm working hard and I'm sure I'll get somewhere," he added.
MSK Prasad, when he had first taken up the position of Chairman of Selectors, had made it clear that no player once injured would be allowed to return to the Indian Team without proving his fitness in a match like situation. But in the case of Ashwin that is unlikely to happen considering he did not play in the IPL and the Champions Trophy is immediately after.
However Harbhajan felt that for top players like Ashwin making an exception is understandable.
''Because he was rested by the team management itself, given the thought that we need him totally fit for the Champions Trophy so in scenarios like this with one or two players we can make this exception. But even in the case of Ashwin I'm sure a fitness test will happen. Knowing Virat and Anil bhai (Kumble) I'm sure they would not want to have an injured player in the squad.
"And knowing Ashwin, he is a champion bowler, he will not say that I'm half-fit but take me. He will say if he is feeling a niggle. I wish he is okay and I wish him all the luck to do well in the Champions Trophy,'' added Harbhajan.
Topics mentioned in this article