Story Progress
Back to home
David Warner's Wife Candice Blames Herself For Husband's Ball-Tampering Crisis
Candice Warner said that her husband David was struggling to cope with the ball-tampering fallout.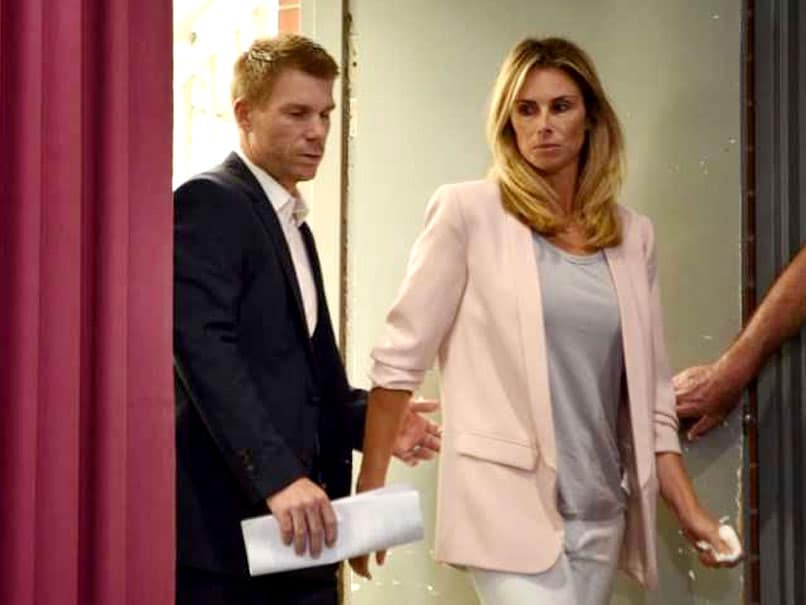 David Warner's wife Candice also called for sympathy and patience from Australian fans.
© AFP
Highlights
Candice Warner blames herself for husband's ball-tampering crisis

CA established David Warner hatched the plan to tamper with ball

David Warner was banned for a year for his involvement
Former Australia vice-captain David Warner's wife Candice said that she blames herself for her husband's involvement in the ball-tampering scandal that has left Australian cricket in crisis. Candice Warner claimed that the Sonny Bill Williams fiasco, where she was taunted by South African fans for an alleged tryst in 2007 with the New Zealand rugby star, took it's toll. Cricket Australia's key findings into the ball-tampering saga held David Warner responsible for the "development of a plan to attempt to artificially alter the condition of the ball".
"I feel like it's all my fault and it's killing me -- it's absolutely killing me," Candice Warner told Sydney's Sunday Telegraph.
The Test series was already fractious before the ball-tampering affair, with a row between David Warner and Quinton de Kock during the first Test which the Australian said was sparked when the South African is said to have insulted his wife.
Two senior Cricket South Africa officials were also photographed with three spectators wearing All Black rugby player Sonny Bill Williams face masks during the second Test in reference to a reported intimate encounter Candice Warner had with him in 2007 before she met Warner.
Candice Warner said she was not making excuses for her husband's behaviour over the ball-tampering scandal but added that he was "protecting me as much as he could and protecting the girls (their children)".
"But Dave would come home from the game and see me in tears in the bedroom, and the girls just looking at their mum, it's been heartbreaking," she said.
"When we were in Cape Town and Port Elizabeth, Dave would come home and, yes, I always put on a strong front and I turn out to the games.
"But seeing them wearing the masks, to have people staring and pointing and laughing at me, to have the signs, to have, you know, the songs made up about me, I would have to sit there and cop that."
Candice Warner also called for sympathy and patience from Australian fans, saying the batsman was struggling to cope with the fallout.
In a tearful press conference in Sydney Saturday, the 31-year-old spoke of his fear that he would never get to represent Australia again as his wife watched on.
Warner, however, ducked questions during the press conference about whether the ball-tampering plan was his idea, whether it was the first time, who else was aware of it and whether he had been made a scapegoat.
"I'm sure there were things he wanted to say but he just couldn't get it out. He is hurting. He is seriously, seriously struggling and he's not in a great headspace," she said.
The ball-tampering incident took place during the third Test against South Africa in Newlands, Cape Town last week. Cameron Bancroft was caught on camera, using what has now been revealed as sandpaper to alter the condition of the ball.
Captain Steve Smith and Bancroft fronted the press, and in the most stunning revelation, admitted to pre-planned cheating in an explosive press conference.
Smith and Warner was banned for one year from domestic and international cricket over the plot to change the condition of the ball while Bancroft was banned for nine months.
The Australian cricket board found Warner not only conceived the idea to rough up the ball with sandpaper but he also enlisted Bancroft to carry out the task and demonstrated how to do it.
For that very reason, CA came down the hardest on the left-hander.
While both Smith and Warner were removed from their posts as captain and vice-captain of the Australian cricket team, the former at least will be considered for captaincy a year after completing his ban.
Promoted
However, the CA said Warner will never be considered for leading the side.
(With AFP Inputs)
Topics mentioned in this article