Story Progress
Back to home
Ball-Tampering Row: David Warner Never To Captain Australia, Steve Smith Barred From Leadership Role For At Least Two Years
Cricket Australia came down hard on the former captain and vice-captain of the Australian team.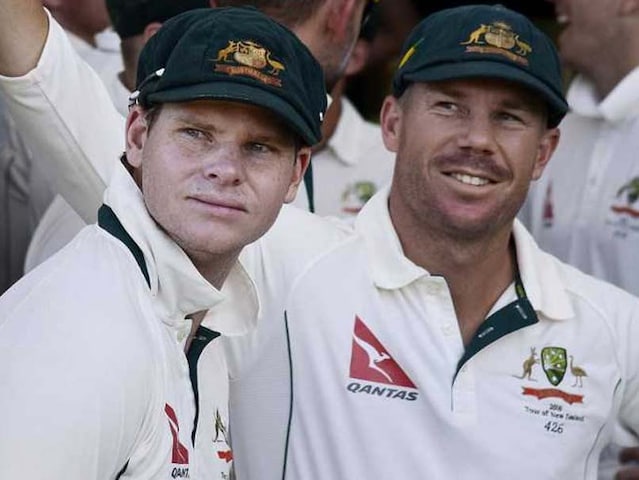 Steve Smith, David Warner banned for one-year by Cricket Australia
© AFP
Highlights
Steve Smith, David Warner were handed one-year bans by Cricket Australia

They have also been ejected from this year's Indian Premier League

Warner will not be considered for the captaincy role in future: CA
The disgraced Australian duo of Steve Smith and David Warner was on Wednesday banned from cricket for 12 months over aball-tampering scandalthat has rocked the sport and dragged their side's reputation through the mud. While Warner, who was the vice-captain of the Australian team, will not be considered ever for the leadership role of the national team, Smith and Cameron Bancroft would not be picked for captaincy until a minimum of 12 months after the end of their suspensions, Cricket Australia (CA) said in a statement. All three players will also be required to undertake 100 hours of voluntary service in community cricket.
Smith and Warner have also been ejected from this year's Indian Premier League, losing contracts worth up to $2 million each.
Earlier in the day, CA suspended Smith and Warner from "all international and domestic cricket" while opening batsman Bancroft was slapped with a nine-month ban.
However, the CA statement said all three players involved in the ball-tampering incident during the third Test in South Africa will be "permitted" and "encouraged" to play club cricket. It was not immediately clear whether they will be eligible to play the county cricket in England.
Smith was charged with knowledge of a potential plan "to attempt to artificially alter the condition of the ball" but Warner was charged with developing the plan.
Cricket Australia CEO James Sutherland said the board had imposed "significant" sanctions over the incident, in which Bancroft used a strip of yellow sticky tape to pick up dirt and illegally roughen one side of the ball to generate more swing for Australia's bowlers.
"I am satisfied that the sanctions in this case properly reflect a balance between the need to protect the integrity and reputation of the game and the need to maintain the possibility of redemption for the individuals involved, all of whom have learned difficult lessons through these events," Sutherland said.
"As indicated, Cricket Australia will provide more details of an independent review into the conduct and culture of our Australian men's team in due course," he added.
Smith, Warner and Bancroft have been sent home from South Africa but coach Darren Lehmann remains in charge because Cricket Australia says he was unaware of the plot to alter the ball's condition.
(With AFP inputs)
Topics mentioned in this article