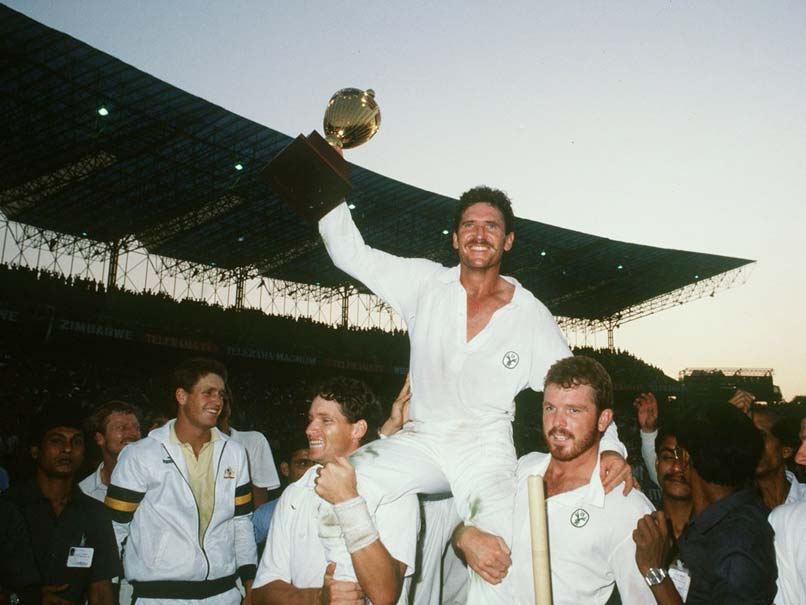 Australia won their first World Cup title in 1987 at Eden Gardens in Kolkata.
© Cricket World Cup/Twitter
The first Australia squad to win the ICC cricket World Cup will receive winners' medals on Sunday - 30 years after their triumph. Allan Border's side won the fourth edition of the tournament in India and Pakistan in 1987, beating England by seven runs in the final in what was then known as Calcutta. But although they were presented with a trophy, the 14 players, together with coach Bob Simpson, team manager Alan Crompton and physiotherapist Errol Alcott, never received any commemorative medal to mark their achievement.
That omission will be corrected on Sunday when the squad will be presented the medals during the break between innings in Sunday's fourth One-Day International (ODI) between Australia and Pakistan at the Sydney Cricket Ground (SCG).
The presentation, to be made by Cricket Australia (CA) chairman and International Cricket Council (ICC) director David Peever, follows a decision of the ICC Chief Executives' Committee in June 2016 to award medals to players and support staff of all World Cup-winning squads who did not receive them at the time of their successes.
Until 2003, host members were responsible for the staging of World Cups and the ICC was not directly involved.
The ceremony in Sydney is part of a 30-year reunion celebration for the squad and their partners which also includes a private dinner, hosted by Peever, CA Chief Executive Officer James Sutherland and Pat Howard, CA's Executive General Manager - Team Performance. The group will also be hosted at the Sydney ODI before receiving their medals.
Commenting on the award of the medals and CA's staging of the 30-year reunion, Peever said: "The members of the 1987 World Cup-winning squad were trailblazers. They made the country proud, created a belief and restored the winning culture that successive generations of players who followed were able to build upon.
MEDIA RELEASE: 1987 Cricket World Cup winners set to receive their medals https://t.co/lnU7YohAR6

— Cricket Australia (@CAComms) January 21, 2017
"They were worthy winners of a hard-fought tournament, beating India in India, Pakistan in Pakistan and England - then, perhaps, the best ODI side in the world and one that had beaten Australia in two separate limited-overs tournaments less than a year earlier - in the final. The victory enjoyed by Allan Border, his players and the support staff truly was the start of a wonderful era of success for Australian cricket, an era that can be traced back to that month in the subcontinent, so it's wholly appropriate they are recognised in this way."
Following their triumph in 1987, Australia subsequently won World Cups in 1999, 2003, 2007 and 2015, making it the most successful country in the history of the tournament.
"I'm so proud that the players and support staff of our 1987 win have been recognised in this way. We never thought about medals or anything like that at the time - it was just about winning the tournament - but to get this acknowledgement now is a recognition of what we achieved during that month in India and Pakistan and we're grateful to CA and the ICC for this being done," Allan Border said.
"It's terrific to get together again as a group, relive those days and have a laugh but also realise what it was we achieved in becoming the first Australia side to win the World Cup. It's an achievement that binds all 17 of us together and something we all look back on with not just pride but also a great deal of satisfaction."
The ICC has established that the winning squads from 1975 (when the West Indies beat Australia) and 1996 (when Sri Lanka beat Australia) also failed to receive medals and will supply them to the two boards, whose responsibility it will be to distribute them to their past players and support staff.