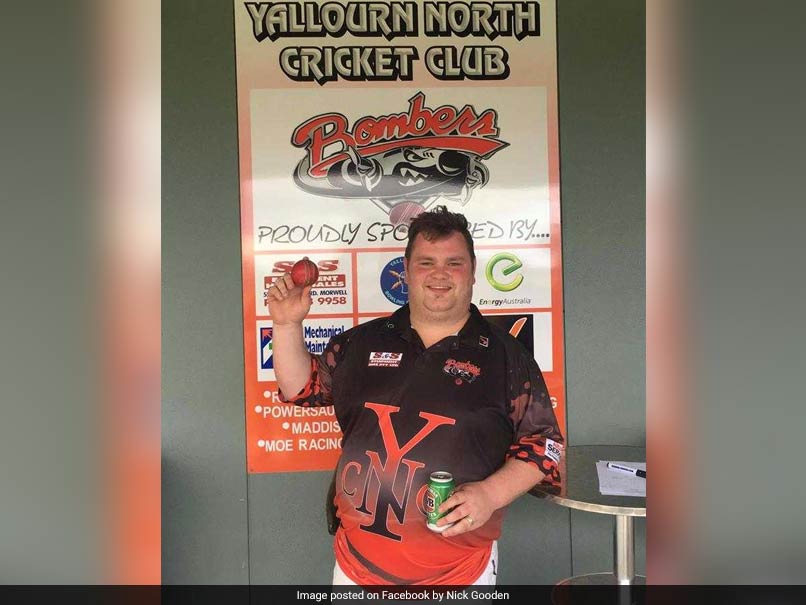 Nick Gooden became an instant star after claiming a triple hat-trick.
© Facebook
Australian cricketers, playing in the local leagues, seem to be making a habit of achieving some remarkable feats. Only recently, Josh Dunstan, playing for West Augusta B Grade in South Australia, smashed 307 in a 35-overs-a-side match where he plundered 40 sixes in his whirlwind knock. His triple-century made up more than 86 per cent of West Augusta's 354 for nine. And now, a Victorian third-grade cricketer has achieved another astonishing feat -- this time with the ball in hand. Nick Gooden, playing for Yallourn North in the Central Gippsland cricket competition, managed to incredibly take a triple hat-trick, which basically means five wickets in five balls. 
And all this carnage because Gooden and his teammates wanted things to get over quickly to "get on the frothies".
Not just that, Gooden ended up taking a total of eight wickets from just 10 deliveries.
"There's nothing special about it — there's definitely no pace involved," Gooden was quoted as saying by Weekend Sunrise.
"The general plan when we got out there was just to get off as quick as we could so we could get on the frothies," he said.
"I said to the boys 'let's just roll through these guys and get off and have a beer'. I think we were having a beer at about three o'clock."
The feat was even more incredible considering that Gooden claims to be a "right-arm medium plop", and the fact that he was playing his first match since December last year.
Gooden admitted that normally his bowling is nothing too special.
"I just roll the arm over, I'm not fast or anything like that. I really wasn't bowling very well," said Gooden.
"I started with two wides ... one was a big off-side wide and the other was a big leg-side wide and everyone was laughing at me." 
"But for some reason I just couldn't miss, and I hadn't trained or anything so it was out of control."