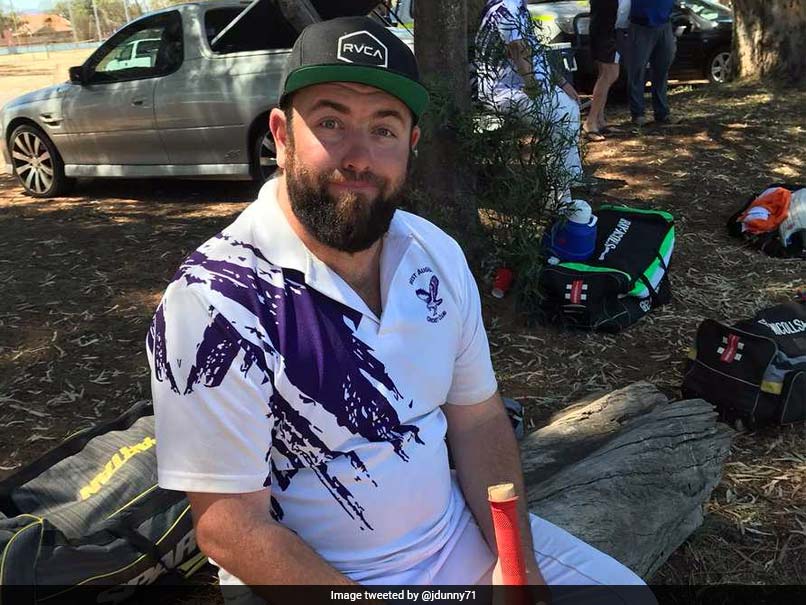 Josh Dunstan smashed 307 in a local match with his knock including an incredible 40 sixes.
© Twitter
The term 'one man team' got a new meaning when a certain Josh Dunstan decided to take matters into his own hands. Playing for West Augusta B Grade in South Australia, Dunstan decided to dish out some pain when his team took on Central Stirling. Coming in at one-down, the 32-year-old smashed 307 in a 35-overs-a-side match. He plundered 40 sixes in his whirlwind knock but what was even more incredible was the fact that his triple-century made up more than 86 per cent of West Augusta's 354 for nine.
To be exact, Dunstan's score was 86.72 per cent of his side's total runs. In the process, the Australian shattered a 33-year-old ODI record set by West Indies great Viv Richards for the highest percentage of runs in a completed inning.
Aussie Josh Dunstan hits 40 sixes to score 307 in 35 ov game scored highest ever 86.72% runs 354 total runs 5 players out on duck 2nd H/s 18 pic.twitter.com/xsRKdaGdiI

— Best Tweets (@waste_tweets) October 16, 2017
In 1984, Richards had put England bowlers to the sword at Old Trafford, smashing 189 runs, which included 40 sixes. West Indies went on to score 272 for nine from 55 overs with Richards' score accounting for 69.48 per cent of his team's total.
"It hasn't sunk in yet -- I'm actually in shock still," Dunstan was quoted as saying by adelaidenow.com.au.
"I'd had a few quiet beers with my mates the night before, so I wasn't thinking about too much when I got out there other than hit the ball and try not to get out.
"I'm known for hitting a lot of big sixes -- I don't want to run. I edged one to the keeper but he dropped it, so I probably owe him a few beers if I see him," said the 32-year-old.
To put it into context, five of Dunstan's teammates fell for ducks while the next best score was an 18 not out by Ben Russell. Dunstan started his knock with a six and scored 307 of the 318 runs that followed.
In another eye-popping stat, Dunstan strung together a 203-run stand for the seventh wicket with Russel, who contributed just five to the partnership.