Story Progress
Back to home
Commonwealth Games 2018: India At Gold Coast, Day 3
India had some serious success on the weightlifting dais over the first two days of competition, with a haul of two gold, one silver and a bronze (pl update). The other teams too were having largely smooth sailing, barring the men's squash team. More medals are up for grabs as competition enter Day 3.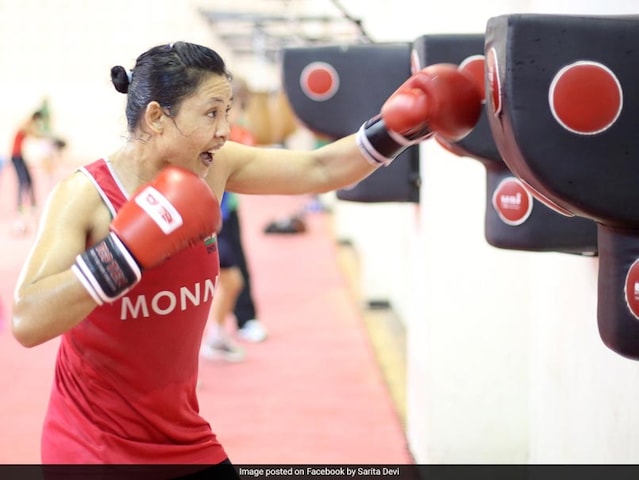 Sarita Devi will take in Kimberly Gittens of Barbados in Women's 60kg Round of 16.
© Facebook
Highlights
India have won four medals so far

Mirabai Chanu won gold in women's 48kg weightlifting event

Sanjita Chanu won gold in women's 53 kg weightlifting event
Following is the Indian participation on Day 3.
Weightlifting:
Sathish Kumar Sivalingam: Men's 77kg (MEDAL EVENT) (05.00 IST onwards);
Vandna Gupta: Women's 63kg (MEDAL EVENT) (09.30 IST onwards);
Venkat Rahul Ragala: Men's 85kg (MEDAL EVENT) (14.00 IST onwards)
Lawn Bowls:
Pinki vs Pauline Blumsky (Niue): Women's Singles Section D - Round 5 (04.30 IST);
India (Dinesh Kumar, Chandan Kumar Singh, Sunil Bahadur) vs South Africa: Men's Triples Section A - Round 5 (04.30 IST);
India (Krishna Xalxo, Alok Lakra) vs Norfolk Island: Men's Pairs Section D - Round 5 (07.30 IST);
India (Farzana Khan, Nayanmoni Saikia, Lovely Choubey, Rupa Rani Tirkey) vs Fiji: Women's Fours Section B - Round 5 (07.30 IST)
Artistic Gymnastics:
Yogeshwar Singh: Men's Individual All-Round FINAL (04.39)
Table Tennis:
India (Manika Batra, Mouma Das, Sutirtha Mukherjee, Pooja Sahasrabudhe, Madhurika Patkar) vs Malaysia: Women's Team Quarter-finals (05.00 IST)
Swimming:
Sajan Prakash: Men's 200m Butterfly Heat 2 (06.04 IST);
Srihari Nataraj: Men's 50m Backstroke Heat 1 (06.45 IST)
Cycling:
India (Sanuraj Sanandaraj, Sahil Kumar, Ranjit Singh) : Men's Sprint Qualifying (09.02 IST);
Manjeet Singh: Men's 15km Scratch Race Qualifying Round - Heat 2 (11.40 IST);
India (Monorama Devi Tongbram, Sonali Mayanglambam): Women's 25km Points Race Finals (MEDAL EVENT) (14.46 IST);
India (Aleena Reji, Deborah Deborah): Women's 500m Time Trial Final (MEDAL EVENT) (15.29 IST)
Hockey:
INDIA vs PAKISTAN: Men's Pool B (10.00 IST)
Basketball:
India vs England: Men's Preliminary Round Pool B (13.00 IST);
India vs Malaysia: Women's Preliminary Round Pool B (14.00 IST)
Badminton: Mixed team quarterfinals (06.31 onwards)
Basketball: India vs England (Men Preliminary Round Pool B) 13.03 IST;
India vs Malaysia (Women Preliminary Round Pool B) 14.13 IST
Boxing:
Sarita Devi vs Kimberly Gittens (Barbados): Women's 60kg Round of 16 (14.02 IST);
Hussamuddin Mohammed vs Boe Warawara (Vanuatu): Men's 56kg Round of 16 (15.17 IST);
Manoj Kumar vs Kassim Mbundwike (Tanzania): Men's 69kg Round of 16 (15.47 IST)
*Schedule and timings as per gc2018.com website
Topics mentioned in this article