Story Progress
Back to home
2018 Commonwealth Games: Dipika Pallikal Keen To Push Husband Dinesh Karthik's Sport Into Shade
Dipika Pallikal hopes to defend her CWG squash title, even if it means snatching the limelight from cricketer husband Dinesh Karthik.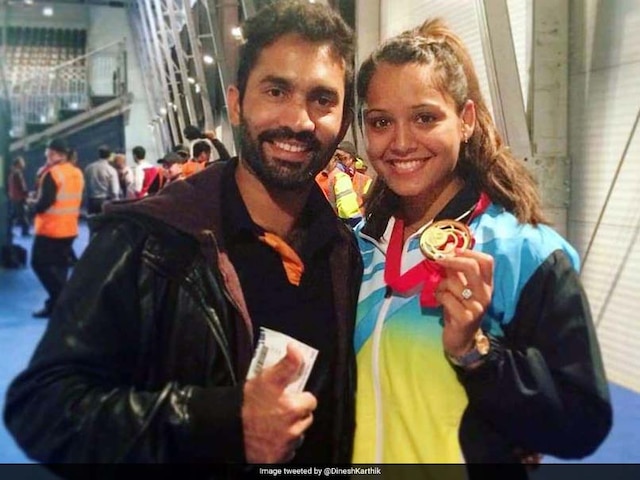 Dinesh Karthik's wife Dipika Pallikal will be defending her CWG squash title.
© Twitter
Highlights
Dipika Pallikal hopes to defend her CWG squash title

Dipika Pallikal will receive a first-round bye in CWG singles competition

Dipika Pallikal will also compete in the mixed doubles with Saurav Ghosal
When it comes to comparisons between cricket and other sports in India, the former wins the popularity race by a mile, in the media and outside. So it has been a pretty regular thing that athletes from other sports have complained about the amount of attention cricket gets and one of these athletes, squash ace Dipika Pallikal, has cricket right at home, in the shape of husband Dinesh Karthik, who will soon been leading Kolkata Knight Riders in the Indian Premier League, even as wife Dipika defends her Commonwealth games title at Gold Coast.
Dipika is hoping to put cricket in the shade back home -- even if it upsets her cricketer husband.
The 26-year-old made history in Glasgow four years ago when she won doubles gold with partner Joshna Chinappa -- India's first medal in the sport.
Her wedding in 2015 was splashed across national media and made Pallikal a household name, although she made headlines by declaring she hated cricket.
"I said that because I feel that every other sport is getting overshadowed by cricket," said Pallikal after arriving in Gold Coast to defend her title.
"It's kind of hard to try and concentrate on my career, as well as my husband's. We're all athletes and all have to be treated equally."
The hope of squash overshadowing her husband's sport is likely to be a forlorn one in cricket-mad India.
But Dipika, whose jet-setting lifestyle is followed by 255,000 users on Instagram, insists she doesn't follow cricket.
"There's a lot more media, a lot more attention that comes with cricket and I now get it because I'm married to (a cricketer)," she said.
"For both of us, we're just trying to enjoy what we're doing right now. But to be honest I never watch him play."
Dipika will receive a first-round bye in the Commonwealth Games singles competition before opening her campaign against Charlotte Knaggs of Trinidad and Tobago on Thursday.
In the doubles, she and Joshna are seeded third and grouped alongside Wales, Pakistan and Malta as they chase back-to-back titles.
Promoted
Pallikal will also compete in the mixed doubles with Saurav Ghosal.
(With AFP inputs)
Topics mentioned in this article