Story Progress
Back to home
India vs Hong Kong Live Score Ball by Ball, Asia Cup, 2022 Live Cricket Score Of Today's Match on NDTV Sports
Live Updates of Today Match between India vs Hong Kong from Dubai International Cricket Stadium, Dubai. Check commentary and full scoreboard of the match.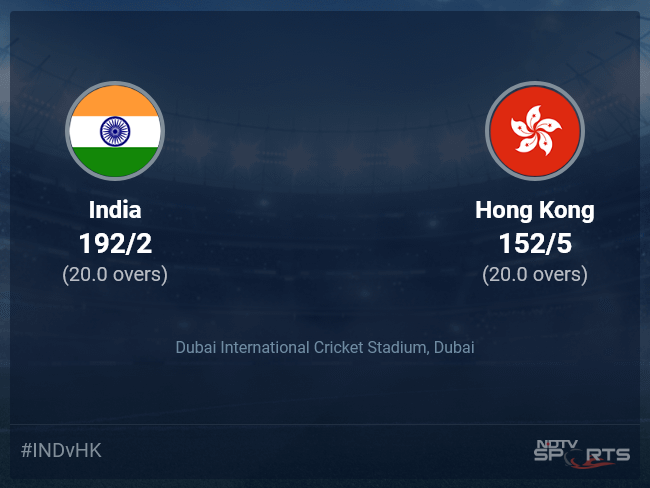 HK vs IND Latest Score
Follow the Asia Cup, 2022 live cricket score on Sports.NDTV.com. After 20.0 overs, Hong Kong, chasing a target of 193, are 152/5. Get live score, ball by ball commentary and much more. Keep track of Asia Cup, 2022 today match between India and Hong Kong. Everything related to India and Hong Kong match will be available on Sports.NDTV.com. Stay updated with India vs Hong Kong live score. Do check for India vs Hong Kong scorecard. You can get scorecard updates, match related facts. Get quick live updates with ads, Sports.NDTV.com, which is the perfect destination for live cricket score.
That's it then from this game but the action in the Asia Cup 2022 continues on Thursday, the 1st of September in Dubai as a do-or-die clash between Sri Lanka and Bangladesh awaits. The winner will get a place in the Super Fours and the loser will have to catch a flight back home. That game will begin at 7.30 pm IST (2 pm GMT) but you can join us in advance for the early build-up. Cheers!
Suryakumar Yadav (68* off 26 balls) is the Player of the Match. Says that some of his shots are predetermined but most of the time, you have to bat in the present. Shares that the pitch was on the slower side and he wanted to express himself and up the tempo of the innings. Adds that you have to be flexible and ready to play at any position, and he has been doing it for some time now.
The Indian skipper, Rohit Sharma says that they batted pretty well to start with and got to a good score and bowled decently as well. On being asked about Suryakumar Yadav's knock, Rohit says that he is short of words and every now and then SKY comes up with something special and it was very pleasing to watch and he can play all around the park as well. Says that most of the guys are ready to bat whenever they are required and they will look for the right matchups to tinker with the batting order.
Nizakat Khan, the captain of Hong Kong, says that they started well with the ball, until the 13th over and they fielded well also, but slipped at the death. Praises the knock of Suryakumar Yadav. Adds that it's a big chance for them to play in this tournament and he is proud of his boys. Tells that they will sit down and look at their death bowling. Hopes to improve on all their shortcomings.
Stay tuned for the presentation ceremony...
Babar Hayat (41) comes up for a quick chat. Says that they needed a good Powerplay and that's why he was playing his shots. Adds that the way they have been playing of late, they did well. Feels their bowling and fielding were good and mentions that they have a lot of positives to take from this match, like their batting in the Powerplay and the bowling efforts of Yasim Murtaza and Ehsan Khan. Shares that the pitch was very tricky, especially against the spinners.
Earlier in the game, Nizakat Khan won the toss and put India in to bat first. Hong Kong did manage to keep the run rate in check for a while but failed to pick up wickets regularly. Their spinners, Ehsan Khan and then Yasim Murtaza in the middle phase bowled really well against a top-class opposition. Their pacers apart from Ayush Shukla were taken to the cleaners towards the end by Virat Kohli and especially by Suryakumar Yadav who hit six fours and six maximums to power India to a big score. Chasing a big total on a not-so-easy pitch for batting, the Hong Kong innings never received an injection of momentum and they were always behind the required rate. A couple of batters did well but the Indian bowlers did reasonably well to get their team over the line. Let's now have a listen to what Babar Hayat has to say about the game...
India were the favourite in this one and they will be reasonably pleased with their performance on the whole. A couple of great innings with the bat and wickets at the right time have seen them get their second win on the trot. All the pacers picked up a wicket each but both Avesh Khan and Arshdeep Singh proved to be expensive, with the former conceding in excess of 50 runs. The spinners controlled the game well in the middle phase and Ravindra Jadeja got a wicket as well along with a run out. All in all, a solid showing from the Men in Blue but they will be aware that they need to finetune a few things if they are to go all the way.
Hong Kong had a lot of belief coming into this game and probably for the first half an hour or so looked good on the field. Their inability to pick up regular wickets cost them at the death and their batters were simply no match for the opposition bowlers. They did start well with the bat with Babar Hayat laying down the platform. By the time he fell, their reliable top three had all perished and only Kinchit Shah in the middle phase was able to muster up a few runs. Scott McKechnie and Zeeshan Ali did get away with a few boundaries towards the end but the game was already done and dusted by then.
A comprehensive win more or less in the end for India and they have sealed their spot in the Super Fours. It was their power-hitting towards the end that set up this victory and the bowlers did a near clinical job of defending the big total.
19.6 overs (1 Run) A low full toss around off, Scott McKechnie slices it through cover-point for a single. That's it, India win by 40 runs and have progressed to the Super Fours.
19.5 overs (1 Run) Back bowling full tosses, around off, Ali goes back and hits it through cover-point for a run.
19.4 overs (4 Runs) FOUR! Aahhh...nothing wrong with the delivery this time. Arshdeep at last nails his yorker around off, Zeeshan Ali steps back and squeezes it out through backward point for a boundary. 150 up for Hong Kong, a bit of achievement for them.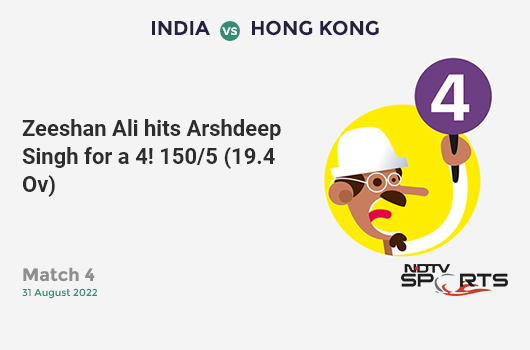 19.3 overs (4 Runs) FOUR! Nicely done! Full toss again, outside off, Zeeshan Ali walks across the stumps and paddles it past the diving short fine leg fielder for a boundary.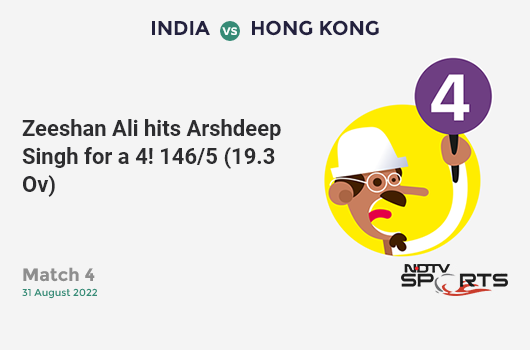 19.2 overs (1 Run) Another low full toss, around middle, Scott pushes it with an angled bat to point. They cross.
19.1 overs (1 Run) A low full toss on middle, Ali shows quick hands as he flicks it to deep square leg for a single.
Arshdeep Singh to bowl the final over of the game.
18.6 overs (4 Runs) FOUR! Superbly placed! Avesh brought third man inside the ring and then bowls a short delivery outside off. Scott McKechnie plays late and guides it past that fielder at 45 for a boundary. End of Avesh Khan's expensive evening - 1 for 53.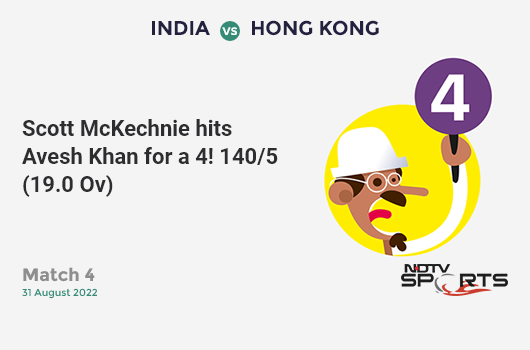 18.5 overs (4 Runs) FOUR! Well played! Full in length and around middle, McKechnie picks it off his pads and whips it over square leg for a boundary.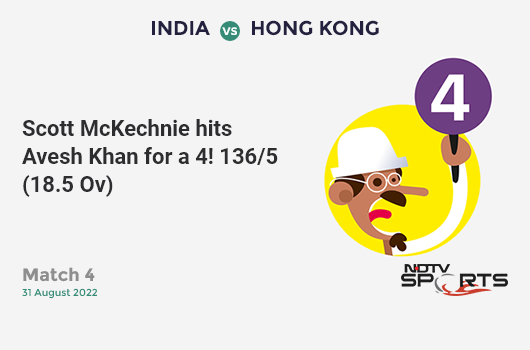 18.4 overs (6 Runs) SIX! Avesh continues to prove expensive. Short in length and wide outside off, Scott McKechnie throws his bat at it and the top edge takes the ball over third man for a biggie.
18.3 overs (0 Run) Fuller and around off, Scott pushes it back past the bowler to mid off.
18.2 overs (1 Run) A yorker around off, it's driven to extra cover for a quick run.
18.1 overs (6 Runs) SIX! That's a great shot! Fuller in length and around off, Zeeshan steps back to make room and pumps it over extra cover for a maximum. Excellent execution.
Avesh Khan (3-0-32-1) is back on.
17.6 overs (0 Run) Play and a miss! Slower length ball outside off, Scott McKechnie shows his back leg to deceive the batter and then attempts a reverse-batted shot. Fails to connect.
17.5 overs (0 Run) On a good length outside off, slower in pace, Scott McKechnie plays late but finds short third man. He wants a run but his partner doesn't.
17.4 overs (1 Run) Outside off, on a length, forced to sweeper cover for one.
17.3 overs (0 Run) Direct hit and Zeeshan would have been a goner. Back of a length, around off, Ali taps it down to point and looks for a run. He is sent back but loses balance and falls on the pitch. Ravindra Jadeja, for a change, misses the target at the striker's end and Zeeshan Ali survives.
17.2 overs (2 Runs) Bowls a slower one, full and outside off at 111 kph, Ali drives it through covers and returns for the second run.
17.1 overs (0 Run) OUT! Shah holes out! Slower one from Bhuvneshwar Kumar. It's full and around off, Kinchit Shah mistimes his lofted shot towards long off. Ravi Bishnoi (sub) rushes forward and goes down low to complete a juggling catch. Only formalities left in this match.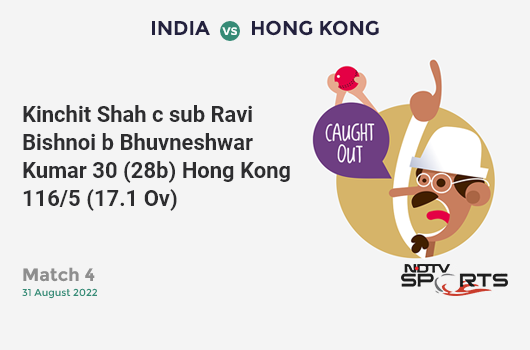 Scott McKechnie is in at number 7.
17.1 overs (1 Run) Wide called for height! Kumar bowls a bumper outside off, it's way over the head of the batter.
Bhuvneshwar Kumar (2-0-11-0) comes back in to bowl at the death.
16.6 overs (1 Run) Fuller and straighter, it's worked to deep mid-wicket for one.
16.5 overs (1 Run) On a shortish length around middle, Ali helps it through square leg for one.
16.4 overs (0 Run) Drifting down the leg side, Ali sweeps but finds short fine leg.
16.3 overs (1 Run) Fuller and around off, it's powered down to long on for a single.
16.2 overs (2 Runs) Short and outside off, Shah gets across the stumps and pulls it to deep mid-wicket for a couple of runs.
16.1 overs (1 Run) Bowls it short and around off, Ali goes back and tucks it through mid-wicket for a single.
A bit of a surprise this as Virat Kohli has been handed the ball now.
15.6 overs (0 Run) Googly, outside off and spinning away, Shah cuts but finds the fielder at point.
15.5 overs (0 Run) Tossed up, around off, Shah gets forward and pushes it with an angled bat to point.
15.4 overs (1 Run) Walks down the track and lofts it with the spin over extra cover for a run.
15.3 overs (0 Run) Sharp googly, around off and jumping into the batter, Ali leaps and defends.
15.2 overs (2 Runs) Shout for an lbw! Not given. Floated delivery, full and around off, spinning in, Zeeshan Ali is down the track, trying to work it around but misses. It clips his front pad and sneaks past Rohit at first slip. They cross and the umpire signals for leg byes. Now, India review the decision. UltraEdge shows that it has hit both the bat and front pad simultaneously. The third umpire feels that it's bat first. Hmm... It's given as runs now.
15.1 overs (0 Run) A top spinner around leg, Ali tries to flick but misses. Pant appeals but in vain.
Match Reports
Topics mentioned in this article