Story Progress
Back to home
India vs Hong Kong: Asia Cup, 2022 Live Cricket Score, Live Score Of Today's Match on NDTV Sports
Live Updates of Today Match between India vs Hong Kong from Dubai International Cricket Stadium, Dubai. Check commentary and full scoreboard of the match.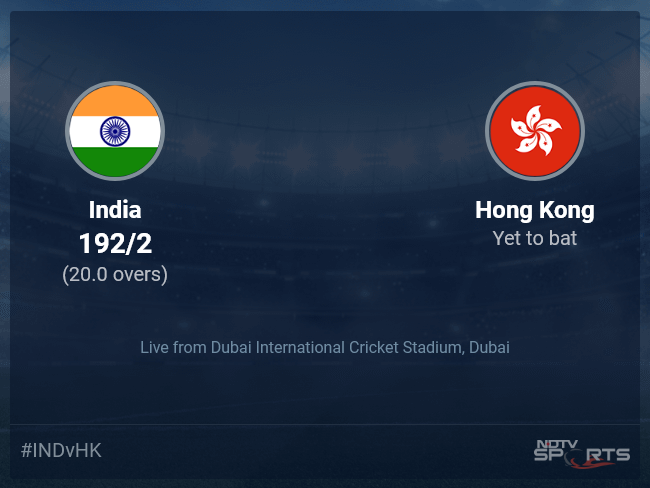 IND vs HK Latest Score
A dedicated team of experts bring you live score, live cricket score, live match update on Sports.NDTV.com. After 20.0 overs, India are 192/2. The live updates of India vs Hong Kong scorecard is also available. It is the perfect platform to follow your favourite teams in Asia Cup, 2022. Keep a track on your favourite batsmen and bowlers through Asia Cup, 2022 today match, ball by ball commentary, India vs Hong Kong, India vs Hong Kong live score, India vs Hong Kong scorecard. Follow the excitement of the Asia Cup, 2022 on Sports.NDTV.com as you can follow live match updates and live cricket score through our platform.
Welcome back! The players are out in the middle.
For no reason, Hong Kong were looking on the back foot right from the start. They had their field spread out and didn't attack India. The pitch though was tough to play strokes and their spinners fared well to restrict India's scoring in the middle phase. Ehsan Khan and Yasim Murtaza were brilliant while Ayush Shukla also left his mark. In the end overs though, they lost the plot completely as India flexed their muscle and put them to the sword. Let's see how the Hong Kong batters approach this chase. Stay tuned...
The man of the moment, Suryakumar Yadav (68* off 26 balls) starts by saying that he doesn't practice these shots but when he was young, he and his friends used to play rubber-ball cricket and these shots have come from those days. Adds that he had a chat with the coach and the skipper and they told him to express himself and he is glad that he managed to do exactly that. Reckons that the total they have on the board is a big one and is confident of their chances.
Story of the innings - India started watchfully and took two overs to size up the conditions. After that, they used the third over to press on the accelerator and fetched 38 runs from the remaining overs of the Powerplay but lost Rohit Sharma in the process as well. The pitch was two-paced and the pair of Virat Kohli and KL Rahul struggled to middle their shots. After the Drinks break though, the approach from this pair changed, especially of Kohli, as he started to use his feet and attack more. Rahul's struggle had no end, and he eventually fell to make way for Suryakumar Yadav, who brought in the shift of momentum. Here he is giving a quick interview...
Insane batting from Suryakumar Yadav! On a pitch where every batter struggled to time the shot, he arrived and changed the complexion of the Indian innings in a flash. His whirlwind knock has handed India a total of 192 which at one stage was not looking on the cards. Stunning performance. 78 runs from the last five overs - that's a massive finish from the Men in Blue.
19.6 overs (2 Runs) A couple to end and 26 runs off the final over in total! Length ball, angling into middle and leg, Suryakumar Yadav steps out and pushes it down towards long on. Virat Kohli straight away calls for two and they race back to complete the second run. India end with 192/2 on the board!
19.5 overs (6 Runs) SIX! SKY is back at it again and that's the fourth maximum in the over. Arshad attempts another slower bumper, on middle and leg this time but it is just too short. Suryakumar Yadav has enough time to pull it over the fine leg fence for a biggie. 24 off it with one delivery remaining.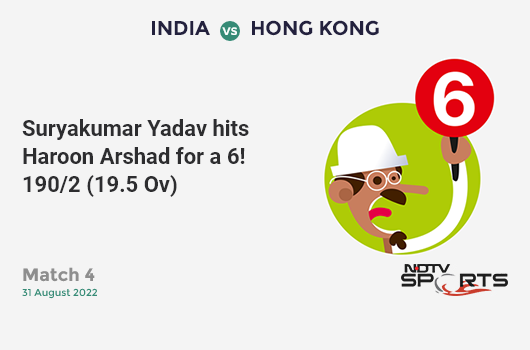 19.4 overs (0 Run) Much better from Haroon Arshad! A slower bumper now, outside off and Suryakumar Yadav can't reach it.
19.3 overs (6 Runs) SIX! Make it a hat-trick of maximums now! This is unreal hitting from SKY! Overpitched on middle, SKY hangs deep in his crease and launches it into orbit. The ball goes a long way back over the bowler's head and into the stands.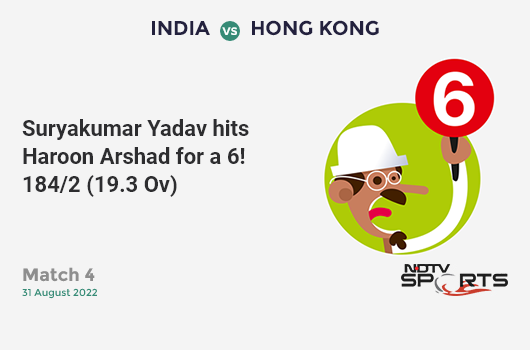 19.2 overs (6 Runs) SIX! Two in a row now and Suryakumar Yadav has his FIFTY as well. What a player he is turning out to be for India! Fullish length, well outside off, SKY just shuffles a bit but then adjusts and just times it beautifully over the cover fence for a biggie. 12 off the first two deliveries and Haroon Arshad is under immense pressure here.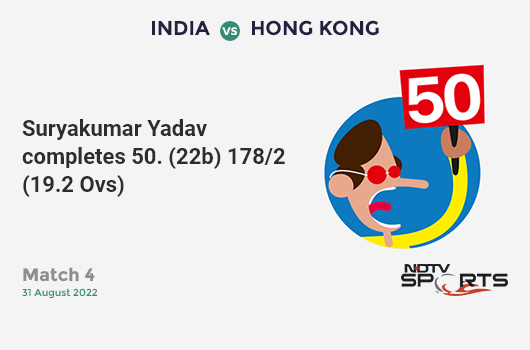 19.1 overs (6 Runs) SIX! Suryakumar Yadav is playing a blistering knock here but this is a gift from Haroon Arshad. A juicy full toss, around off, SKY uses his wrists to slice it away over the point fence for a maximum.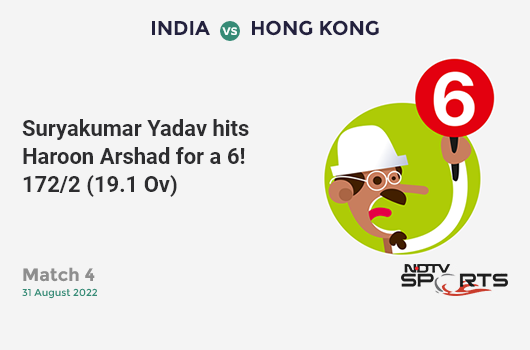 18.6 overs (0 Run) Full and straight, Virat Kohli gets down on one knee and aims for the slog-sweep but he goes a bit too hard at it. The ball goes off the inside edge and onto the pads, back onto the deck.
Last over is to be bowled by Haroon Arshad.
18.6 overs (1 Run) WIDE! Fires it in, attacking the leg stump but this one goes down the leg side. Kohli leaves it alone and it is yet another sharp take by the keeper. A wide is called.
18.5 overs (2 Runs) A full toss now, around off, Kohli ends up slicing the lofted cover drive to the deep and picks up a couple of runs.
18.4 overs (6 Runs) SIX! Ehsan Khan just misses his length and gets dispatched with disdain. Right in the slot around middle, Virat Kohli plays the slog-sweep and launches it over the cow corner fence for a huge hit.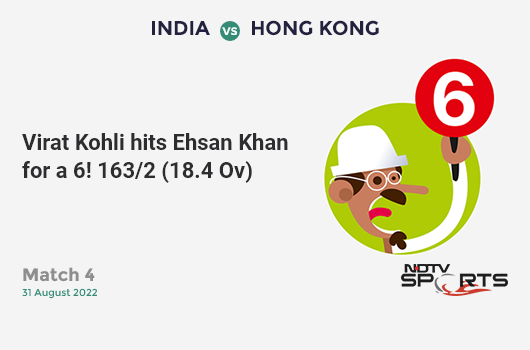 18.3 overs (1 Run) Ehsan fires it in full and on off, Suryakumar Yadav flicks it away towards mid-wicket and rotates the strike.
18.2 overs (1 Run) Full again, around middle and leg, this is driven down to long on for a single.
18.1 overs (2 Runs) FIFTY for Virat Kohli! It has been a bit of a wait but he has come good yet again for his side. This is fuller and on the pads, Kohli works it in front of mid-wicket and pushes hard for two. He gets it done with ease and this is also the first 50 in the main draw of this edition's Asia Cup by any player.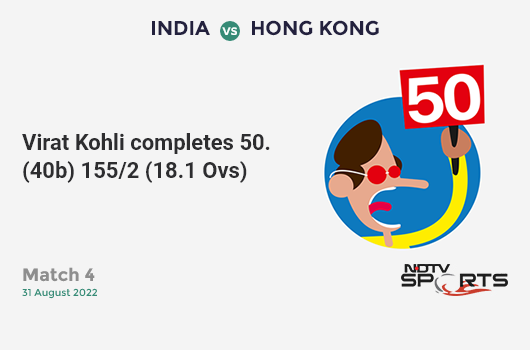 17.6 overs (0 Run) A bit on the shorter side and outside off, Suryakumar Yadav reaches out and taps it straight to the man at cover-point. 15 from the over!
17.5 overs (0 Run) Hard length from Shukla, around off, SKY throws his hands at it and gets a thickish edge down to short third man. Kohli declines the single. The replays find that it brushed the gloves of Scott McKechnie.
17.4 overs (6 Runs) SIX! Easily done! A half-volley floated up on the pads and Suryakumar Yadav whips it all the way over the square leg fence for a biggie.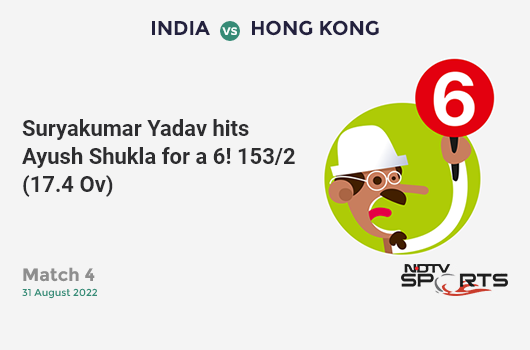 17.3 overs (0 Run) NOT OUT! Good change-up from Ayush Shukla, banged in halfway down the track and over the off stump. Suryakumar Yadav looks to upper-cut it but misses. The keeper, Scott McKechnie does well again to collect the ball and in an instant, he whips off the bails as well. There is an appeal for stumping from Hong Kong and it is sent upstairs. UltraEdge shows that no bat is involved and the replays confirm that SKY had his back leg planted inside the crease.
Appeal for a stumping, it's referred upstairs... Yadav tries to upper cut a short delivery with the keeper up to the stumps. He lifts his back leg up while doing so and Scott McKechnie breaks the stumps. The third umpire first checks for the edge which is absent and then the side-on angle finds that SKY has landed before the bails came off.
17.3 overs (1 Run) WIDE! Oh, harsh call but it will be a wide. This is very full and angling onto the leg stump. SKY shuffles across and looks to sweep it away but misses and the keeper does extremely well to collect the ball cleanly. The replays show that the ball did hit the boot. Hong Kong missed a trick there, should have reviewed it.
17.2 overs (4 Runs) FOUR! Back-to-back boundaries! Shukla brings the keeper up and bowls it on a hard length. The ball though is a bit wider and Suryakumar Yadav manages to edge it past the man at short third man for another boundary. The 50 partnership comes up between these two as well.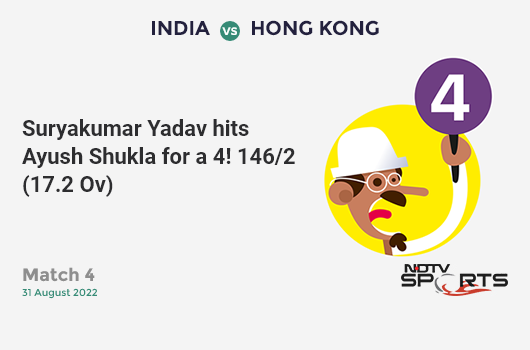 17.1 overs (4 Runs) FOUR! All the good work done by Ehsan Khan in the previous over is instantly undone. Pitched up, around off, Suryakumar Yadav backs away and lofts it over wide mid off for a boundary.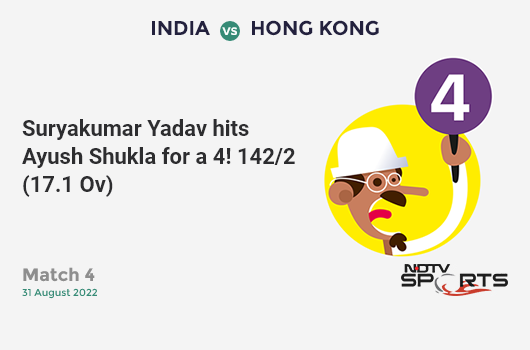 Change in bowling. Ayush Shukla to bowl out. 1 for 14 from him so far.
16.6 overs (1 Run) Bye! Fires it in very full and wide, just inside the tramline outside off. Suryakumar Yadav leaves it alone and the keeper fails to collect it cleanly on the full. The ball goes towards short third man and the batters get a bye. Outstanding over by Ehsan, only 4 runs at this stage is gold.
16.5 overs (0 Run) Exceptional bowling this from Ehsan Khan and he is doing his best to curtail the damage here. Nails another yorker around middle and SKY can only jam it out.
16.4 overs (1 Run) Keeps it full and around off, nicely driven down to long off for just one more.
16.3 overs (1 Run) Nicely bowled! Fires in a yorker now on middle, Suryakumar Yadav looks to whip it away but the ball goes off the inside edge and onto the pads. The ball then rolls onto the off side as the batters sneak in a single.
16.2 overs (1 Run) Fired in again, on off stump, Kohli goes on the back foot and knocks it down to long on for a run.
16.1 overs (0 Run) Fuller and quicker, close to the off pole, Kohli tries the cheeky reverse-paddle but is beaten for pace.
15.6 overs (1 Run) Goes shorter now, around off, Kohli doesn't quite get the timing on the pull shot right and hits it towards deep mid-wicket for a single. 20 off that one, a huge over for India.
Ehsan Khan is back on to bowl at the death. 0 for 10 in his 2 overs so far.
15.6 overs (1 Run) WIDE! Aizaz Khan errs in line this time and adds to his own misery. Attempted slower one, sliding down the leg side and a wide is called.
15.5 overs (1 Run) Hit hard but straight to the man. Good length, around off, Suryakumar Yadav skips down the track and hammers it uppishly towards sweeper cover for a single.
15.4 overs (6 Runs) SIX! 17 off the over and there are still a couple of deliveries left! This is just primetime Suryakumar Yadav. Length again, over middle and leg, SKY gets low and inside the line of the ball to scoop it back over the keeper's head for a maximum.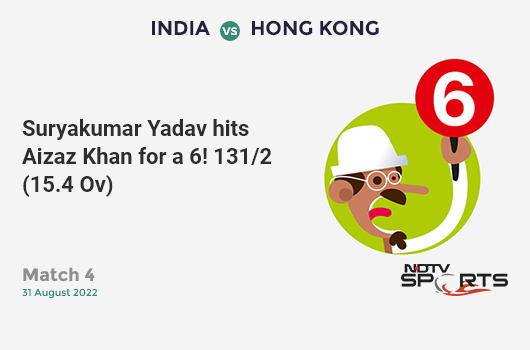 15.3 overs (4 Runs) FOUR! The boundaries just keep flowing from SKY's bat! Length again, there's width on offer as well. Yadav backs away and just lifts it off the top edge over short third man for a boundary.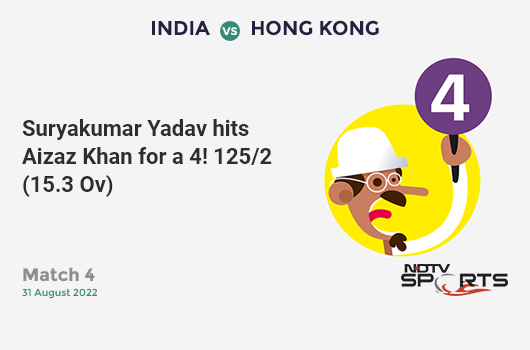 15.2 overs (1 Run) Good length, around the top of off, Kohli hangs back and steers it towards short third man for a single.
15.1 overs (6 Runs) SIX! Bang goes Virat Kohli! Aizaz Khan serves a length ball, angling on the pads. Kohli steps out and lofts it high and handsome over the wide long on fence for a maximum.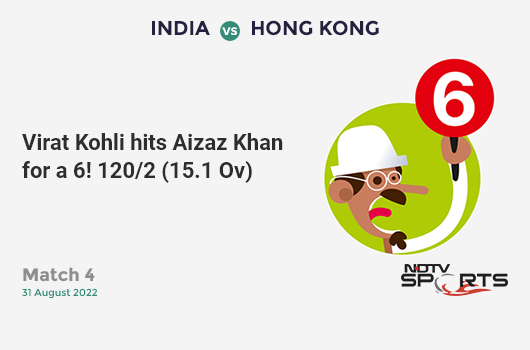 Match Reports
Topics mentioned in this article