Story Progress
Back to home
West Indies vs India: West Indies vs India, 2022 Live Cricket Score, Live Score Of Today's Match on NDTV Sports
Live Updates of Today Match between West Indies vs India from Queen's Park Oval, Port of Spain, Trinidad. Check commentary and full scoreboard of the match.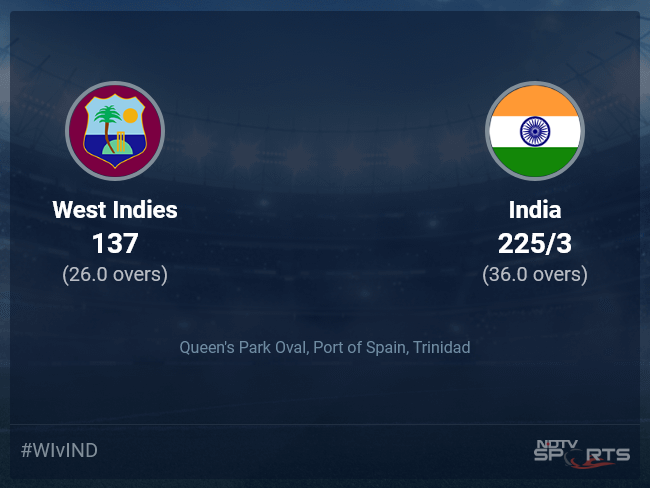 WI vs IND Latest Score
A dedicated team of experts bring you live score, live cricket score, live match update on Sports.NDTV.com. After 26.0 overs, West Indies, chasing a target of 226, are 137. The live updates of West Indies vs India scorecard is also available. It is the perfect platform to follow your favourite teams in West Indies vs India, 2022. Keep a track on your favourite batsmen and bowlers through West Indies vs India, 2022 today match, ball by ball commentary, West Indies vs India, West Indies vs India live score, West Indies vs India scorecard. Follow the excitement of the West Indies vs India, 2022 on Sports.NDTV.com as you can follow live match updates and live cricket score through our platform.
So, Shikhar Dhawan collects the trophy and hands it over to Avesh Khan. The whole team celebrates as they pose for the camera. Now, the focus moves to the shortest format of the game. These two teams will compete for the 5-match T20I series. The first game is on Friday, 29th July at 8 pm IST (2.30 pm GMT). Do join us for the build up as well. Till then, goodbye and cheers.
The skipper of India, Shikhar Dhawan says the boys are young but they played brilliantly and the maturity they showed was very good and he is proud of them. States he is pleased with his form, he has been playing this format for a long time and he knows how to bat but at times he falls in the attempt to take a risk but he is fine with it. Credits Shubman Gill for the way he played and it was amazing to watch him play. He thanks the crowd for their support and says he is very grateful.
Nicholas Pooran, the skipper of West Indies, says it was a tough one for them, they could have won the series too but it did not go their way, they did not happen to show up today but they tried their best and he hopes they can do better the next time. States he felt 257 was chasable but it was going to be a challenge however, early wickets did not help and that is where they lost the game. Ends by saying the youngsters got good exposure and he hopes to go strength to strength from now on and is looking forward to the T20I series before the New Zealand series.
Shubman Gill is the Player of the Match and Player of the Series as well for contributing with his bat throughout the series. He says he wanted to get a ton but it is not in his control but he is pleased with how he played. Adds he was disappointed the way he got out in the first two games and now he wanted to spend time in middle. Admits he wanted to bat just the one over to get to his ton. Reckons the wicket was a good one to bat on but the ball was gripping a bit later on.
Presentation coming up...
Earlier in the day, after electing to bat, the Indian openers got their side off to a lovely start before rain intervened. It was the Shubman Gill show post the rain break and he deserved a ton. It would have well been one had rain not played a part and cut short the Indian innings. However, the hosts had to chase a target of 257 in 35 overs which they failed to do so comprehensively.
For India, all the bowlers bowled well. Everybody had a wicket to their name apart from Hooda. He though kept it tight and did a handy job. Siraj started the proceedings and took two wickets while Yuzvendra Chahal made sure the lower order doesn't play much. He ended with four wickets. Overall, it was a comprehensive show by the visitors.
The start was disastrous for the hosts as they lost two in one over. Then Shai Hope and Brandon King steadied the ship but Hope fell when it was time to accelerate. Brandon King and Nicholas Pooran then tried to get things on track but whenever Windies looked like getting a move on, they lost a wicket. They needed someone to go big but that wasn't the case and in the end, they have not even come close to the target.
Quite an easy win in the end for India! 257 runs in 35 overs was never going to be an easy chase and the Windies have fallen well short of it and INDIA HAVE INFLICTED THE WHITEWASH!
25.6 overs (0 Run) OUT! TAKEN! Chahal ends with four wickets! Full ball, flighted and on middle. Seales tries to sweep across but gets a top edge to square leg where Shubman Gill tracks back and takes it. India sweep the series 3-0.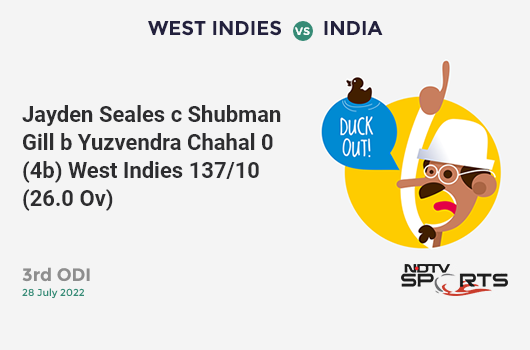 25.5 overs (0 Run) On middle. Seales stays back and defends it on the leg side.
25.4 overs (0 Run) Flights one full and outside off, turning in. Seales prods a bit to defend but misses and gets hit on the pads. A stifled appeal follows for LBW but not given.
25.3 overs (0 Run) Fuller and outside off. Seales steps across and defends.
25.2 overs (0 Run) OUT! TAKEN! Walsh falls to the trap! Chahal bowls way outside off, fuller and nicely flighted. This one spins back in sharply. Walsh looks to drive as he reaches to it but is late to react. The ball goes off the outside edge nicely into the hands of Shikhar Dhawan at first slip.
25.1 overs (1 Run) Tossed up on off, pushed through covers for a single.
Match Reports
Topics mentioned in this article