Story Progress
Back to home
West Indies vs India: West Indies vs India, 2022 Live Cricket Score, Live Score Of Today's Match on NDTV Sports
Live Updates of Today Match between West Indies vs India from Brian Lara Stadium, Tarouba, Trinidad. Check commentary and full scoreboard of the match.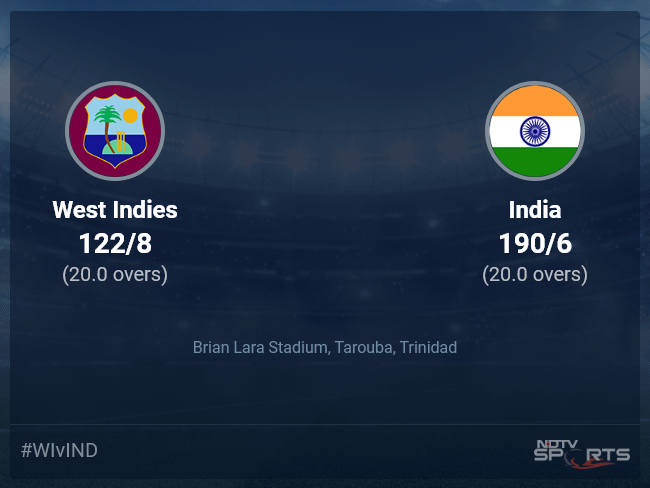 WI vs IND Latest Score
A dedicated team of experts bring you live score, live cricket score, live match update on Sports.NDTV.com. After 20.0 overs, West Indies, chasing a target of 191, are 122/8. The live updates of West Indies vs India scorecard is also available. It is the perfect platform to follow your favourite teams in West Indies vs India, 2022. Keep a track on your favourite batsmen and bowlers through West Indies vs India, 2022 today match, ball by ball commentary, West Indies vs India, West Indies vs India live score, West Indies vs India scorecard. Follow the excitement of the West Indies vs India, 2022 on Sports.NDTV.com as you can follow live match updates and live cricket score through our platform.
Right then! West Indies slump to yet another white-ball loss and will need to pull up their socks. India have taken a 1-0 lead with a win here but there are still four games left in the series. The action now moves to Warner Park in St Kitts for the 2nd T20I. The game will be played on Monday, the 1st of August and play will commence at 8 pm IST (2.30 pm GMT). Our build-up though will begin much sooner. Do join us then. Take care and goodbye!
The victorious Indian captain, Rohit Sharma says they knew the nature of the pitch wasn't going to be easy. Says that they also focused on how a batter who had his eye-in needed to go on. Mentions that he really thought this isn't a pitch where you get 170/180 but eventually they were able to get above the par score which is an incredible team effort. Mentions there are three facets of the game, and they want to try and improve all three of them. Adds that they have also given certain roles to certain players and it did work out well today. All in all, it was a great effort and they will continue to do that. Says that everything relies on the pitch and sometimes they need to start on the back foot. Ends by saying it is always fun to play in this country and is glad to provide them with some entertaining cricket.
West Indies skipper, Nicholas Pooran says that they are disappointed with their batting performance. Adds that the par score was around 150 and the penalty cost them a few extra runs in the death overs which made it more difficult. Mentions that they tend to get starts with the bat but they need to be able to go on and get big scores. Says that the spinners bowled well and they wanted to restrict the opposition to around 175 but it did not happen.
Dinesh Karthik (41* off 19) wins the Man of the Match award for his brisk innings. He starts by saying the wicket was a bit sticky and it wasn't easy initially. Says he is really happy with his new role, but one can really find it difficult to remain consistent. Adds that there are a lot of things that you need to be aware of that comes with a little bit of practice.
The presentation ceremony...
Earlier in the game, Nicholas Pooran won the toss and opted to bowl first and that decision has proven to be the wrong one. West Indies were decent with the ball in Powerplay but Rohit Sharma managed to stay on the crease and get useful runs for his side. Towards the fag end of the innings, Dinesh Karthik took advantage of some sloppy bowling and managed to power the visitors to a big score. Obed McCoy was brilliant for the hosts with the ball but he too went for some stick in the end. Having a steep target to chase, West Indies' innings never got any momentum. Wickets fell at regular intervals with not a single batter crossing the 30-run mark. India read the conditions well and all three of their spinners were outstanding. The pacers too supported them well and it was an easy victory in the end for the visitors. Stay tuned for the presentation.
India will be ecstatic with the start they have got in the T20I series and they have been clinical with both bat and ball. The opening bowlers received a bit of stick in their first overs but once Arshdeep Singh got rid of Mayers, India had the opening. After this, the spin duo of Ravindra Jadeja and Ravichandran Ashwin controlled play and got wickets as well. In the second half of the innings, Ravi Bishnoi bowled well and got a couple of wickets with the pacers closing out the match with ease. Everyone apart from Hardik Pandya got into the wickets column and they will be happy with this win.
West Indies knew that 191 runs wouldn't be one bit easy to get but this has been a very disappointing batting display from them. The hosts had to attack from the start and Kyle Mayers and Shamarh Brooks did just that but it only lasted for a couple of overs. Mayers was overaggressive and gave away his wicket. After the first wicket went down, no one really tried to anchor the innings and everyone just went hard and then back to the pavilion. Almost everyone got into double digits but there was no big score and while chasing a big score, one needs partnerships which were absent. They will now look to bounce back in the 2nd game of the series.
What a dominant performance from India! The visitors have outclassed the hosts in every department in this game and have taken a well-deserved 1-0 lead in the five-match series.
19.6 overs (0 Run) A dot to end the innings here! Ravi Bishnoi ends his spell with two wickets. A googly this time, around middle and leg, a bit quicker. Alzarri Joseph tries to smoke heave it away but misses it completely and the ball sneaks through his legs. India win the game by 68 runs.
19.5 overs (1 Run) Looped up, full and on off. Paul works it to long on for one more.
19.4 overs (1 Run) Floated and full, on off. Alzarri Joseph gets low and sweeps it through mid-wicket for a single.
19.3 overs (1 Run) Fuller, on middle. Paul drags his sweep to deep square leg for a single.
19.2 overs (4 Runs) FOUR! Back-to-back boundaries now. A little too late for the hosts. It is short again, outside off. Paul pulls it powerfully towards wide long on and finds the boundary.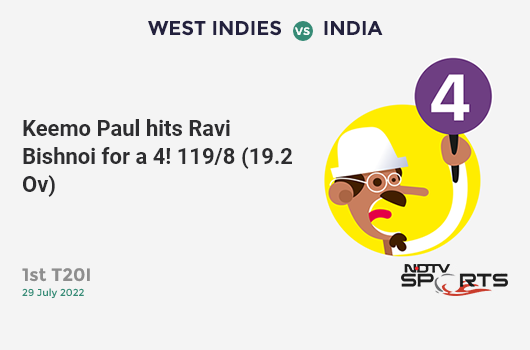 19.1 overs (4 Runs) FOUR! Nicely played! It is slightly short, on the pads. Keemo Paul moves to the leg side and pulls it to deep square leg for a boundary.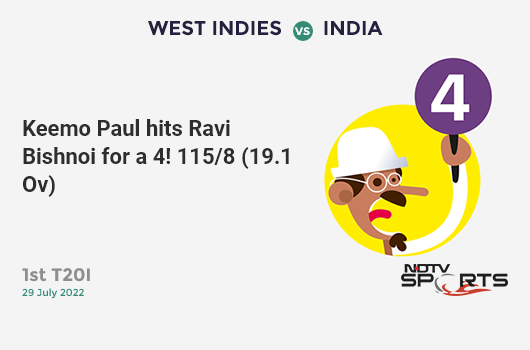 18.6 overs (1 Run) A low full toss, on the pads, Paul tucks it through mid-wicket for an easy single.
18.5 overs (1 Run) Back of a length, outside off. Joseph punches it to cover for a single.
18.4 overs (1 Run) Full length, around middle and leg. Paul blocks it to the right of the bowler and scampers across for a quick single.
18.3 overs (0 Run) A sharp bouncer, on off. Paul leaves it alone for the keeper.
18.2 overs (1 Run) LEG BYE! Full length, angling in, around middle and leg. Alzarri Joseph tries to flick it away but misses. The ball goes to point off the pads. They collect a leg bye.
18.1 overs (1 Run) It is full, angled into the pads. Paul stays back and flicks it through mid-wicket for a single.
17.6 overs (0 Run) Touch flatter, on off. Alzarri Joseph pushes it to cover. Four dots in a row to end the over.
17.5 overs (0 Run) On off, defended out.
17.4 overs (0 Run) Tossed up, full and outside off. Alzarri Joseph gets down on one knee and tries to whip it across the line but misses.
17.3 overs (0 Run) Looped up, around off, Joseph pushes it back to the bowler.
17.2 overs (1 Run) Fuller, wide outside off. Paul gets low and smashes it to long off for one.
17.1 overs (1 Run) Flatter, on off. Joseph flicks it to mid-wicket. Ravindra Jadeja gives it a chase and keeps it down to one.
16.6 overs (1 Run) Slower one now, length and on the pads, Alzarri Joseph tucks it to square leg for one.
16.5 overs (1 Run) This time Singh angles it into the pads, on a fuller length, Paul flicks it to fine leg for a single.
16.4 overs (1 Run) Full length, on off. Alzarri Joseph hits it towards long on and crosses for a single. He is off the mark.
Alzarri Joseph is the nest man in.
16.3 overs (0 Run) OUT! TIMBER! Arshdeep Singh comes over the wicket for the left-hander and it certainly does the trick. Singh serves a yorker, around off, tailing in. Akeal Hosein shuffles across and tries to defend it out but misses. The ball sneaks through to disturb the stumps. India need two more wickets to seal the victory.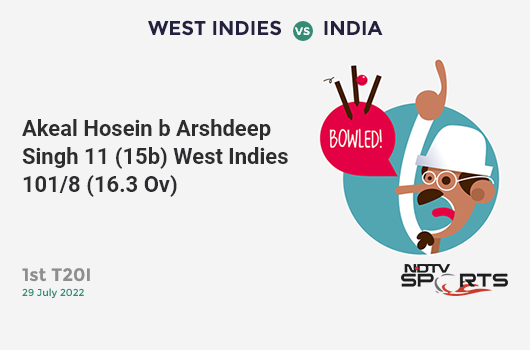 16.2 overs (1 Run) A slower short ball, outside off. Paul stays back and pulls it to deep square leg for a single.
16.1 overs (0 Run) Arshdeep Singh comes from around the wicket and fires in a yorker, on off. Keemo Paul blocks it back to the bowler.
Arshdeep Singh (2-0-16-1) is brought back into the attack.
15.6 overs (1 Run) Touch short, around off. Paul pulls it over mid on and gets a single. Just two runs off the over then. Also, 100 is up for West Indies.
15.5 overs (0 Run) A googly again, around middle. Paul blocks it out.
15.4 overs (0 Run) Wild swing! This is floated up well outside off and it is the googly. Keemo Paul gets low and looks to slog it away but he goes a bit too hard at it and misses. Pant takes off the bails and seems interested. Rishabh Pant from behind the sticks pleads to the square leg umpire and it is taken upstairs. The replay shows that Paul has his back leg rooted just inside the crease so it will be NOT OUT.
15.4 overs (1 Run) NOT OUT! Keemo Paul reacts quickly to get back in the crease. Nonetheless, it was a valiant effort by Pant behind the sticks. Ravi Bishnoi sess the batter charge down the track and fires it way down leg. Rishabh Pant moves to his left, but as soon as he gathers the ball, he looses his footing but still manages to get the bails off with a dive towards the stumps. This could be close. The umpire takes it upstairs and it is confirmed that Paul is safe. The umpire though signals a wide.
Is that stumped? The square leg umpire has gone upstairs for a stumping review. On the first replay, it looks like Keemo Paul is back in. The third umpire checks it a couple of more times to make sure and is pretty happy with it. The decision on the big screen is NOT OUT!
15.3 overs (0 Run) Tossed up, on middle and leg. Paul looks to sweep it away but misses. It brushes off his pads.
15.2 overs (0 Run) Swing and a miss! Googly yet again, outside off. Keemo Paul slashes hard but only connects with this air.
15.1 overs (0 Run) It is googly to start the over. Keemo Paul fails to pick up early. He moves to the leg side but is unable to work it away.
Match Reports
Topics mentioned in this article