Story Progress
Back to home
West Indies vs India Live Score Ball by Ball, West Indies vs India, 2022 Live Cricket Score Of Today's Match on NDTV Sports
Live Updates of Today Match between West Indies vs India from Brian Lara Stadium, Tarouba, Trinidad. Check commentary and full scoreboard of the match.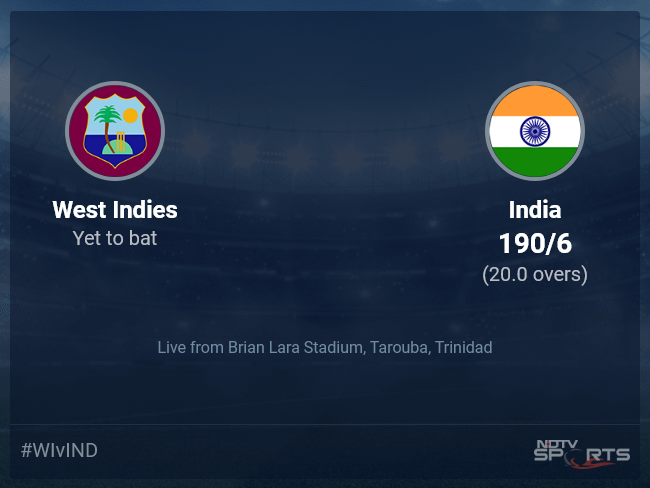 IND vs WI Latest Score
Follow the West Indies vs India, 2022 live cricket score on Sports.NDTV.com. After 20.0 overs, India are 190/6. Get live score, ball by ball commentary and much more. Keep track of West Indies vs India, 2022 today match between West Indies and India. Everything related to West Indies and India match will be available on Sports.NDTV.com. Stay updated with West Indies vs India live score. Do check for West Indies vs India scorecard. You can get scorecard updates, match related facts. Get quick live updates with ads, Sports.NDTV.com, which is the perfect destination for live cricket score.
We are back for the chase!
West Indies were unable to end on a high. Their pacers were taken to the cleaners initially, but they did manage to take two wickets inside the Powerplay.
India lost track in the middle but Dinesh Karthik, the veteran continues to impress in his new role. Rohit Sharma and Suryakumar Yadav started well against the pace, but the latter could not fare the same way against the spin of Akeal Hosein. Yadav almost got out twice but had the lady luck on his side. Although the third time he did slip out with a poor shot selection. Later, Rohit Sharma was unable to find a partner to control things at the other end, except Pant. The two stitched a stand of 43 runs the third best of this Indian innings. Once Pant fell, the visitors started losing wickets at regular intervals which put them in a spot of bother. Sharma could not bat till the end and slipped out on 64. If not for Karthik and Ashwin, things could've been worse for India.
An incredible shift in momentum for India. Dinesh Karthik and Ravichandran Ashwin stitched the largest stand of the innings to get 190 runs on the scoreboard. West Indies would feel they missed a trick or two with the ball in the death overs and are in for a mammoth run chase.
19.6 overs (4 Runs) FOUR! Ends with a boundary! This is full and wide, Dinesh Karthik throws his hands at it and ends up slicing it high. The ball goes well over point and trickles away into the fence. India finish on 190/6!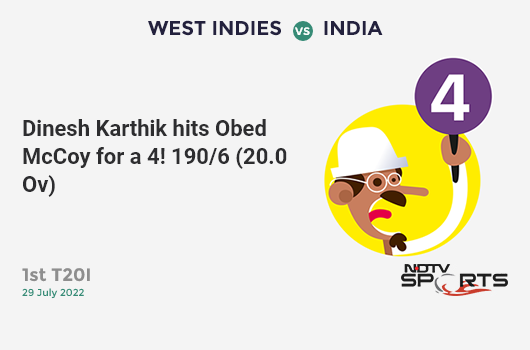 19.5 overs (0 Run) Switches to around the wicket now and angles it into the body. Karthik looks to swing across the line but misses and gets hit on the body.
19.4 overs (4 Runs) FOUR! Not where he intended it to go but Dinesh Karthik will certainly take it. This is on a length and down leg, Karthik attempts the reverse hit but gets a thick outside edge that flies over short third man and into the fence.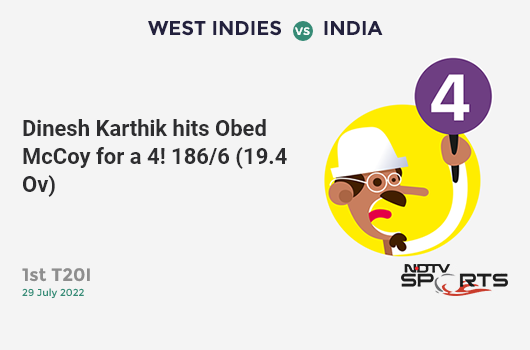 19.3 overs (6 Runs) SIX! Pitches it up around off, Dinesh Karthik gets under it and launches it a long way over the long off fence. The boundaries are flowing here for India.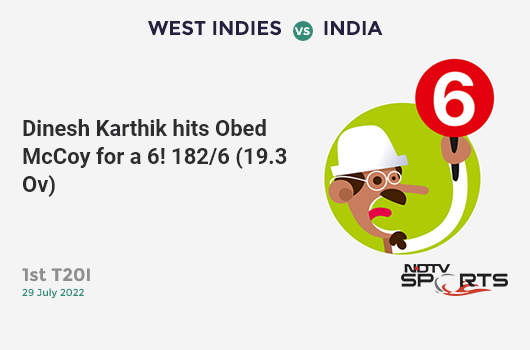 19.2 overs (0 Run) Missed opportunity! Length and down leg, Karthik fails to flick it away as the ball hits the thigh pad.
19.1 overs (1 Run) Back of a length, around the hips. Ravichandran Ashwin tries to play it off the back foot but gets a top edge over the point region. Just a single. Also, the five fielders are still inside the ring which means that it is a forced change due to being behind in terms of the over-rate.
18.6 overs (4 Runs) FOUR! Poor field placement and poor bowling as well. Pooran gets in all fielders inside the circle on the off side and Holder bowls it short and wide, from around the stumps. All Karthik has to do is get a decent connection and he does exactly that. The ball runs away for a boundary and 21 runs come off the over, a huge one for India.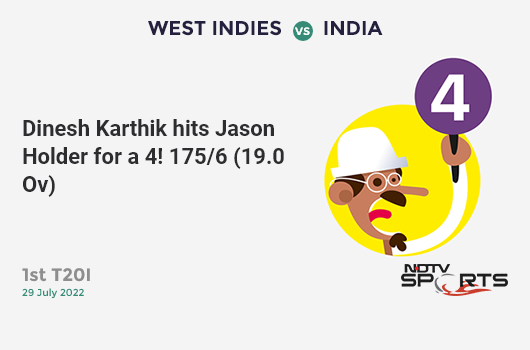 18.5 overs (6 Runs) SIX! BANG! Pace on from Holder but serves it on a length, around middle and leg. Dinesh Karthik has a slight shuffle as he clobbers it over the mid-wicket fence for a second maximum in the over.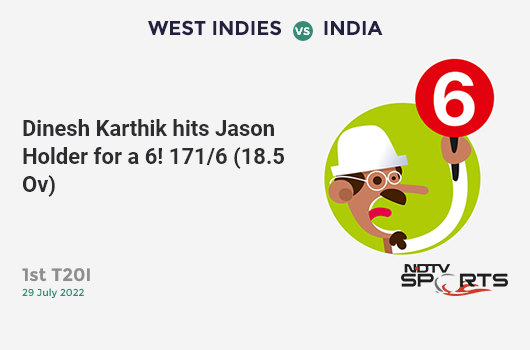 18.4 overs (2 Runs) This is banged in short and around off, slower in pace. Dinesh Karthik pulls it away behind square and picks up a couple of runs.
18.3 overs (1 Run) And again! Slower and shorter, this time over middle, Ashwin pulls it down to wide long on for one.
18.2 overs (0 Run) Well bowled! Goes slower and bowls kt into the pitch, pushing it wide outside off. Ashwin tries to swing across the line but fails to reach it.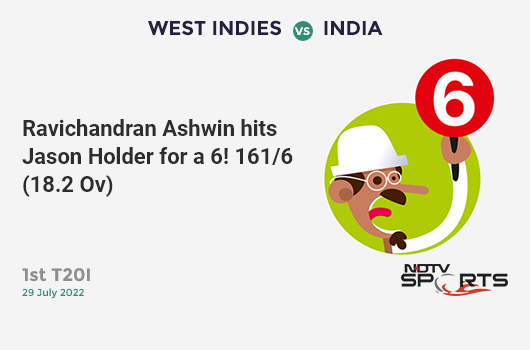 18.2 overs (7 Runs) NO BALL AND SIX! Ravichandran Ashwin makes full use of the life gifted to him and dispatches it. A juicy full toss, around leg stump, Ashwin ships it away over the square leg fence for a maximum. To rub salt into the wound, Holder has overstepped and it will be a Free Hit to follow.
18.1 overs (1 Run) Pre-meditated and not so effective. Dinesh Karthik goes for the reverse sweep, Holder sees it early and serves a slower yorker on leg stump. Karthik can only manage to hit it towards cover-point for a single.
Jason Holder to bowl the penultimate over. He continues his spell.
17.6 overs (1 Run) A touch fuller and angling across off, Dinesh Karthik plays it off the front foot and through extra cover for just a single.
17.5 overs (1 Run) Floats it up on the pads now, Ravichandran Ashwin flicks it uppishly through the vacant mid-wicket region and rotates the strike.
17.4 overs (0 Run) This is on a hard length and angling across, Ashwin tries to cut but misses.
17.4 overs (2 Runs) TWO WIDES! Another slower ball, spilled well down leg and Nicholas Pooran behind the sticks misses it too. The batters scamper through for a run as well.
17.3 overs (2 Runs) That is bizarre from Obed McCoy, Ashwin was a goner but McCoy doesn't whip off the bails. This is slower and fuller, on middle. Karthik pushes it down to long on and calls for two right away. Ashwin is struggling when the throw comes in at the bowler's end but McCoy inexplicably has no idea where Ashwin is and doesn't dislodge the bails. How much will this cost West Indies?
17.2 overs (2 Runs) In the air but safe! Good change of pace from Obed McCoy, slower and fuller, around middle. Dinesh Karthik looks to flick it away but is a bit early in his shot. The ball goes up high off the leading edge and falls safely over mid off. Two taken.
17.1 overs (1 Run) McCoy gets it in the blockhole around off, Ashwin digs it out on the off side and scampers through for a run.
Change. Obed McCoy (2-0-6-1) is back into the attack now.
16.6 overs (1 Run) This is smart from Holder, giving the batter no pace to work with. Banged in short and outside off, Ravichandran Ashwin bends his back and ramps it down to third man for just a single.
16.5 overs (1 Run) Slower delivery, on a shorter length and outside off, Karthik just taps it towards cover-point and picks up a single.
16.4 overs (1 Run) Full and straight, this is drilled down to long on for a single by Ashwin.
16.3 overs (1 Run) Around off again, Karthik presses forward and plays it on the up towards deep cover for one more.
16.2 overs (1 Run) Fuller and around off, this is driven through covers for a run.
16.2 overs (1 Run) WIDE! Slower delivery, angling it in from wide of the crease. The attempted slower yorker just goes down leg and a wide is called. There is an appeal for LBW but the umpire turns it down. They have gone for the review though! The ball seems to be going down leg but the decision is sent upstairs. UltraEdge is checked first and it shows that there is no bat involved but there is no pad involved either, so it will stay as a wide.
16.1 overs (1 Run) Length, around off, this is pushed towards mid off for a single.
Ravichandran Ashwin comes in at number 8.
15.6 overs (0 Run) OUT! CAUGHT! Straight to the man! This is shorter from Alzarri Joseph and angling across the left-hander. Ravindra Jadeja tries to be cute and opens the face of the bat to steer it past the man at short thirs man. jadeja though gets a bit hurried on by the pace and ends up giving catch practice to Keemo Paul over there. Joseph ends an expensive spell with an important wicket and India are now six down.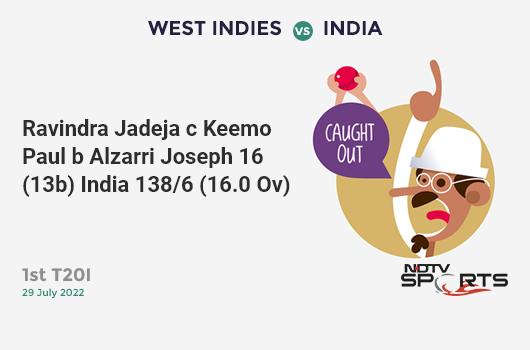 15.5 overs (1 Run) Back of a length and outside off, Karthik steers it down to third man for just a single.
15.4 overs (1 Run) The call is for two but they have to settle for one. This is slanted across off, Jadeja strokes it away through cover-point for one.
15.3 overs (1 Run) Excellent running! Around off again, Karthik pushes it towards covers and sets off for the run.
15.2 overs (4 Runs) FOUR! Delightful from Dinesh Karthik and he is off the mark! Length, around off, Karthik presses forward and drives it on the up through extra cover for a boundary.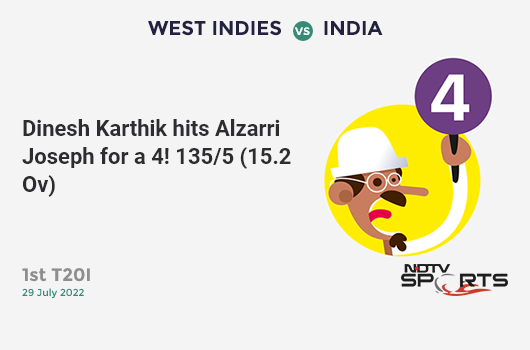 15.1 overs (0 Run) Starts off with a good-length ball, angled into the body. Karthik dabs it leg side but can't get the single.
Match Reports
Topics mentioned in this article