Story Progress
Back to home
West Indies vs India: West Indies vs India, 2022 Live Cricket Score, Live Score Of Today's Match on NDTV Sports
Live Updates of Today Match between West Indies vs India from Queen's Park Oval, Port of Spain, Trinidad. Check commentary and full scoreboard of the match.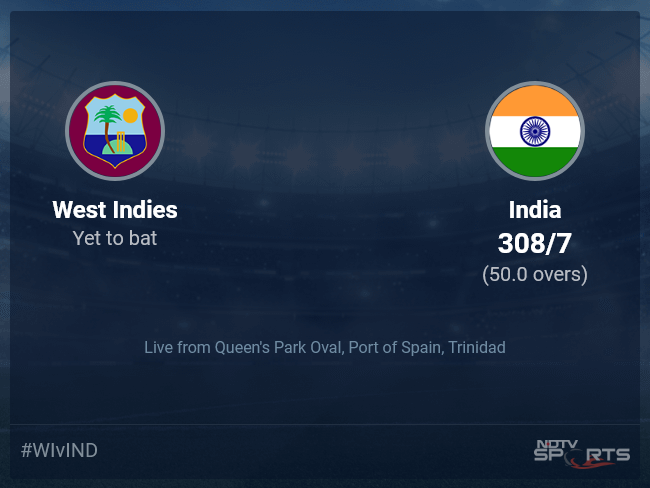 WI vs IND Latest Score
A dedicated team of experts bring you live score, live cricket score, live match update on Sports.NDTV.com. After 50.0 overs, India are 308/7. The live updates of West Indies vs India scorecard is also available. It is the perfect platform to follow your favourite teams in West Indies vs India, 2022. Keep a track on your favourite batsmen and bowlers through West Indies vs India, 2022 today match, ball by ball commentary, West Indies vs India, West Indies vs India live score, West Indies vs India scorecard. Follow the excitement of the West Indies vs India, 2022 on Sports.NDTV.com as you can follow live match updates and live cricket score through our platform.
Right then! West Indies have a tough task ahead and they need someone to anchor the innings. Their batters are not in good form but will hope to get into the groove here and put in a solid performance. Stay tuned for the chase as we will be back in a bit.
Shubman Gill is up for a chat. He says that it was a good wicket to bat on and he enjoyed batting on it but is a bit disappointed with the way he got out. Adds that they are really excited to get the opportunity to play here and have posted a good total. Mentions that 300 plus on any wicket is a challenging total but will have to bowl tight lines. Mentions that after the first 20 or so overs, the ball was gripping a bit and the spinners will come into play in the second innings.
West Indies have kept themselves in the game thanks to some brilliant fielding and good bowling. They failed to keep things tight early on and India made the bulk of their runs in the first half of the innings. It needed a special effort from the skipper to open gates for them and slowly the Windies got their rhythm in the game. They kept on getting better as the game progressed. The pacers lacked consistency at the front but both the spinners in tandem did well to control the middle phase. West Indies have not been at their best with the bat in recent times and they will hope to give a tough fight here.
The top three notched big runs but the inexperienced middle order failed to build on the momentum. India at one stage were 230 for 3 thanks to the brilliance of Shikhar Dhawan, Shubman Gill and Shreyas Iyer. All of them scored more than fifty with Dhawan missing his ton by just three runs. But once the wickets fell, the middle order failed to capitalize on it. Yadav and Samson got a start but gave away their wicket. Hooda and Patel were struggling a bit and gave away their wicket at the wrong time. No doubt, 300 is an above-par total but the way India started the innings, it seemed they were eyeing for the 350-mark.
Excellent final phase by the Men in Maroon! At one stage, India were clearly eyeing a score of 350 but some tremendous bowling in the death saw them pulling India back. Still, it is a huge score and it will test the Windies' batting dearly.
49.6 overs (4 Runs) FOUR! Romario Shepherd just misses his mark on the yorker and Shardul Thakur takes full advantage of it. Pitched up on middle, Thakur heaves it away between deep mid-wicket and long on to end the innings with a boundary. India finish with 308/7!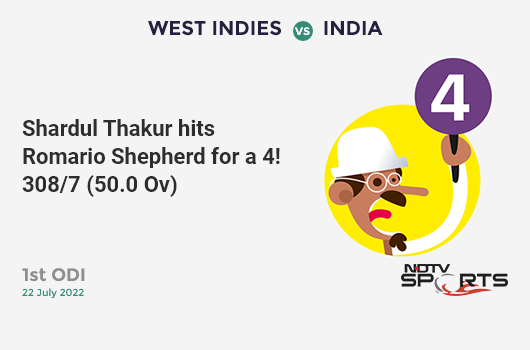 49.5 overs (0 Run) Full and outside off, Thakur drives it towards cover and denies the single. Mohammed Siraj scampers back in time as well.
49.5 overs (1 Run) WIDE! Pacy delivery, full and down the leg side, wide called.
49.4 overs (1 Run) Full and wide, angling across the right-hander. Mohammed Siraj reaches it and almost squeezes it past backward point but the substitute fielder over there, Keacy Carty makes a brilliant diving stop. Just a single then.
49.3 overs (1 Run) Full and on leg stump, Thakur heaves it towards wide long on and looks for two but has to settle for just a single.
49.2 overs (1 Run) Leg bye! Switches to around the wicket and bowls it full into the pads. Siraj fails to whip it away leg side and the ball goes off the pads towards backward point. The batters scamper through for a leg bye.
49.1 overs (1 Run) Full and straight, drilled down to long on for a single by Shardul Thakur. With that, the 300 is up for India.
48.6 overs (0 Run) OUT! TIMBER! Excellent comeback delivery from Alzarri Joseph! Full and on off stump, almost yorker length and above 140 clicks. Deepak Hooda goes a bit too hard at it as he looks to clobber it across the line. The ball tails in late and sneaks under the bat of Hooda to knock the off stump off the ground. Joseph finishes his spell with a double-strike and both set batters depart.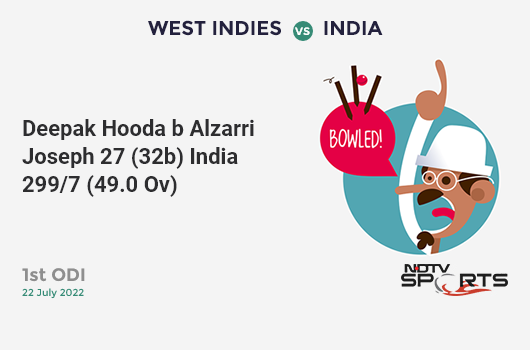 48.5 overs (4 Runs) FOUR! Joseph attempts the yorker yet again but serves a high full toss on middle. Hooda heaves it away into the mid-wicket fence for a boundary.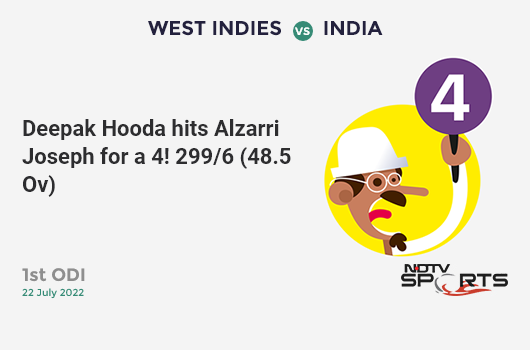 48.4 overs (1 Run) This is banged in short and around off, at 145 clicks. Shardul Thakur gets hurried on but manages to pull it in front of mid-wicket for a single.
Shardul Thakur comes in now.
48.3 overs (0 Run) OUT! KNOCKED HIM OVER! Just too much heat on that one for Axar Patel to handle and Alzarri Joseph sends him packing. Keeps it full and bowls it on leg stump, at 142 clicks. Patel looks to flick it off his legs but ends up playing all over it and gets beaten for pace. The ball goes on to shatter the leg stump and Patel departs after a decent cameo. Joseph gets his first wicket of the match as well.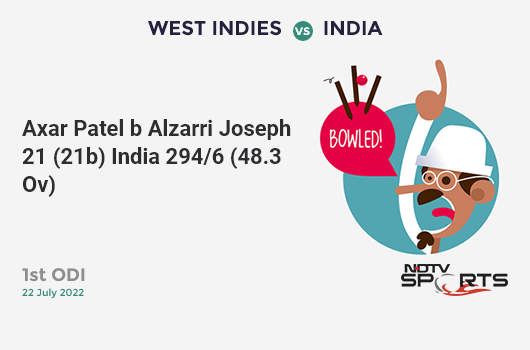 48.2 overs (1 Run) Very full, at the base of middle stump and with some serious heat behind it as well. Hooda jams it out towards long on and collects a run.
48.1 overs (1 Run) Nails the wide yorker, Patel squeezes it out towards backward point and picks up a single.
47.6 overs (6 Runs) SIX! Deepak Hooda connects for the first time and makes it 20 runs off the over! Another slower delivery, bowled into the pitch and around off. Hooda is waiting for it and ends up crunching it over the mid-wicket fence for a biggie.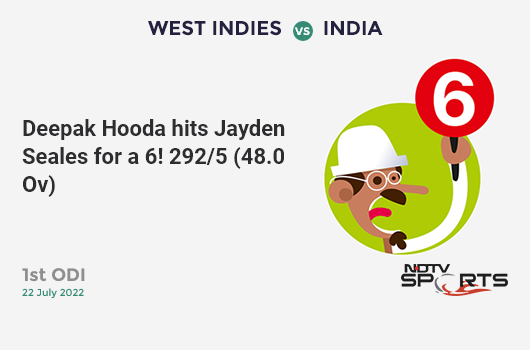 47.5 overs (1 Run) Full again, around off, Patel drills this one towards wide long off for yet another single.
47.4 overs (1 Run) Slower delivery, at just 103 clicks and targeting the hips. Hooda is way too early in his pull and gets it towards deep backward square leg for one.
47.3 overs (1 Run) Very full and wide, Patel gets low and slashes it with timing but straight to the man at deep cover for just a single.
47.2 overs (4 Runs) FOUR! Seales goes searching for the wide yorker but serves a half volley and Axar Patel just nails it over extra cover for a boundary.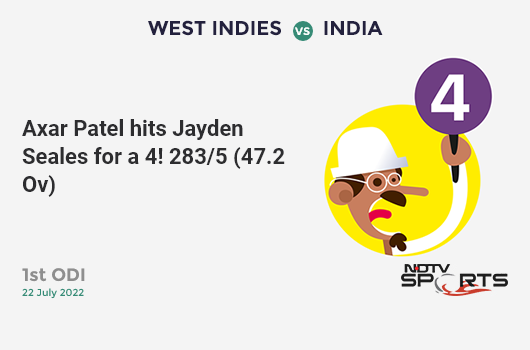 47.2 overs (1 Run) WIDE! Very full and wide, spilled beyond the tramline outside off.
47.1 overs (6 Runs) SIX! Finally, Axar Patel breaks the shackles and connects one. Length ball, slanted across the left-hander, Patel is able to free his arms and thumps it back over the bowler's head for a biggie.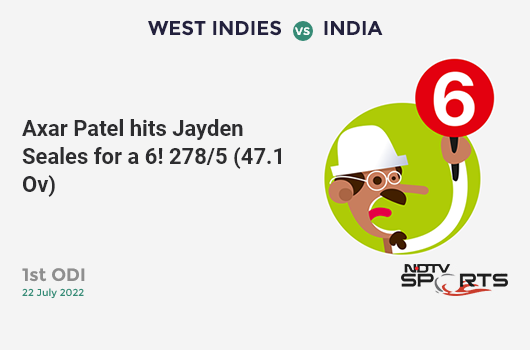 46.6 overs (1 Run) Goes full again and on off, Patel drills it down to long off for a run. With just three overs remaining, can India somehow get to 300?
46.5 overs (0 Run) Smart bowling! Angles across a length ball but it is the slower one. Patel looks to hang back and cut but fails to connect.
46.4 overs (1 Run) Excellent delivery! Nails the yorker on middle and leg stump at 140 KPH. Deepak Hooda manages to dig it out towards mid off for one more. The boundaries seemed to have completely dried up here for India.
46.3 overs (1 Run) Just one! Full and straight, at 146 clicks. Axar Patel wrists it nicely in front of square on the leg side but has to settle for the single.
46.2 overs (1 Run) On a hard length and around off, Deepak Hooda stays deep in his crease and looks to take it on. Hooda mistimes the big shot badly towards long on and picks up a single.
46.1 overs (1 Run) Full and straight, driven to the left of mid off for a quick single.
45.6 overs (1 Run) Length ball, around off, Patel opens his arms and muscles it towards long on for just another single.
45.5 overs (0 Run) No wide called! Slower one, bowled into the pitch and around leg stump. Axar Patel looks to pull but seems to have missed it. The umpire though deems that the ball came off the arms and doesn't signal a wide.
45.4 overs (1 Run) Good length, around off, this is played on the up towards sweeper cover for just a single.
45.3 overs (0 Run) Nicely bowled! Seales digs it in short and outside off but takes all the pace off the delivery. Deepak Hooda makes room and hops to slap it away but is undone by the lack of pace.
45.2 overs (1 Run) Just short of a length and around middle and leg. Axar Patel looks to flick off the back foot but gets it off the inner half of the bat towards backward square leg. Single taken.
45.1 overs (1 Run) Excellent length, angling into middle and leg. Hooda manages to drive it down to long on for a single.
Match Reports
Topics mentioned in this article