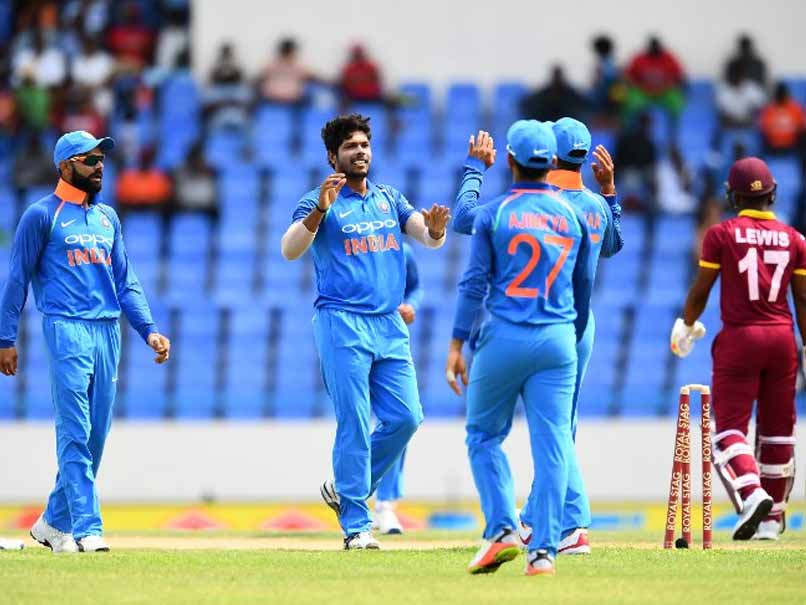 Umesh Yadav had taken three wickets in the 4th ODI against West Indies.
© AFP
Umesh Yadav has had an impact on the Indian team this season. While the fast bowler is prone to injuries, when he's fit and geared up, his wickets have always been helpful for India. While his outings during the Indian Premier League, the Champions Trophy and now the limited-overs series against the West Indies have been decent, Yadav's 3/36 in the last ODI at North Sound went in vain when India failed to capitalize on chances to seal a series win. As India gear up for the fifth and final ODI in Jamaica on Thursday, Yadav credits senior pacer Zaheer Khan for having given him an important piece of advice.
"I'm constantly learning from mistakes. You make mistakes as a youngster. But Zaheer bhai said one thing. When you are a junior and a newcomer in the team, the faster you learn about your mistakes, the better it will be for you... The faster you will learn. That's what I try and do," Yadav told BCCI TV ahead of the final ODI.
"I sit and think about the mistakes I've made. Then I try and implement them in the next match. There are positives and negatives. I try and focus more on positive points... figure out what the strong and weak points are. That is what's important as a fast bowler," added the 29-year-old.
As a fast bowler who regularly bowls over 140kph, speed is everything for Yadav. "It's because of speed that I'm here. Pace was my weapon, it's given me recognition... Now, I'm trying to balance swing and the length with the pace. That will be helpful," feels Yadav.
India take on West Indies in Jamaica on Thursday. They lead the 5-match series 2-1 after the first ODI was washed out.
They were close to sealing the series 3-0 at North Sound but they failed to chase down a modest 190-run target and fell short by 11 runs in a stunning turnaround on a slow pitch.